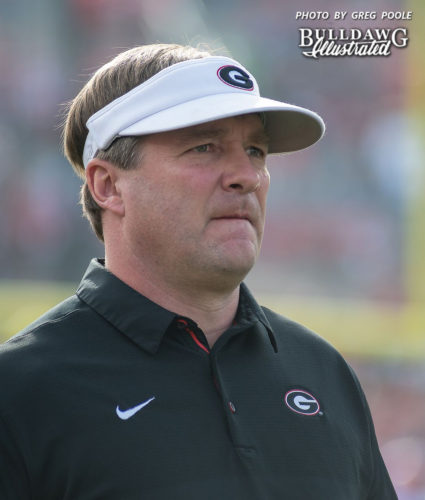 If there was one word to describe the mindset that head coach Kirby Smart is trying to impress on his team, it would have to be "hunters."
Smart made it clear throughout his press conference yesterday that last season was last season and this season is a new and completely different challenge. The success he had in just his second season as the leader of the Bulldogs was truly outstanding but he's continuing to look forward and only wants to grow this team's success.
Smart knows that their success has put a target on their back, but that will not deter him to continue to be aggressive in their hunt for the ultimate prize. Smart wants aggression from his team because he believes the teams that play the most aggressive, win.
"My concern for this team is not understanding that they're going to be the target for everyone they play," said Smart. "We're not going to sit back and let people hunt us; we're going to continue to hunt."


It seems Smart has instilled this hunting mindset in the constant position battles that are occuring in spring camp. Smart said that there is competition at every postion and players learned last year that if they are not performing at the best of their ability, then they will be pushed by the guys behind them. This competition will not allow players to become complacent with where they are at, which is the last thing he wants his guys to do.





The overall message that Smart conveyed is that he wants his guys to continue to grow and improve in hopes of building on the standard that was set by the team that came before them. In order for them to do this, they will have to push themselves and push each other. This will require leaders to step up and become more vocal as guys like Sony Michel and Roquan Smith are not here any more to do that.


Smart wants his guys to be aggressive, he wants his guys to hunt and if they can do that, then they will continue to grow the success of Georgia football. This group has a tall task ahead of them after the performance of the team last season, but they cannot be focues on past success. They have to look ahead at building more success.


The hunt begins for the Bulldogs with their preparation and that starts now with spring camp. The growth and development at this time should be a huge indicator of how far this team can continue to improve and compete this season.