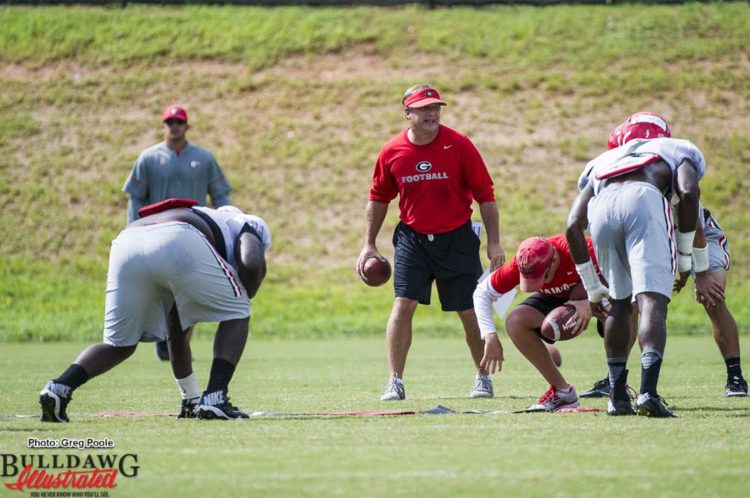 The quarterback battle is a pressing issue at the University of Georgia, but the Bulldogs have other position battles going on as well. Kirby Smart commented on some of the other battles that have played out through fall camp thus far.
Kirby Smart always holds the viewpoint that before he can make any final judgements on a position battle he has to see the tape first. However, he did comment on how players are rotating in certain position battles and gave an idea of how the team may line up throughout the season.
Kirby first commented on the current rotation that is happening at the two guard positions. The three players that are currently spending time at the start guard spots are Isaiah Wynn, Dyshon Sims, and Lamont Gaillard. Wynn is currently slated to start at left tackle, with Sims at left guard, and Gaillard at right guard. However, Wynn is still spending some time at left guard and Kirby is still rotating these guards to find the best guy for the position.
Wynn's time at left guard may open up some time for back up left tackle Tyler Catalina, who Kirby mentioned was "battling it out" with Wynn at the left tackle position. Kirby is also very open to the idea of playing six offensive lineman throughout the season, if each guy performs at a level that can benefit the team. The Bulldogs having six quality offensive lineman is a good problem to have and could be very beneficial for the team as a whole.
The offensive line seems to be shaping up with six guys really fighting for a starting job. This battle could continue throughout the season and may see these six guys rotating throughout the year. Regardless of what happens, The offensive line battle will be intriguing and is something that will be watched closely by the fans and staff.