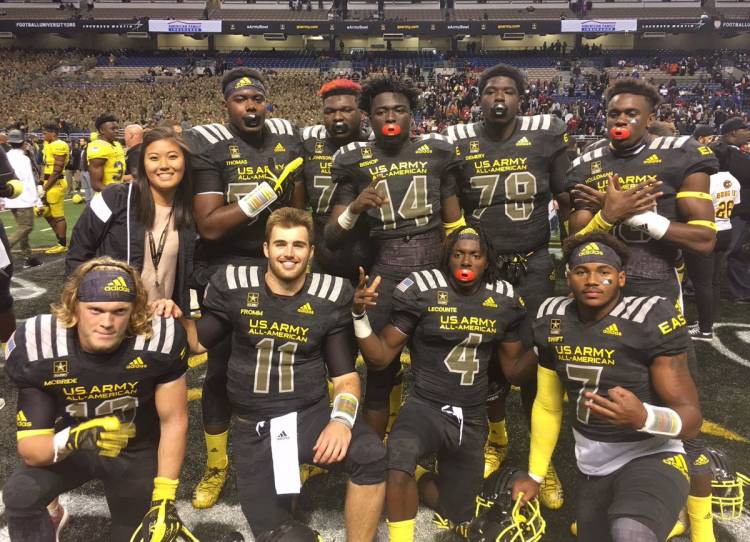 February 1, 2017 was a day of great promise delivered for the Georgia football program. The first Wednesday of the second month of the year is the annual date when the seeds of championships future are planted.



A bountiful crop has been delivered in Athens.


When Kirby Smart was hired as the head coach, he was already established as an ace recruiter and outstanding defensive coach. His first task, rebuild the talent base to a championship level. The first full recruiting cycle for Smart and his staff is a first full delivery on the promise to make Georgia great again.


When signing day came to an end, Georgia's class was a consensus pick as the nation's third best, and the number two ranked crop in the SEC, behind Alabama and Ohio State. The Bulldogs signed far more top 20 rated Peach State prospects than any school, and Georgia's haul of "four and five star" recruits was the most of the seven SEC East Division teams.


Understanding that Georgia is never going to "get them all" in the state – there are simply too many – but it is essential, to quote Mike Cavan, beloved former quarterback and assistant coach and current special assistant to Smart, "to get at least our fair share." Mission accomplished.


For Georgia fans, and for players from the state who had wondered for years just what would happen and how great the Dogs could be if they cleaned up in state, this class sent a dear message. Future prospects – in particular the class of 2019 – have also taken notice. Getting Georgia's best and landing elite out-of-state prospects is the two-pronged step towards recruiting and championship success. The Bulldogs also pulled in the top prospects from both New York, mammoth offensive lineman Isaiah Wilson, and Pennsylvania, fleet tailback D'Andre Swift.


Undoubtedly, this is the best signing class of the 21st century, and the finest since 1998. That bumper crop was highlighted by the trio of second generation stars. While Robert Edwards, Champ Bailey and Matt Stinchcomb starred for the Bulldogs outstanding 1997 squad that finished No. 10 nationally with a 10-2 record, their younger brothers Terrence Edwards, Boss Bailey and Jon Stinchcomb all signed with Georgia the following February. That younger trio, as fifth-year seniors, led the Bulldogs to the 2002 SEC championship and No. 3 ranking at 13-1.


Of course the greatest class of all came in 1980, as the most heavily recruited player in America, Herschel Walker, and one of the least recruited players in America, Terry Hoage, were joined by a bevy of stalwarts, inducting Freddie Gilbert, Tommy Thurson and Clarence Kay. That freshman class combined with the best senior class in Bulldog annals led Georgia to the 1980 national championship. From 1980-83, Georgia was 43-4-1 with three SEC titles and four straight top five national rankings.


That is the true mark of excellence this class will be driven to meet, and it is a challenge these young and hungry Bulldogs seem anxious to meet.


The leader of the pack is Liberty County defensive back Richard LeCounte III, one of the country's top prospects and a lifelong Bulldog fan. LeCounte then began a mission of assisting in rounding up the best in the state, pushing the vision of what they could all do together. This was meaningful since one of his prep teammates, Raekwon McMillan, went to Ohio State and starred for the Buckeyes. He was one of many who not only got away, but who also never seemed to have Georgia on his radar.


Like LeCounte, top defensive back prospect DeAngelo Gibbs is an early enrollee. His father boldly sent out a tweet that seemed a given, that had Smart not been hired at Georgia, LeCounte would have gone to Ohio State, while Gibbs, Netori Johnson and Jake Fromm would have gone to Alabama. Throw in Andrew Thomas to Clemson.


This recruiting effort was superb. Wilson, Johnson and Thomas are three of six highly offensive linemen the Bulldogs signed. Not only did this offensive line haul have the obvious tangible benefits, but it symbolically showed a tremendous shift forward in recruiting. In the 21st century, the offensive line was the position where Georgia, underperformed, under recruited, got out-recruited, had minuscule depth and not enough talent.


Smart and offensive line coach Sam Pittman slammed the door on that, as this O-Line sextet was a major centerpiece of this class and one of the most highly touted position groups any school pulled in this February.


Georgia also loaded up at linebacker and in the secondary. There is size at receiver, and with Fromm and Swift, the quarterback and tailback of the future. Through preferred walk-ones and graduate transfers, there is kicking help coming. Smart and the staff have done a tremendous job with roster management, and preferred walk-ons are a big part of that Georgia brought in a pair of good defensive linemen, though that is the spot where there was the one that got away. At least he went to Michigan, not an SEC rival. And Georgia is already addressing the interior defensive front in the 2018 class.


There were some other good ones who went to other places, but most of the highly rated in-staters who left played defensive back, where Georgia landed an elite haul, and quarterback – the Dogs got Fromm.


This was a huge step towards that ultimate goal of a precious national championship and consistent excellence. Keep in mind, the last four national champs, Florida State, Ohio State, Alabama and Clemson had outstanding recruiting classes. To get to that destination, the Dogs have to stack those classes up. Smart and his staff did a great job keeping Richt's last class together for 2016. But this was the class that can vault Georgia to another stratosphere. And with Smart at the helm, the tone has been set and classes like this are expected regularly… with the championships to follow.




Recent Articles by Jeff Dantzler


[pt_view id="b358db4n1f"]