Well, well, well, ain't life grand for the Bulldog Nation after our Dawgs throttled Auburn in the SEC Championship? And by doing so, our team and their awesome fan base is now Pasadena, Calif. bound for the Rose Bowl. Oh yeah, and there's that little, extra caveat, the College Football Playoff.


Man, there's nothing like being a Georgia Bulldog right now!
With that being said, putting together this Bowl Preview of Bulldawg Illustrated certainly came with some pressure. Our goal was, of course, to highlight the thrill of winning the SEC in Atlanta, while keeping our readers focused on the greater prizes available in the next month.
To pull off this challenge, it took total teamwork by everyone on the Bulldawg Illustrated team. Inside you will find Jeff Dantzler's normal sports offerings, plus his annual Bowl Game Bonanza (page 22,23), awesome images from Greg Poole and Rob Saye, and Murray Poole's trip down memory lane (page 24) discussing Georgia's 1942 trip to the Rose Bowl with the families of Frank Sinkwich and Lamar "Racehorse" Davis. Of course, there's way more in this special issue, but I'll let you explore further on your own.
Speaking of teamwork, I included Rob Saye's killer photo of Jake Fromm and Jacob Eason from the SEC Championship on my page because I think it exemplifies the closeness of the 2017 Georgia Bulldogs. When Eason was injured in the first game of the season, lesser teams would have easily gone south. Just look at what happened to Florida State this year. Instead, our QBs and the team that they lead rallied and have put together one of the greatest seasons in Georgia football history.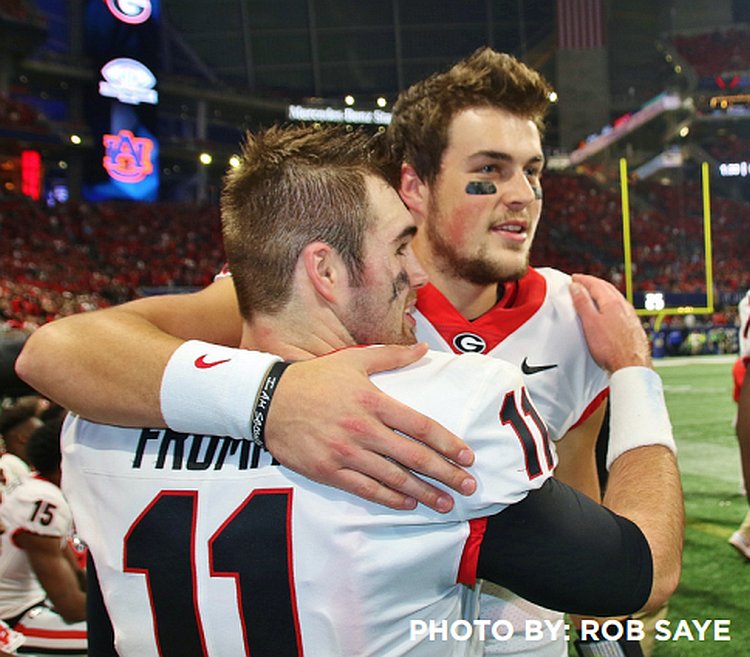 "I'm there for Jake, he's there for me," Eason said. "When I got hurt, I wasn't going to be selfish. It's about the team, the team, the team."
This quote says it all, and certainly makes you feel good about our team's chances in the Rose Bowl against the high-octane Oklahoma offense led by this year's Heisman Trophy winner, Baker Mayfield.
Without question, Mayfield certainly has the goods. My goodness, he completed 71% of his passes this season. That's sick!
Thankfully, Georgia will be sporting its own hardware, carrying stud in Roquan Smith, who deservingly won the Butkus Award given to the best linebacker in college football. Number 3 absolutely dominated Auburn in the SEC Championship, and it will take a similar performance from him to slow down Boomer Sooner.
Also, the Bulldog Nation will be greatly needed in Pasadena. I've praised and encouraged you all season long and now I'm calling on you to"hunker down one more time" in this historic, cross-country bowl game. It's going to be a heckuva, good time!
To get you ready for the trip, Cheri got in touch with a former BI (and Georgia alumna) intern Ashley Hanna. In just over five years, Ashley has made quite a name for herself in Los Angeles as a television producer. Enjoy our Proust interview with Ashley and her Guide2 LA and Pasadena on pages 33-35. Ashley's been rubbing elbows with celebs galore, so you count on her recommendations to be top-notch.
Finally, besides the Dawgs' SEC Championship and the upcoming Rose Bowl, this issue of BI is special because we are celebrating our 15th year. On pages 43-45, Hamilton Culpepper culminates his excellent year of interviews by sitting down with yours truly. It was a blast telling Hammy how BI began and discussing all the excellent contributors that have made our publication hum for these 15 years. It's been a thrill and we look forward to many, more years and issues to come. I did some quick math and we have produced just shy of 250 issues. Not bad for a gang of Bulldog lovers banging away on their laptops for many a long Sundays. And without question, a special thanks goes to all our advertisers through the years. You are the best and so appreciated by all of the BI team.
Alright Bulldogs, as this cover says "Roses are Red …"
The dot, dot, dot in the cover headline represents the fact that this 2017 season still hopefully has a couple more stanzas for Kirby Smart and his incredible coaching staff and team. The next one starts on January 1 in Pasadena. Everyone at Bulldawg Illustrated certainly looks forward to seeing you there with your game faces on. Happy Holidays and Go Dawgs!!