The signature win against Mississippi State was sweet, but like Kirby's dad says, there is another big game this week.


Man oh me, this past Saturday was certainly a dandy for everyone in the Bulldog Nation as Kirby Smart and company broke out with a statement victory for the ages. Like in their previous three games, our Dawgs played lights out versus Mississippi State in all three phases of football … offense, defense and special teams.


And the team's blowout victory over the Maroon Bulldogs also had a ton to do with our rabid fan base in Sanford Stadium. What a thrill it is to see our fans become such an important element to each game.


That's saying a lot when you take into the fact that it was the fourth straight night game. Everyone who bleeds red and black certainly could have arrived to the stadium drained. Instead, our awesome fans were ready from the Dawg Walk to pregame to the final defensive stand keeping Mississippi State out of the end zone. Like I said, what a thrill … Georgia 31 MSU 3.


Before the game, I was lucky enough to spend a few moments separately with both Kirby's dad (Sonny) and wife (Mary Beth).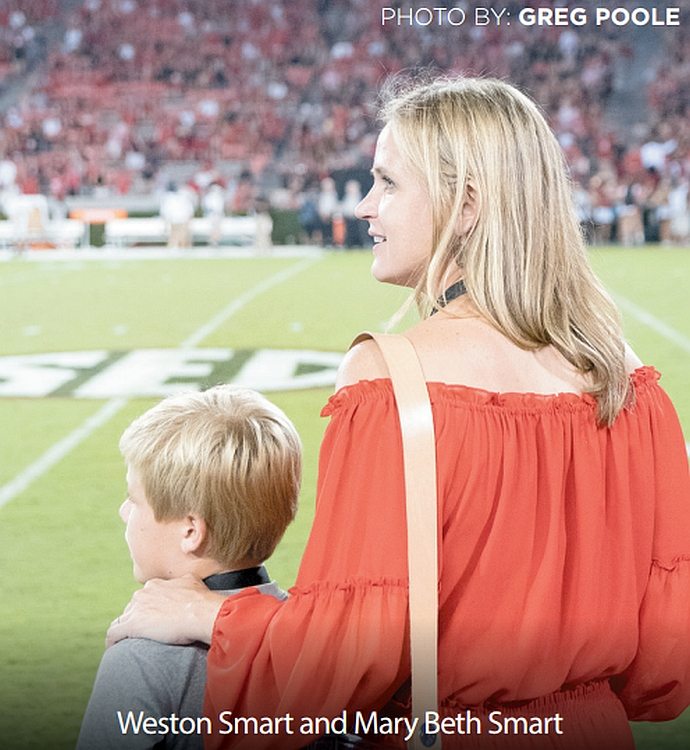 At the Dawg Walk, Mr. Smart, a retired, longstanding high school football coach, and I discussed the physicality of Mississippi State and how Georgia would match-up against them. Without question, he knew the game was a huge opportunity to show the progress of his son's team. However, rather than getting wrapped up in hype, he quipped, "and you know what, there will be another big game next week."


Good stuff from a man who knows the ebb and flow of being a head coach more than anyone, but his point is dead-on as this Saturday's game in Knoxville is just as big and important as the four previous ones. And the Vandy game the following week will be just as big.


A couple hours later, I ran into Mary Beth just prior to her leaving her tailgate to head to the stadium. Admittedly, she was quite nervous and even visibly so. You have to love that type of devotion to her husband and her alma mater.


This made it especially neat to find this awesome photo of Mary Beth with her son, Weston, as I went through Bulldawg Illustrated's multimedia director Greg Poole's game shots. The photo was taken at the start of the fourth quarter, so as you can see her nerves prior to the game had changed to pure joy watching her victorious man and his team.


How neat, and what a terrific shot from Greg, who like everyone in the media greatly welcomes Saturday's 3:30 p.m. kickoff. My goodness, night start times are tough for those working the games.


Speaking of the upcoming game, it's now time for everyone in the Bulldog Nation to turn the page on the massive Mississippi State victory. As Kirby repeats often, "humility is a week away" And the fact that the Maroon Bulldogs rolled into Athens after throttling LSU should be all the proof that our players and fans need.


Now, I would assume finding motivation versus Tennessee shouldn't be that hard after last year's crushing Hail Mary loss. Particularly, when you combine that with the blown big lead two years ago in Knoxville. And of course, it was on the ragged Neyland Stadium grass that Nick Chubb suffered his nasty knee injury.


Do I have you good and mad by now? I hope so because our team needs as many fans to make the trip to Knoxville as possible. 100,000 fans singing Rocky Top certainly makes me shudder, but leaving there in total silence with a W is certainly delectable.


I hope you enjoy this issue of BI, particularly the over 80 fan photos we took. There's nothing like capturing our fans doing their thing on gameday.


Finally, I'm happy to report that there's some normalcy in my hometown on St. Simons Island after the effects of Hurricane Irma. Without a doubt, the Golden Isles suffered some damage, particularly with flooding. Our community is strong and will be fine, but they could certainly use some help from the Bulldog Nation. The best way to do that is for folks to go ahead and make your plans for Georgia-Florida or book a trip for another weekend.


I encourage you to turn this page and check out the two-page spread from our friends at the Golden Isles visitor's bureau. There's no better time than the fall to enjoy the beauty and charm of our area, and there are some great events happening as well.


Alright, Bulldog fans, we're Tennessee Bound. See you in Neyland with your game faces on. Go Dawgs!!



---
Recent Articles by Vance Leavy


[pt_view id="fefec36ydb"]