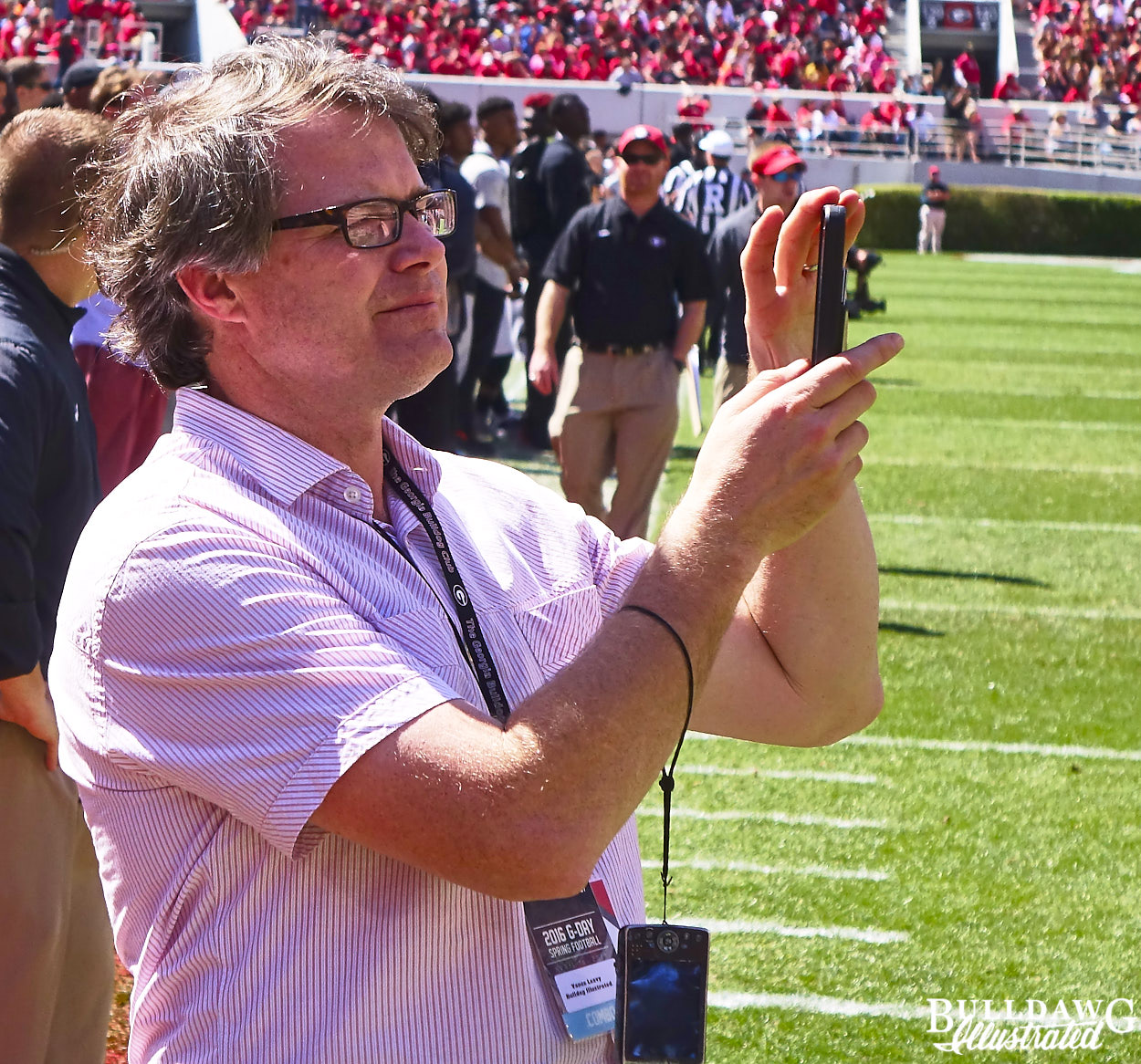 I am so pumped to delve into all the awesome content in our UNC issue of Bulldawg Illustrated, but first must acknowledge the passing of one of UGA's all time greats, Jack Davis. Jack died peacefully on July 27 on St. Simons Island surrounded by his family.


Words can't describe what an absolute thrill it was to have Jack's exclusive cartoons in Bulldawg Illustrated since we started back in 2003. Every year around the start of August, Jack would call and say, "Vance, I have another batch of drawings for you, and I made the opposing mascots real ugly"


A lot of smiles and tears have occurred over the last month. We greatly look forward to celebrating Jack's life in our next issue (Nicholls State) with fond memories and plenty of his legendary cartoons. So who's ready to talk some football?


First, let me go ahead and put our quarterback disclaimer out there. We send all of our pages of BI to the printer late on Sunday evenings, and as of right this second (3:33 pm, Aug. 28), there is only speculation as to who the starting QB will be. Perhaps at his noon presser on Monday, Kirby Smart will spill the beans. But personally, I hope he keeps things under wraps until kickoff. And for that matter, I'm wishful that he will play multiple QBs against UNC and Nicholls State, and then settle on his guy when the team faces its first SEC opponent on the road versus Mizzou in week three.


The good news for Bulldog Nation is that Kirby is on his way to building a program that will be bigger than one guy, at any position. He will accomplish that with energy, excitement, enthusiasm and a whole lot of depth. But like I said in our Season Preview issue, I implore everyone to have some patience.


I hope fans completely understand what a quality opponent North Carolina will be putting on the field in Saturday's Chick-fil-A Kickoff Game. The Tarheels' 10-2 regular season record in 2015 wasn't a fluke. Under head coach Larry Fedora, these guys in their famous Carolina Blue uniforms arrive to Atlanta ready to make a statement, not only about their team, but the ACC (Atlantic Coast) Conference as a whole.


Without question, the football game is going to be great, but mixing it up with the Carolina fanbase should be just as stellar. Georgia and North Carolina are two excellent state universities with a ton of tradition and vast supporter backing. To learn more about the similarities of UGA and UNC, check out Loran Smith's column on page 20. And then turn to page 24 to learn why playing in the Chick- fil-A Kickoff Game is a no-brainer (from a financial standpoint).


On page 25, our Social section begins with tons of goody about a host of UGA alumni and four different photo pages from events held this summer. And if you're looking for things to do in the ATL, we have you covered on pages 33-35. I love that Cheri and our social writer, Katy Wildes tracked down John John Delladonna at the legendary Pool Hall. Before John John became Mr. Atlanta, he was just a shy UGA freshman in the summer of 1990 who happened to be in my first class. We of course (like everyone he meets) hit it off.


I'm now out of space and haven't talked near as much sports as I had hoped. Oh well, I'll let our sports pages from Jeff Dantzler, Murray Poole, Greg Poole and Michael Pope do all the talking. I would like to welcome JD back to the states from Rio, where he covered his third straight Olympics. Even though he didn't win any medals like so many Georgia athletes did, he did spread the love of the Red and Black like a true Olympian.


That will do it for me, Bulldogs. Like our cover says, See you in HOTlanta. It's going to be one helluva time to start the 2016 season. Here's to hoping Nick Chubb blows the roof off the Georgia Dome in his return … Go Dawgs!