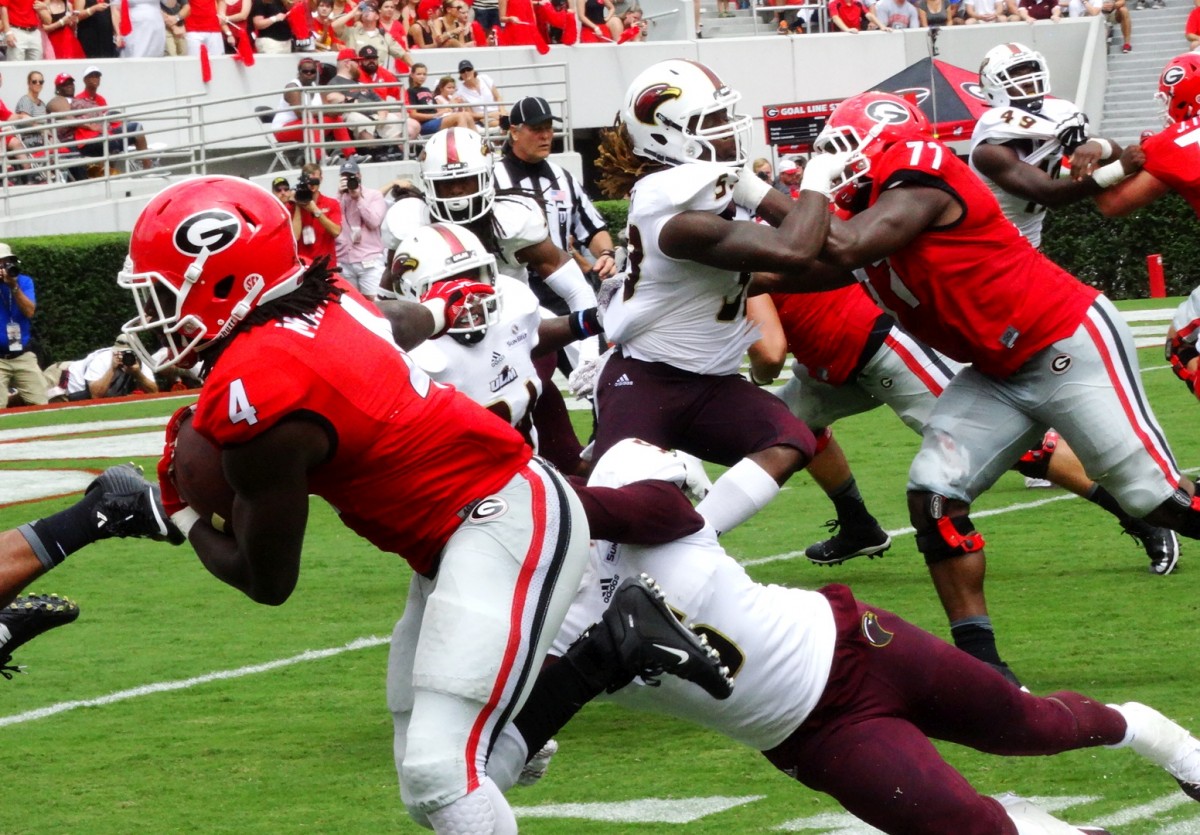 [su_spacer size="40″] About the only thing that stopped Georgia in Saturday's season opener against Louisiana-Monroe at Sanford Stadium was a one-hour lightning delay, which came with 8:35 left in the third quarter and sent the majority of the 92,000-plus on hand scurrying to the exits.
With the lightning not seen around the stadium but within an 8-mile radius, the game was halted at 2:11 p.m. with Georgia then leading 35-14. After a heavy shower ensued, the two teams then returned to play at 3:11 p.m. And when the action resumed, the Bulldogs ballooned their lead to 51-14. As things turned out that would be the final tally as with 9:54 left in the game, another lightning delay came after which the two head coaches and athletic directors agreed to end the contest for good.
Although it may not have been exactly perfect against a mid-major team, Georgia's 2015 debut was plenty good enough as the Bulldogs blistered little ULM by a 35-7 first-half tally and after allowing the Warhawks to score again on the opening series of the third quarter, applied the knockout punch in the remainder of the period and then the little over five minutes that was played in the final quarter.
The Bulldogs now make ready for their SEC opener next Saturday against Vanderbilt (0-1) in Nashville.
"I think this is the first time I've been involved in one that got terminated at this point," said head coach Mark Richt. "We had one delay, then another, and it could've gone all day and all night, so it was in the best interest of everyone to terminate it when we did."
"Overall, yes, I was pleased because it was a victory and because of the score like that," Richt said. "One of the things that bothered me was the way we ended the first half with them scoring. After the break, we didn't do a good job of creating momentum. So in the next break, we talked about having another chance at it. We blocked the punt (for a safety) and then hit the TD pass for a 9-point swing. I was happy with the way we came back."
All eyes were on transfer junior quarterback Greyson Lambert and the Jesup native acquitted himself well, completing 7-of-9 passes for 113 yards and a 15-yard TD strike to tight end Jeb Blazevich in the opening half. The 6-5 Lambert threw only three more passes the second half and finished the day with 8-of-12 completions for 141 yards and two touchdowns including a pretty 28-yard scoring toss to Malcolm Mitchell in the third quarter. No. 2 quarterback Brice Ramsey came off the bench late in the second period and was 2-for-2 through the air for 51 yards including a 31-yard screen pass touchdown to Sony Michel. Mitchell had three receptions for 52 yards including his touchdown and freshman Terry Godwin also grabbed three balls for 31 yards.
"Greyson did a very nice job of handling everything that was put on him," said Richt. "There were at least two or three balls that he needed to throw away and he made wise decisions. Our guys gave him great protection and he put the ball on the money."
"It was a lot of fun just to get back out on the football field, but it was more fun to get on the field playing with all these guys on my new team," said Lambert, who drew a huge throng of media in the post-game locker room interviews. "It was a blessing."
"I was excited (over being named the starting QB), but it was game week so everybody was kind of locked in and kind of focused on ULM. Tomorrow we will be focused on Vanderbilt," said Lambert.  "Honestly, I was just more excited than I was nervous today. I had already turned it over to God and I was just ready to get out there with my team."
And then there was a guy named Nick Chubb. The sophomore Heisman candidate rumbled for 120 yards on 16 carries including touchdown runs of 14 and 23 yards while sharing carries with Michel and Keith Marshall, whose return to the playing field after season-long injuries in 2014 produced 73 yards on 10 carries and touchdown runs of 3 and 2 yards. Both Chubb and Marshall averaged over seven yards per carry and Michel, in addition to his 41 yards rushing, had two pass receptions for a total of 79 yards including a 48-yard run after one catch.
"We believe in running the ball and we think we do a great job of it," declared Richt. "Today was all about execution. … We're blessed that all our tailbacks stayed healthy in camp. They practiced extremely well. We have faith in their ability to do whatever it takes to make the offense go. We hope they continue to stay healthy and continue to share the load."
"I think we all did great," said Chubb. "We all did what we had to do. We all took advantage of the opportunities we had and had a great day today."
Chubb said all of the Georgia running backs bring their individual talent to the field.
"I'm more of a down-hill guy," he said. "Keith (Marshall) and Sony (Michel) can do just about anything. They can wiggle out of the backfield and get open to catch passes and also get down field. I think we all help each other in different ways"
Meantime, Jeremy Pruitt's Georgia defense almost pitched a flawless game over the first two quarters before allowing the Warhawks to march to their first touchdown with just 20 seconds remaining in the half. That score seemed to stoke ULM as the Warhawks then took the second half kickoff and behind the passing arm of Garrett Smith zipped 74 yards to their second touchdown, to trim the Bulldogs' lead to 35-14. But the Bulldogs' defense, paced by eight tackles each from safety Quincy Mauger and inside/outside linebacker Leonard Floyd, plus seven more stops by Jordan Jenkins, slammed the door shut on the ULM offense the rest of the way.
The Georgia defense, like the offense, rendered a number of big plays on opening day. Cornerback Aaron Davis took back an interception 26 yards. Freshman D'Andre Walker blocked a ULM punt out of the end zone for a Bulldog safety midway the third quarter and Lorenzo Carter got his hand on another Warhawk punt that gave Georgia possession at the ULM 21-yard line and led to Chubb's 14-yard touchdown gallop.
"We played well as a defense," said Floyd. "There's always room for improvement though. We are going to go look at the film, see what we need to improve on and build on today's win," said Floyd, adding he thoroughly enjoyed playing at inside linebacker but will play hard wherever the coaches put him.
Richt is not expecting an easy afternoon next Saturday at Vanderbilt, especially since the Commodores are smarting from their opening 14-12 loss to Western Kentucky.
"We have had really rough days there," he said. "We've had great battles and that's just the way the series has gone. We have a lot of respect for them. We've got to have a great prep week and we're looking forward to the challenge."

[su_spacer size="40″]