[su_spacer size="20″]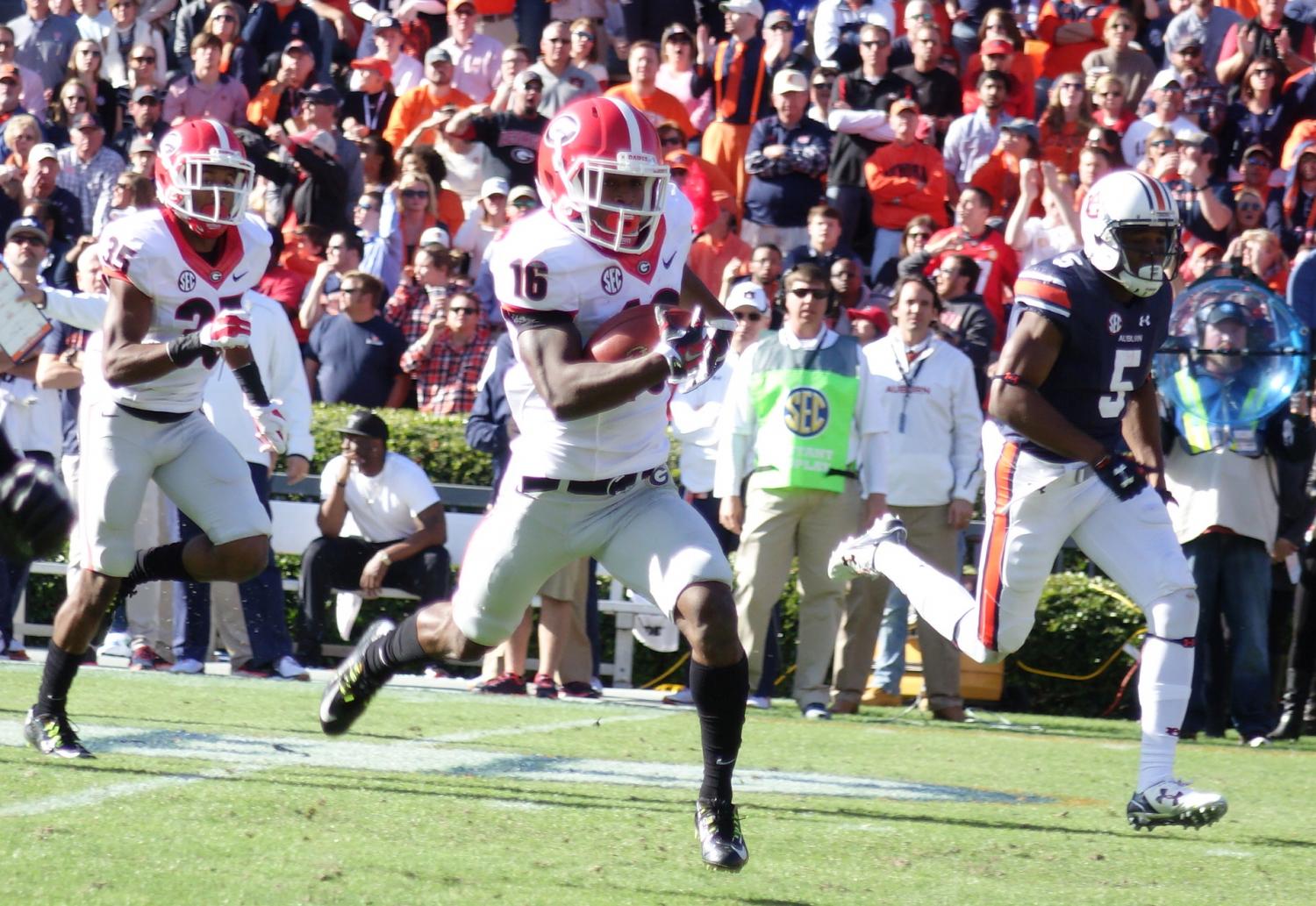 [su_spacer size="40″] AUBURN, Ala. ‑‑ On an afternoon where every yard was tough to come by – and touchdowns even harder to get – Georgia sophomore Isaiah McKenzie took things in his own hands in the second half here Saturday to spark the Bulldogs to an uphill 20-13 win over the rival Auburn Tigers.
[su_spacer size="20″]
Not only did the Bulldogs climb to 7-3 on the season and post a final SEC mark of 5-3 but with the win at Jordan-Hare Stadium, Georgia claimed the lead in the 119-game series for the first time since 1986 … now ahead of the Tigers by one game 56-55-8.
McKenzie, the 5-8, 170-pound wide receiver and kick return specialist from Miami, tallied Georgia's first touchdown near the end of the third quarter on a 4-yard run to enable the Bulldogs to finally catch the Tigers (5-5, 2-5) at 10-10 and then, with 9:28 remaining in the game, literally broke Auburn's back by pulling in Kevin Phillips' punt at the Georgia 47, making the first couple of guys miss, cutting back across the field to his right and taking the ball to the house to complete the 53-yard scoring return. With Marshall Morgan's PAT kick, the Bulldogs were up for the first time at 17-10. Three minutes later, Morgan's second field goal of the day made it 20-10 and after the Tigers drew within 20-13 with a field goal with only 1:14 left, senior Malcolm Mitchell doused Auburn's final hopes by pouncing on the expected Tiger onside kick.
McKenzie tied a pair of school records with his clutch punt return. It was his fifth career return for a touchdown, tying him with Brandon Boykin (2008-11) as McKenzie now has four punt return TDs and one kickoff return TD in his career. His four punt return TDs ties him with Buzy Rosenberg (1970-72). McKenzie's 4-yard touchdown on the jet sweep marked his first offensive score of his career. Before this game, Auburn had not allowed a punt return for a touchdown in 10 years.
"They outkicked their coverage on that punt," said McKenzie, "and that's what the coaches talk about, giving me a pitch to hit and that's what I did. Our team gave me a pitch to hit and I got great blocks and just got around the corner. Then it was up to me after that. I'm glad I could help the team out anyway I can … offense, special teams and on the sideline as well.
"Like I said, I saw him (Phillips) outkick his coverage and I had a feeling I could catch the ball and just do what I do," said McKenzie. "Everything opened up after my first move. The record means a lot to me," he added. "When I came in my freshman year, I didn't know what was going to happen. I had three returns last year and I came in this year wanting to set a record and it feels good to do this for my team, help out anyway I can."
With the Bulldogs limited to a 40-yard Morgan field goal in the opening half and trailing by 10-3, the Georgia defense continued to make life tough for the Tigers and their blanking Auburn in the second half until a lone field goal with just over one minute left to play, enabled the Bulldogs to battle back with 17 second half points to master the comeback. Auburn did rush for 213 yards but showed only 62 yards passing for a 275 total offense mark.
"That opening touchdown drive, that's how Auburn is," said senior linebacker Jake Ganus, who again led the Bulldogs with a whopping 11 total tackles including seven solo stops. "They tempo you and our scout team, they do a great job at practice but it's almost impossible to emulate Auburn's offense in practice. So that first series we were trying to get adjusted and get used to it – the same thing happened last year. But after that we settled down and we held them some."
Ganus called McKenzie's eventual winning punt return "awesome."
"As soon as they punted it, and he outkicked his coverage, I saw there was no one kind of near him and I thought, "Oh, it's (to the) house," Ganus said. "It's awesome."
"This win was huge for us," added Ganus. "We got my last home game next week (against Georgia Southern) on Senior Day and then we got our rival Georgia Tech, so we've got two big games left."
In addition to Ganus's performance, Leonard Floyd and Jordan Jenkins, returning to play near his west Georgia hometown of Hamilton, pitched in with six tackles each with both players also registering sacks and a tackle-for-loss. Bulldog redshirt sophomore cornerback Aaron Davis was also clutch by recovering two fumbles, one coming at the Georgia one-yard line late in the game when the Tigers were threatening to pull within 20-17. And the Auburn player who fumbled the ball away was none other than Ricardo Louis, the same guy who beat the Bulldogs here two years ago with his touchdown in the "Prayer at Jordan Hare," which was repeatedly shown on Auburn's big screen prior to kickoff. Sophomore corner Malkom Parrish notched Georgia's only interception of the day.
Although the Bulldogs had only 243 yards of total offense themselves in the win, they moved the ball when they had to as Sony Michel carried 26 times for a hard-earned 77 net yards and Greyson Lambert completed 12-of-17 pass attempts for 97 yards. Tight end Jeb Blazevich led the receivers with three catches for 19 yards and McKenzie, who also rushed for 26 yards on four carries, added two catches for 15 more yards. Although he didn't see action at quarterback, Brice Ramsey again punted the football well, averaging 46 yards on three kicks with one boot being downed at the Auburn 7-yard stripe.
"That was a great victory for Georgia," said head coach Mark Richt in his opening post-game comments. "A lot of fun afterwards in the locker room … I got a chance to celebrate with the players and coaches and just seeing a smile on everyone's face was great. It's always a war to come here and play. It's always a battle and it went about the way we thought it would."
Richt talked about what makes McKenzie such a dynamic kick returner.
"He's got nerve, number one," Richt said. "You've got to have nerve and sometimes that nerve will work against you, too. You may try to catch a ball that you shouldn't be trying to catch. The true story of this whole thing is Isaiah was really struggling, in my opinion, in his decision making. That's why we put Terry (Godwin) in there. Some of his decision making was just in practice, so we gave Terry the opportunity, but what Terry wasn't doing, when the ball got kicked short, he wasn't alerting everybody. So the first time he didn't do it today we coached him up, and then the second time he didn't do it, we put Isaiah in. That might have been a good thing," Richt mused, slightly smiling.
The Tigers drove 75 yards with the opening kickoff, Kerryon Johnson racing in from seven yards out for the touchdown.
The Bulldogs appeared about to even the score as they staged a second-quarter march down to the Auburn 2-yard line before being stoned by the Tiger defense. A 9-yard run by Michel had given the Bulldogs a fourth-and-one at that spot. Michel then fumbled a quick pitch into the middle of the line but fortunately fell on the ball to retain possession. Michel then was held for no gain on the next carry and then, on fourth down, Lambert's short pass to the left, intended for Mitchell, fell incomplete to cap Auburn's goal-line stand.
Georgia would finally get on the scoreboard with four minutes left until halftime when Morgan drilled a 40-yard field goal through the wind. The Bulldogs had again driven to the Auburn 12 but an 11-sack of Lambert forced Georgia into the field goal try. However, the Tigers, driving to the Bulldogs' 25 in the waning seconds of the half, countered Georgia's 3-pointer with a 42-yard field goal by Daniel Carlson, thus putting the Tigers up 10-3 at the intermission break.
After a scoreless stalemate most of the third quarter, the Bulldogs would finally reach the end zone via a 67-yard, 9-play drive that culminated with a 4-yard sweep by McKenzie into the left corner of the end zone, with just 1:20 left in the quarter. Lambert had two completions on the march and also reeled off a 13-yard run to the Auburn 32 to keep the drive alive.
Then came the final quarter and the Bulldogs would finally wrest their first lead of the afternoon via McKenzie's brilliant punt return for the touchdown which sent Georgia up17-10 with 9:28 remaining.
On the Tigers' ensuing possession, Jenkins separated Auburn quarterback Sean White from the ball and Davis recovered for Georgia at the Tigers' 17. This time, the Bulldogs couldn't move it but Morgan then connected on a 38-yard field goal to give Georgia a little breathing room at 20-10 with 6:49 to play.
The Tigers then drove down to the Georgia 21 before the Bulldog defense stiffened and made Auburn settle for a 38-yard field goal by Carlson, thus pulling the Tigers within 20-13 with just 1:14 left.
Auburn then lined up for the expected onside kick but Mitchell ended the Tigers' hopes for good by recovering at the Georgia 43. Lambert then took two knees to complete the Bulldogs' uphill victory.
Georgia returns to Sanford Stadium next Saturday to face the Georgia Southern Eagles (7 p.m., ESPNU) in the Bulldogs' final home game, before then going to Bobby Dodd Stadium the following Saturday to close out the regular season against the state rival Yellow Jackets.
"All wins are sweet," said Richt, "and so hard to come by. There's so much work everyone puts in dating all the way back to Aug. 1. When I was at Florida State we would have all these 'style' wins and so on but in this league now, just winning is the thing. I'll take a 10-3 win every week."
[su_spacer size="40″] [su_spacer size="40″]