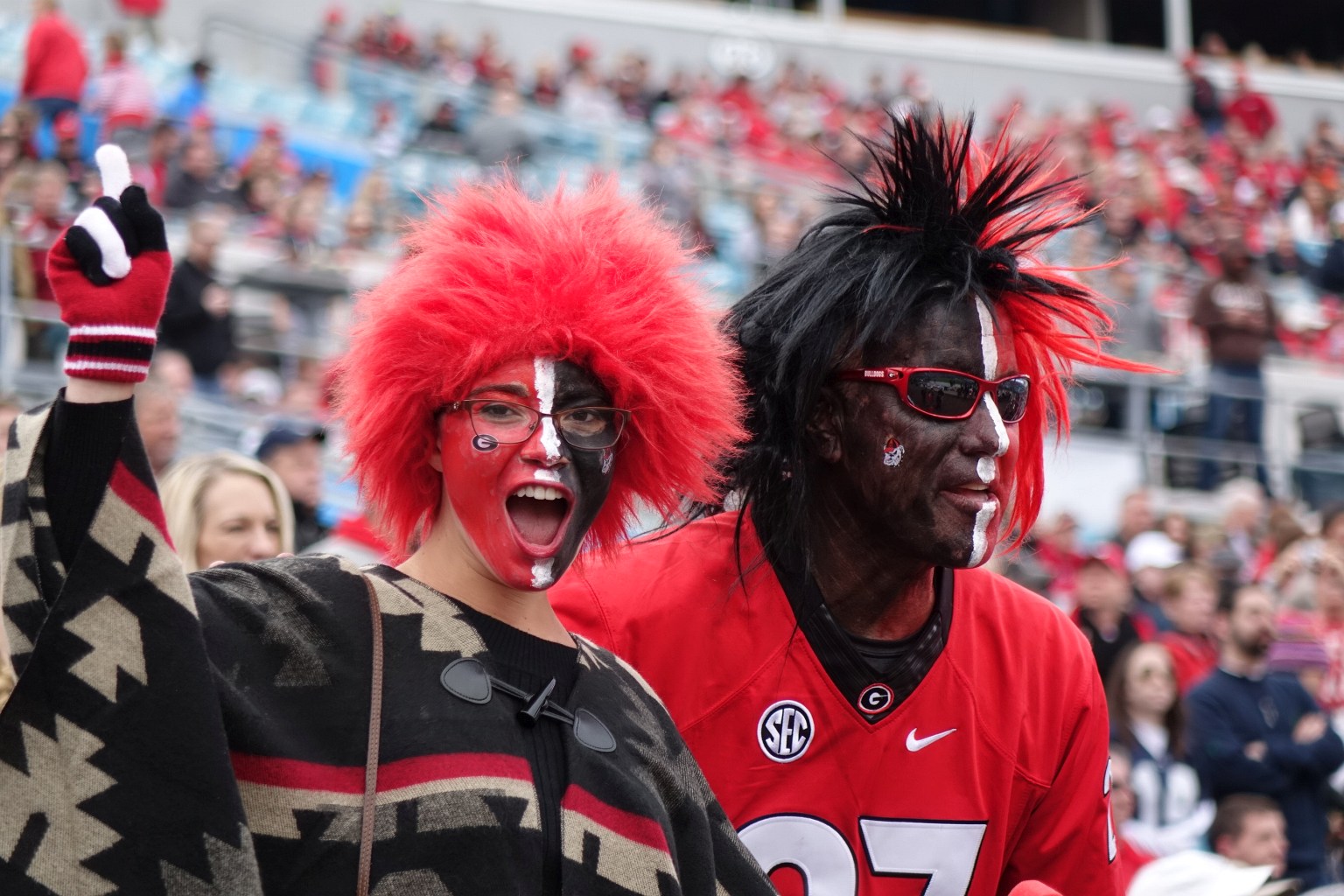 Can one wear too many UGA logos or are SEC teams exempt from logo overload? The following post from the SEC Banter newsletter humorously explores club log overload (CLO) but I think head-to-toe logo (HTTL) are always appropriate for gamedays:
We'd played thirteen holes when, on the 14th tee, a good friend posed a question that shook me to the very core.
"Are you over-logoed???," he asked, seemingly in shock himself, while examining my attire.
Defiantly, I explained I was not over-logoed, reminding him that Club Logo Overload ("CLO") manifests itself when you don three or more club logos — belt, shirt, hat/visor, all littered with club logos.
I was not afflicted with CLO that day. My visor, a white wide-brimmed number with blue Augusta Country Club logo, and shirt, a turquoise striped beauty with white Capital City Club logo, undoubtedly counted towards the CLO tally.
My belt, however — a navy ribbon with the Louisiana state flag emblazoned, admittedly, a few too many times across the ribbon — was not a club logo and, as such, kept me shy of CLO.
My friend was unconvinced. To him, it made no difference that my belt featured the flag of the nation's 48th poorest state (or is it 3rd poorest? I can never figure out those 50-state rankings). Three logos meant a CLO violation, period.
My pal's insistence on CLO spiked my insecurity. Was I afflicted with CLO? Did everyone around me — friends, family, coworkers — see it but me?
To quell any doubt surrounding CLO and acceptable golf attire generally, SEC Banter turned to the one person equipped to lay down the CLO law.
An arbiter of country club style and decorum. A man whose very name on a polyester-blend shirt commands a $95 price tag.
I landed an interview with Peter Millar to settle the CLO score once and for all.
Over sunset cocktails on a veranda perched along an undisclosed coastal location, Peter Millar and I discussed my recent CLO conundrum.
SEC Banter: Thanks for having me, Pete. And that's a helluva vodka drink you poured there, what is it?
Peter Milllar: The recipe's included on a handwritten note card with any order over $500 on petermillar.com. Now, how I can I help you?
SEC Banter: [Whips out phone, orders the $495 Springtime Check Soft Jacket (color: Dock Blue) which, with tax, qualifies for the cocktail recipe — bang!]
I thought Club Logo Overload occurred when some dipshit donned three club logos at once. But a good friend accused me of CLO recently when one of my three logos was a southern state flag.
Peter Millar: That's a close call, old sport. Technically, you were not suffering from CLO. It's dubbed Club Logo Overload for a reason, and you only wore two club logos.
But when you start looking like a damn NASCAR driver, even without club logos, it seems you've violated the spirit of the rule.
SEC Banter: [signals nearby attendant for another Peter Millar cocktail] So three logos, even if one isn't from a club, is a CLO violation?
Peter Millar: Depends on your sense of style, your ability to pull it off. Let me ask you this, Banter: Your shirt logo. Was it on the chest or sleeve?
SEC Banter: The sleeve, Pete. Why?
Peter Millar: The sleeve logo, with its more subtle appearance, suggests you didn't have a case of CLO on your recent outing, even with three logos total.
Now if you'll excuse me, work on my Fall collection beckons.
SEC Banter: [honchoes another Peter Millar cocktail in a go-cup] Of course, and I'll look for that Springtime Check Soft Jacket to arrive soon.
I left the impeccably-decorated quarters of Peter Millar's seaside estate feeling liberated. While perhaps guilty of CLO in a prior life, his reassurance that sporting three logos could be pulled off from time to time gave me great comfort.
Tomorrow's attire calls for a Streamsong hat, New Orleans Country Club shirt, and belt from a Caribbean resort that's very difficult to get to. CLO? Maybe. Maybe not.