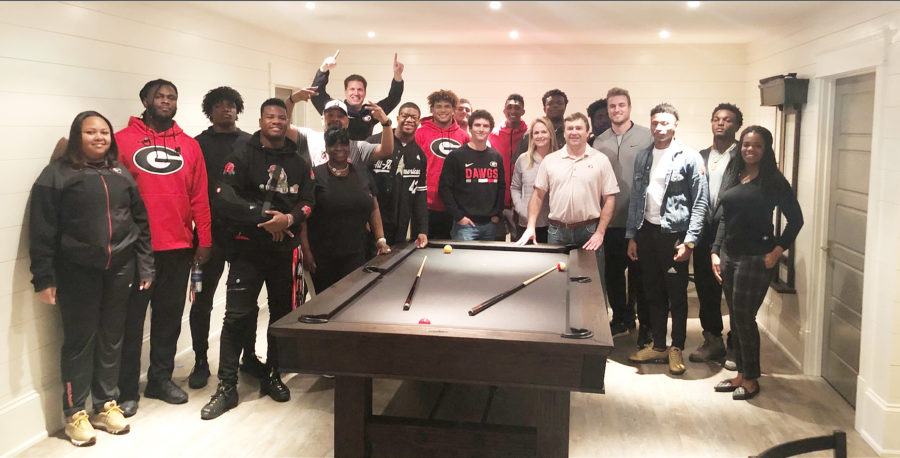 Signing Day, (Wednesday, February 6) was the cherry on top of a truly outstanding class of 2019. The Dawgs had already guaranteed themselves one of the top classes in the country coming into the day and then Coach Kirby Smart pulled off the biggest shocker of National Signing Day luring George Pickens away from the Auburn Tigers. A fitting end for the biggest Alpha Dawg recruiter Athens has ever seen.
A few highlights that are particularly impressive:
•Georgia signed the #1 recruit from Florida, Mississippi,Alabama and Rhode Island
• Georgia signed the #1 OLB, #1 ILB and #1 CENTER in the country
•Georgia added tremendous length along the defensive front with outside linebackers and lineman measuring in at 6'6, 6'6, 6'6, 6'5, 6'4, 6'3 and 6'3.

The addition of George Pickens on Signing Day was massive for Kirby Smart & Co. In 2018, it was clear how much Jake Fromm missed a target like Javon Wims on the outside, who attacked the ball on back shoulder fades and 50/50 balls. That is the exact skill set Pickens will bring to Athens in 2019. Some questioned his top-end speed after he ran a 4.73 40-yard dash at The Opening but remember the star of the National Championship game, Justyn Ross of Clemson, ran a 4.87 40-yard dash only a year earlier. Pickens gives the Dawgs a player similar to Ross who is open even if he is not open. Add in the precise route running and velcro hands of Dominic Blaylock and the Dawgs brought in one of the top 1-2 punches at receiver in the country.

Another terrific 1-2 punch for the Dawgs comes at the outside linebacker position. In 2018, the Dawgs landed 5-Star's Brenton Cox and Adam Anderson at outside linebacker and followed that up in 2019 with Nolan Smith and Jermaine Johnson. Add in Azeez Ojulari, Walter Grant and Robert Beal and the Dawgs truly have an embarrassment of riches at outside linebacker. Johnson and Smith have the potential to transform this unit from solid to dominant. With there ability to set the edge against the run and get after the quarterback both are the type of 3-down outside linebackers Coach Smart covets for his defense to reach its full potential.

The addition of Travon Walker is a potential game change for the Dawgs along the defensive front moving forward. Measuring in at 6-5, 289-pound at the US Army All American game Walker was one of the most dominant performers at practice and during the game in San Antonio. He is a legitimate freak athlete on the defensive line that has the ability to destroy even the most well executed plays at the point of attack. Benefiting from Travon Walker's presence in Athens the next 3-4 years will be Nakobe Dean. Dean is my personal favorite player in the Class of 2019. He is a dynamic, sideline-to-sideline linebacker who has the potential to be a human eraser for this defense in the mold of a Roquan Smith.

Finally with this signing class, the Dawgs secondary quickly became bigger, longer and stronger in a hurry. Tyrique Stevenson brings gives the Dawgs a physical presence regardless of where he lines up. It is very rare that you find someone with his body type with the ability he has to flip his hips in coverage and run with even the quickest receivers. Add human hit stick Lewis Cine at safety who measures in at 6'2 with the frame to easily carry over 200 pounds and D.J. Daniel who has tremendous length and speed at cornerback and the Dawgs have added three tremendous talents in the secondary.

Heading into his fourth season in Athens, the 2019 edition of the Georgia Bulldogs are looking more and more like the team that Kirby Smart envisioned when he took the job. The team is big, long, fast and physical at every position. There is also a tremendous combination of youth and potential for leadership.

As for my mantra for 2019, after another tremendous recruiting class it is pretty simple: NO EXCUSES, PLAY LIKE CHAMPIONS.
To learn more about the 2019 Signing Class, enjoy the following recruit profiles as my Bulldawg Illustrated brethren, Graham Groseclose and Chuck McConnell give their top-notched analysis of all 24 #NewBreed19 signees: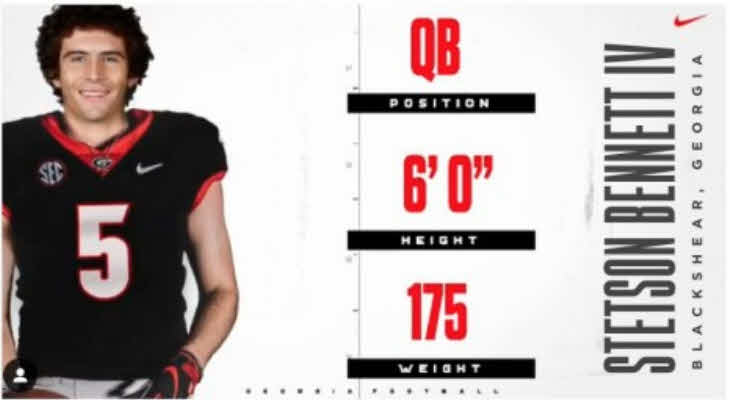 GRAHAM:
Georgia fans and players are no stranger to Bennett who left the Dawgs for a year to start at quarterback at a junior college. He is returning to Georgia on scholarship to provide depth at quarterback.
CHUCK:
Bennett returns after earning high praise from his teammates and staff for his work as the scout team QB for the Bulldogs in 2017. His familiarity with the offense should propel him to the top back-up behind Jake Fromm in 2019. Stetson manages to overcome what he lacks in size with athletic, playmaking ability.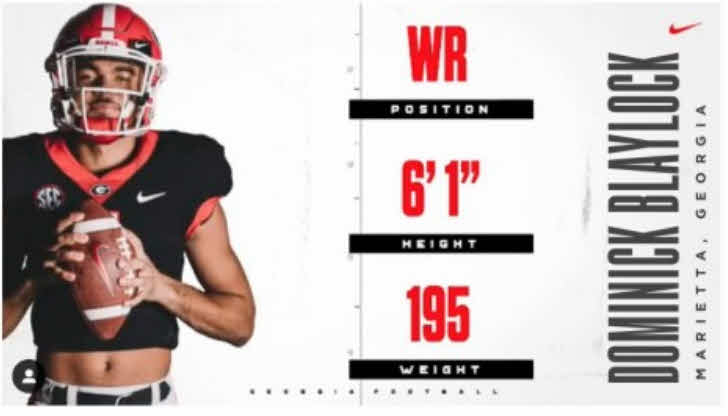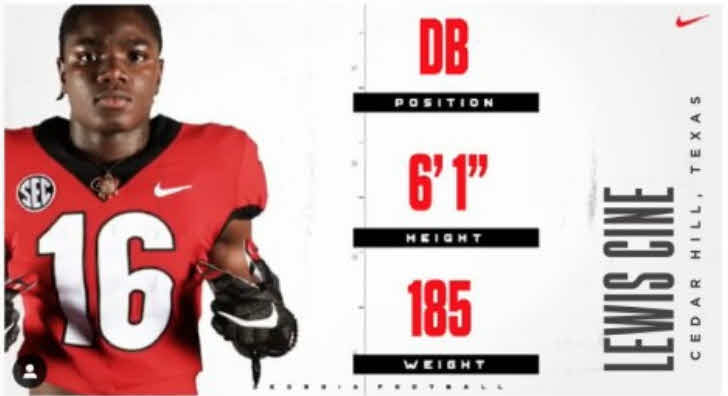 GRAHAM:
Cine is a big, physical tackler that fits what Georgia is looking for at safety. He is best when coming downhill, but can make plays in coverage.

CHUCK:
A big time safety prospect from the state of Texas that is excellent at stopping ball carries dead in their tracks. He is rangy in pass coverage and uses his length to his advantage as well.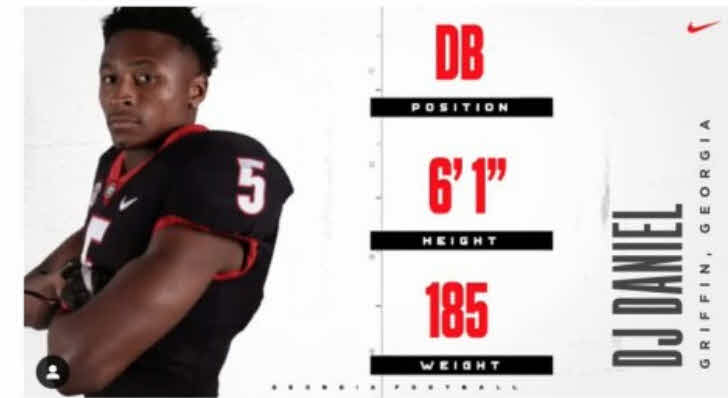 GRAHAM:
Daniel is a JUCO recruit looking to come in and compete for the corner spot left by Deandre Baker. He has great length and speed to match up with the opposition No. 1 receiver.

CHUCK:
DJ has the ideal measurements for the position. He is tall and long-armed with great closing speed. Look for him to push Eric Stokes and Tyson Campbell for immediate playing time.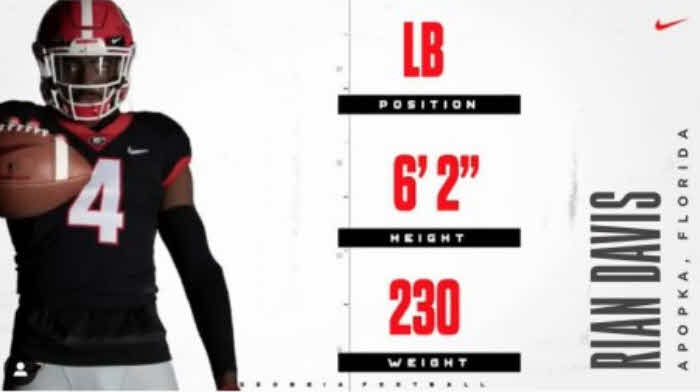 GRAHAM:
Davis has elite size at the inside linebacker position and has the ability to match up with tight ends and slot receivers. He also has the ability to rush the passer on third down.

CHUCK:
Nicknamed "Trouble," Davis will spend much of the upcoming year recovering from a torn ACL. Once healed, Georgia is adding another polished linebacker prospect that takes good angles and is a sure tackler.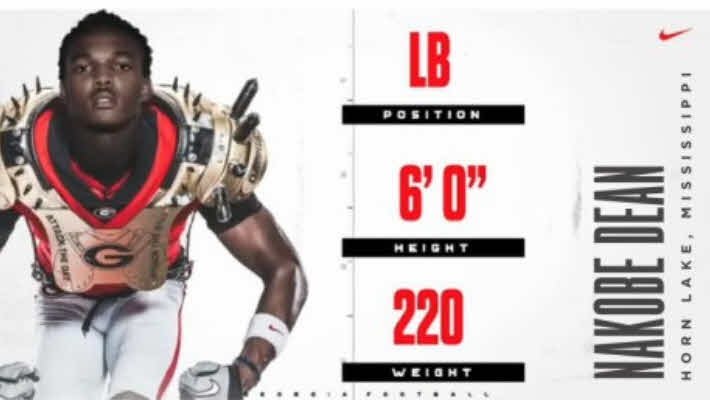 GRAHAM:
Georgia landed the top-ranked recruit from the state of Mississippi. Dean is a new school linebacker who can run sideline to sideline and drop into coverage.

CHUCK:
A tackling machine, Dean is a highly intelligent inside linebacker with great burst. He rarely gives up yards after contact. Nakobe makes up for his shorter, compact build with terrific instincts.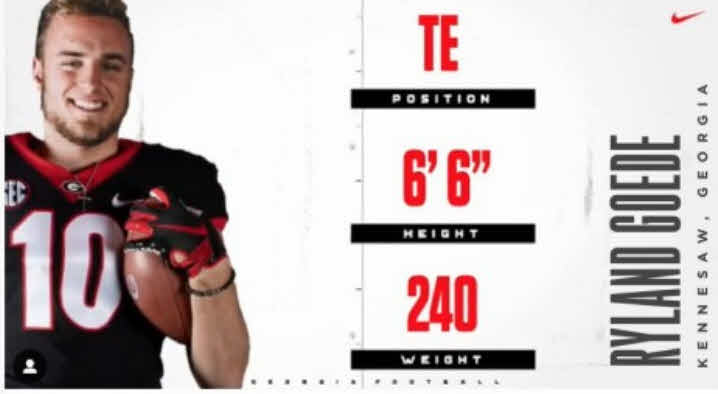 GRAHAM:
Despite coming off of an ACL tear, Goede walks into a great situation due to attrition at the tight end position. If his recovery goes well, he could earn playing time as a true freshman.

CHUCK:
Ryland was having a banner senior season before an ACL injury cut his high school career short. His height and frame give him a huge catch radius and he displays solid hands when targeted in the passing game.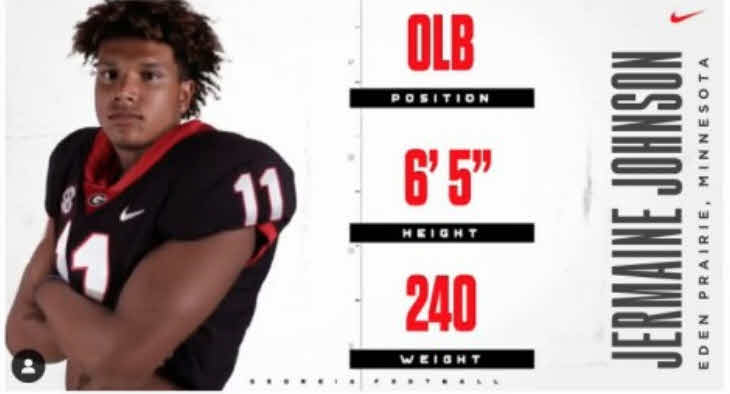 GRAHAM:
Georgia had a down year in sacks and tackles for loss last season. Johnson has the potential to start day one and was extremely successful getting to the quarterback in junior college.
CHUCK:
One of the best JUCO prospects regardless of position in the entire country. Johnson has an arsenal of pass rushing skills that make him the total package. He has great first step quickness, speed to bend around the edge, and power to bull rush opposing tackles.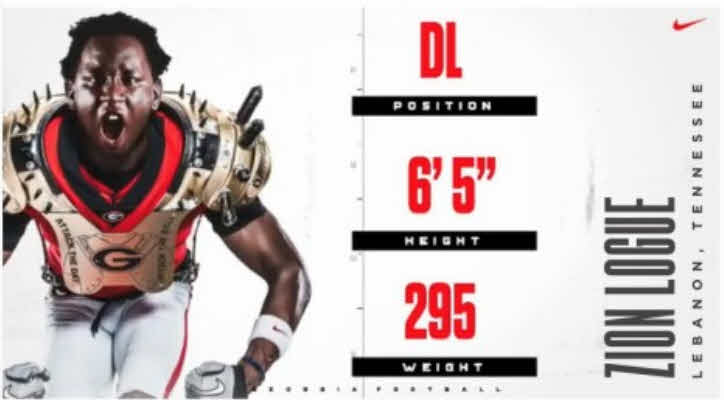 GRAHAM:
Logue is one of the tallest defensive linemen in the class of 2019. That huge frame can carry 300 pounds, easy. Logue is raw and could use some time in the Georgia strength program.
CHUCK:
Logue's stock steadily climbed throughout his high school career due to a late growth spurt that saw him turn into an imposing specimen. The Tennessee native is still learning how to play within his new body but there are not many peers when it comes to raw size and athletic ability.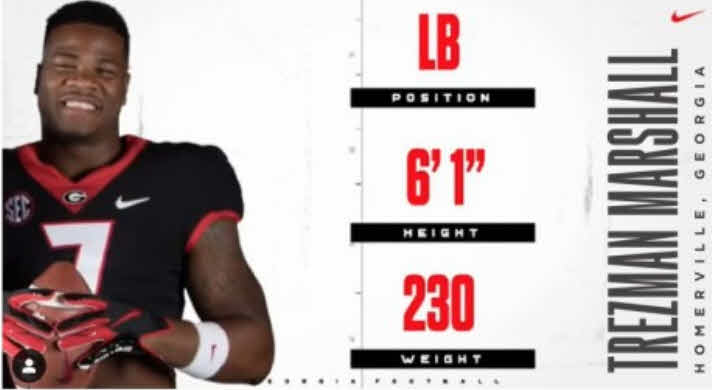 GRAHAM:
A two-way player for Clinch County, Marshall looks the part of a classic thumper at linebacker. He also has good hands and can make plays on the ball in coverage.
CHUCK:
A stocky linebacker prospect that played nearly every snap throughout high school ball. Trezman loves contact and can deliver a serious thump when he squares up.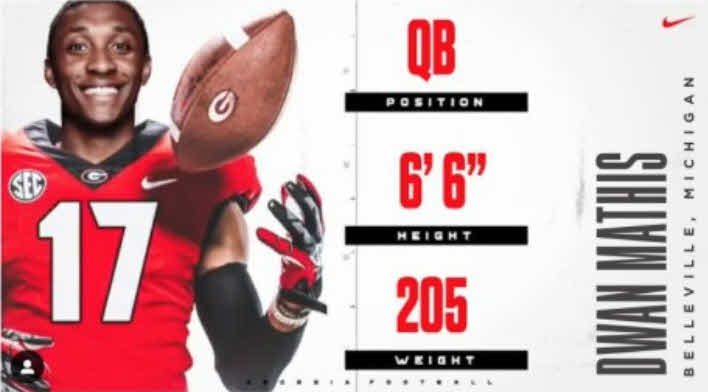 GRAHAM:
Mathis committed to the Bulldogs on signing day without even taking a visit after Justin Fields left for Ohio State. Mathis has all of the raw tools to be an elite passer that can also make plays with his feet.
CHUCK:
QB became a must get after Justin Field's transfer. Mathis is a tall, slender prospect with a big arm. He excels at throwing on the run and improvising with his legs at this point.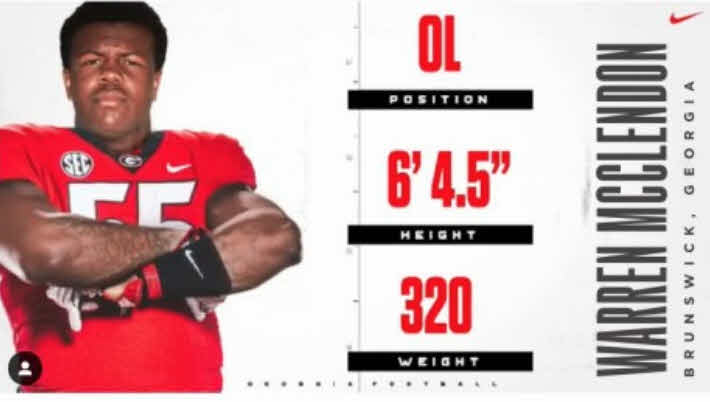 GRAHAM:
McClendon is a UGA legacy and talented offensive lineman. He projects long-term at guard, but has the length to swing out and play tackle if needed.

CHUCK:
McClendon is well rounded in both pass and run blocker. With the Bulldog's wealth of returning offensive linemen, Warren probably won't be called on for crucial snaps in 2019 and can use the year to further his development.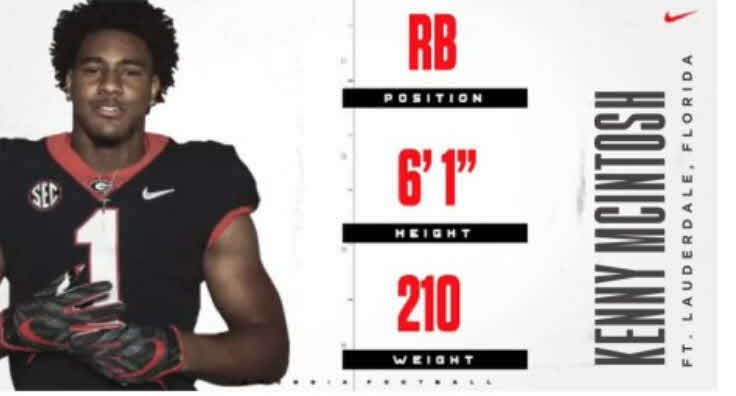 GRAHAM:
McIntosh is a big, physical runner with great balance. He has good pad level and cutting ability for a bigger running back.
CHUCK:
Georgia looked to add a punishing runner to compliment the returning stable of backs, McIntosh fit the bill. Kenny is at his best running between the tackles and the Bulldog's power scheme should allow him to flourish.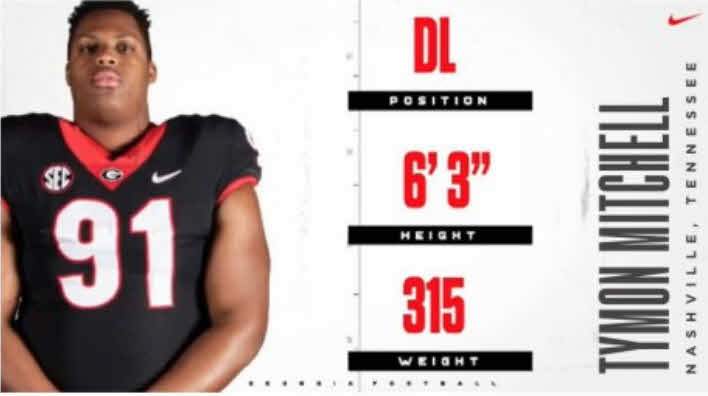 GRAHAM:
Mitchell fits what Georgia wants at nose tackle and is a space eater who can take on double teams. Like most recruits, he needs some time in the weight room.
CHUCK:
Tymon's wide build should allow him to cause havoc and free linebackers to make a play. Mitchell will be at his best when he masters playing with a low pad level.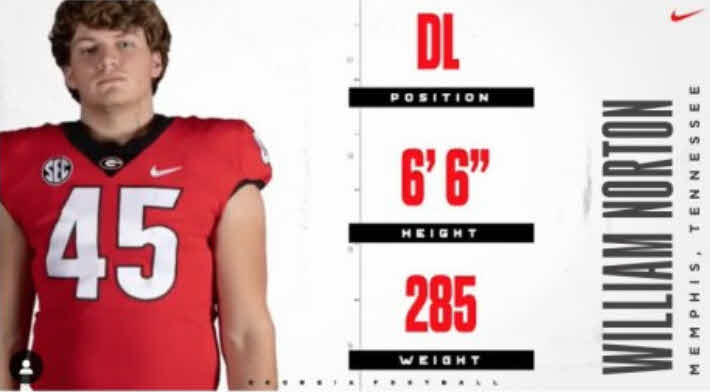 GRAHAM:
One of three defensive lineman from Tennessee, Norton is a powerful run stopper who can play end or tackle. He is a tall and long athlete who could play offensive tackle at other schools.
CHUCK:
At 6'5 with good strength and a wide base, Norton projects as a defensive linemen who can anchor and tie up blockers. He also has a high motor and pursues the play through the whistle.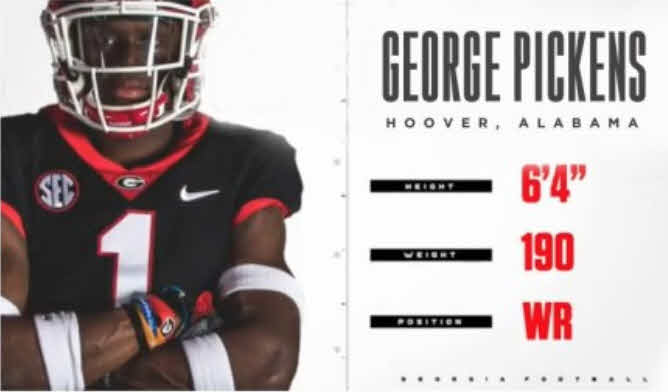 GRAHAM:
Pickens was a last-minute flip from the Auburn Tigers. He may be the most talented receiver coming to Georgia since AJ Green. He made a living in high school on jump balls and is silky smooth after the catch.
CHUCK:
Pickens already has the build of an NFL wideout and has a chance to make a splash in a receiver room that is looking to replace much of last year's productivity. He displays excellent hands and physically dominates opposing defensive backs.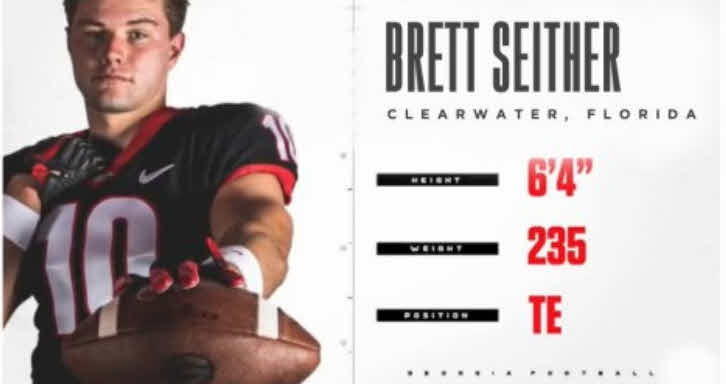 GRAHAM:
Seither may have been the biggest need for Georgia, with an empty tight end room and fellow 2019 tight end, Ryland Goede, coming off an injury. Georgia was able to hold off Alabama on signing day for the big time pass catcher.
CHUCK:
Seither is an athletic tight end that became a highly pursued prospect late in the recruiting cycle. He already has the ability to flex out and be a threat in the passing game. He will add mass to become a more, well-rounded blocker.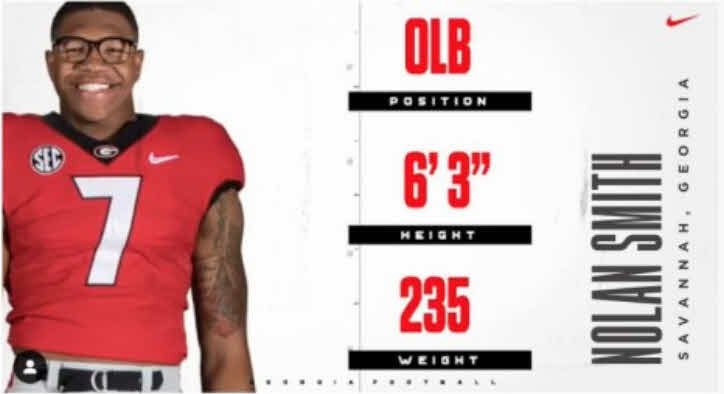 GRAHAM:
Smith was widely considered the No. 1 high school football recruit in the nation. He is a talented pass rusher who should be three down ready after time in the UGA weight room.
CHUCK:
Smith draws comparisons to some of the great 3-4 outside linebackers in the game today. He checks all the boxes as an elite edge defender with an array of moves that allow him to pressure the QB. Being an early enrollee will help Smith prepare for a major role as the Bulldogs look to improve on their pass rush from last season.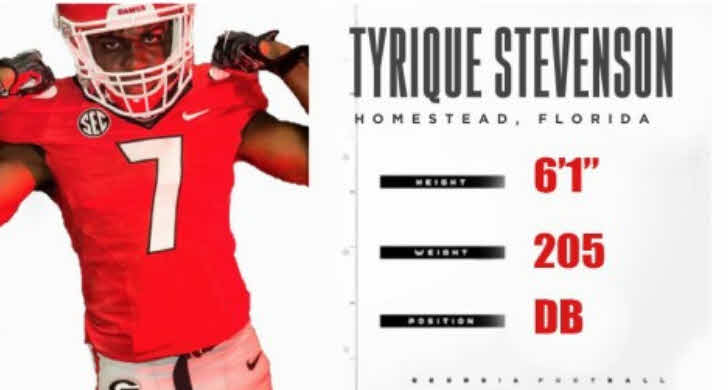 GRAHAM:
Georgia continues its' streak of snatching elite south Florida defensive backs. Stevenson has the ability to play any spot in the secondary, but will likely get a first look at corner.

CHUCK:
Tyrique brings position versatility with the skills to play safety or corner. Already physically built, Stevenson out muscles receivers off the line and hits like a truck.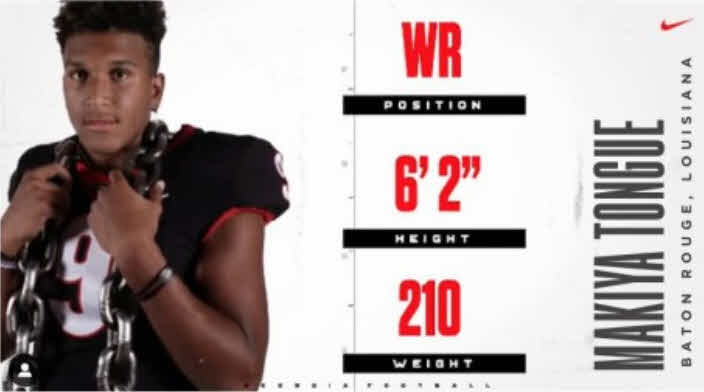 GRAHAM:
Tongue is the most versatile athlete in Georgia's class. He was recruited to play receiver, but may have a higher ceiling on defense. He has a NFL pedigree and played in one of the best programs in the state of Louisiana.
CHUCK:
Makiya is a thicker bodied wide receiver that bullies defensive backs both as a pass catcher and a devastating blocker. His highlights showcase circus catch ability and he can create mismatches wherever he is lined up. His physical play should also translate well to special teams.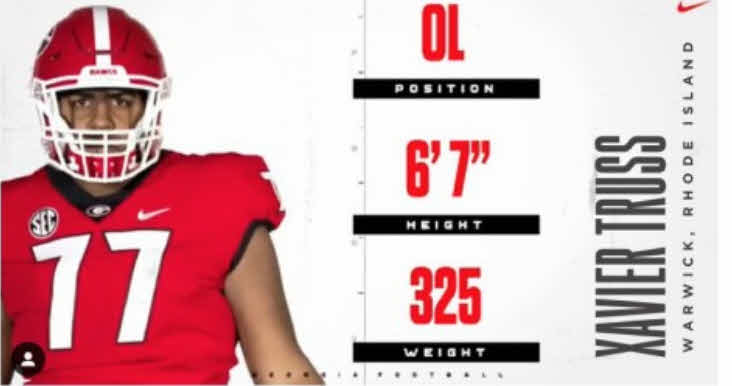 GRAHAM:
Truss is the No. 1 player from Rhode Island and has all of the makings for an elite run blocker. He has a great frame, but will need to shed some weight over a likely redshirt year.
CHUCK:
Similar to Isaiah Wilson from the 2017 class, Truss is a giant tackle prospect from the northeast that will need time to adjust to SEC competition. He can maximize his potential by reshaping his body and learning from the best OL coach in the nation.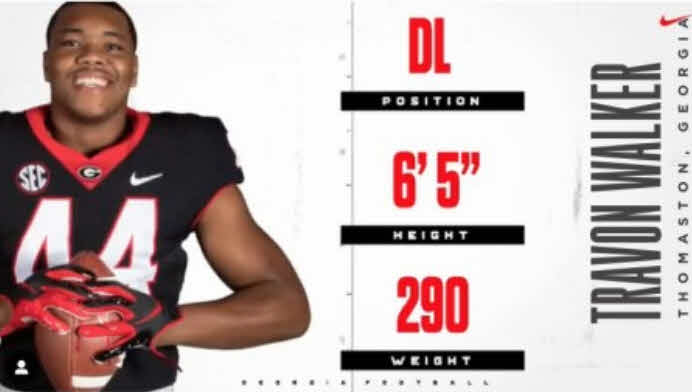 GRAHAM:
Walker is a freak athlete who could be a force on the Georgia defensive line. Primarily a linebacker in high school, he will have to adjust to his new position, but he has the talent to be a game changer.
CHUCK:
Walker flashes unlimited potential as a future defensive line monster. He is light on his feet for a big man and he has the frame to carry additional weight. Look for him to bulk up to near 300 pounds and develop into a dominant force.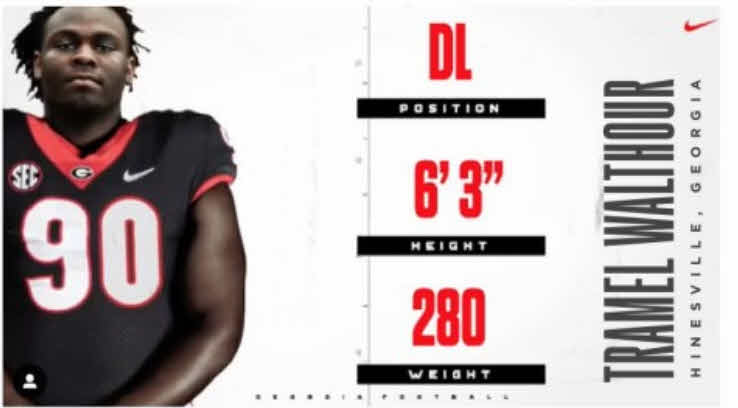 GRAHAM:
Walthour was a 2018 Georgia recruit who went the JUCO route for a season. After a productive year, he steps into a defensive line room full of upper classmen and will have to fight for playing time.
CHUCK:
Tramel won't wow anyone at a combine setting but the south Georgia native is a hard nosed defensive linemen. He plays a thankless position that tends to go unnoticed at times, but he is a max effort player that will get the most of his abilities.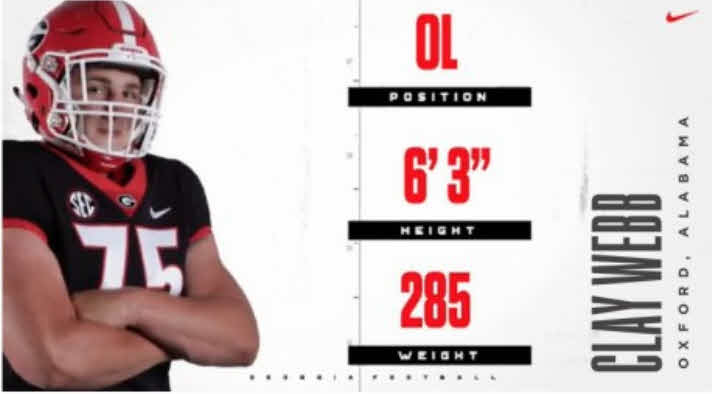 GRAHAM:
The top-ranked player from the state of Alabama, Webb is a versatile lineman who can play all three interior positions. The elite high school wrestler is super-athletic and has a great understanding of leverage.
CHUCK:
Sam Pittman's elite OL recruiting continues a trend … nabbing this highly rated interior prospect from Alabama's backyard. While not quite as large as other recent commits, Webb carries very little bad weight. Clay is fundamentally sound and plays with a mean streak.