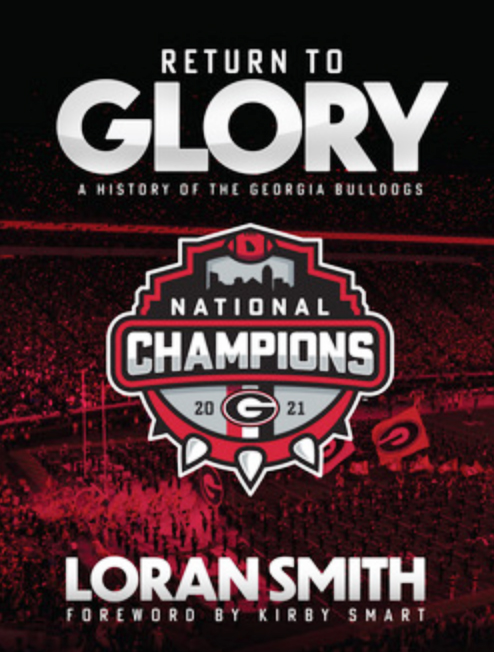 Loran Smith very seldom misses attending the Major golf tournaments … the Masters, U.S. Open, PGA and the British Open.
But this July the University of Georgia broadcasting legend, historian and author didn't make the British Open tournament in St. Andrews, Scotland due to having to put the finishing touches on his new book, "Return to Glory."
And this latest creation by Smith is one the Bulldog Nation should relish as it not only relives the 2021 Bulldogs' run to the program's first National Championship since 1980 but, also, takes the reader through UGA football history from the day the Bulldogs first took the field in 1892 under Dr. Charles Herty.
Released in August by Whitman Publishing, LLC, Smith's 160-page book is one in a long line of publications that Loran has written on all things concerning Georgia football.
"I guess there's about 14 or 15 I've written," said Smith. "Some of those are co-authored, one with Vince (Dooley) and 'Glory, Glory' with Lewis Grizzard. One of those was on the history of the Orange Bowl and another was on Athens, my hometown. I did the history of the Orange Bowl for their 50th anniversary in 1980. Then I wrote five books on the Masters…those are not included in the stats I just gave you; those are sort of annuals.
"On this book, it has some old history in there but I wrote the manuscript for the new part in January," he said. "With the Georgia history in there, I was able to get it done before we won the championship. So, it's retracing old ground but the thing about that first-ever Georgia game on Herty Field is a tackle on Georgia's first team told John Stegeman, our preeminent historian, that we beat Mercer by that 50-0 score. But the scorekeeper got it wrong because he missed two scores when he went across the street to buy some booze. So, I've always maintained that not only was it our first game but also our first tailgate party!
"The big thing about this book, with words and photography, it touches the latest national championship. So that should be the appeal of the book, that we're celebrating a national championship. And 'Return to Glory' is a pretty good description of the story of the 2021 season and '21 team."
Smith, now 84 and going strong, said Georgia's three national championship teams of 1942, 1980 and 2021 all possessed similar traits, which allowed those Bulldogs to overcome all odds enroute to the most prestigious trophy in college football. He even included a non-national title team at Georgia, the 1959 SEC champions, in the discussion.
"The big thing is, like all championship teams, there was a togetherness, a brotherhood," said Smith. "Like in 1959, we didn't win the (national) championship but that was a classic example of the benefit of good timing and also of the togetherness that team had. Dave Lloyd was a disruptive guy who left the team and Coach (Wally) Butts and the coaches were lamenting the loss. But the players were overjoyed because he had such a disruptive factor. And coinciding with that, Coach J.B. Whitworth had the same effect on the players that Erk Russell had. It was almost identical; now he didn't butt heads or that kind of thing but the brotherhood of that team was unbeatable. So was that of the 1942 team. Now I say that having not been here then but the factors were the same.
Like Georgia's three national championship teams, Smith said the SEC champion 1959 Bulldogs – who lost only to South Carolina and scored an Orange Bowl victory over Missouri – had great leadership.
"Captain of the 1959 team was Don Soberdash and Jimmy Vickers was alternate captain and then Fran Tarkenton was captain and Pat Dye was alternate captain in 1960," Smith noted. "Tarkenton was the central figure in rallying the troops, rallying the players. And they liked him very much and he made a big difference. And I think with Coach Whitworth providing the inspiration … by that time Coach Butts had some lean years and he had settled into a cynical stance which came off as negative, and Coach Whitworth balanced the emotions. He made football fun, made everybody believe in it and made everybody feel good.
"Like I said, I wasn't here for the 1942 team but I just heard all what they said about it … like Racehorse Davis, (Frank) Sinkwich, (Charley) Trippi, I knew all those guys. And Van Davis."
Smith said Dooley's 1980 champions literally overcame all odds, starting the season ranked 16th in the AP poll and hurdling one obstacle after another enroute to a 12-0 record and the national championship win over Notre Dame in the Sugar Bowl.
"Of course, in 1980 Georgia was not figured to be the best by any prognosticators but, boy, they just had that great leadership," said Smith. "Herschel was the missing piece and he just really fit in. He had the greatest attitude, was selfless and was really team oriented. It was just a Cinderella year. Everybody felt good and everybody worked.
"You could see the resemblance with the 2021 team," Loran said. "Erk came out with the "Big Team, Little Me" so from the beginning everybody, led by (captain) Frank Ross, took the attitude that they were going to find some way to win – they didn't care who had the glory. Everybody had to run wind sprints and Herschel would be first in line. Both the 1980 and 2021 teams were very similar in that they had all the ingredients of selflessness."
However, unlike most of the 2021 team's 14-1 season, Dooley's 1980 Bulldogs had to win a number of close games to remain unbeaten. "They just found a way to win," said Smith, "and that was another of Erk's big slogans…'One More Time.' I remember him saying it in New Orleans when we knew Notre Dame was going to be a tough, tough opponent."
Smith said Kirby Smart's 2021 Bulldogs, like the 1942 and 1980 national champs before them, just had a brotherhood all across the board.
"Like the great defense, the offense had it, too," he said. "And I think the beauty of that team was you had that impregnable defense, except in the SEC Championship Game. You know Stetson Bennett, if there's ever been a rags-to-riches story …. It was against all odds and he was perfect for Georgia's play-action offense. He was just a perfect fit; he's got such quick feet and touch on the ball and he's very smart, a very heady player. People that remember Eddie Stanky (former MLB second baseman, manager), he was that kind of player. He might not in the flesh be the best talent but he was hard to beat."
Smith admitted that 'Return to Glory' was somewhat of a challenge to get finished on time.
"The challenge with this book was we had so many players and coaches that were significant in the story so I did little vignettes and sidebars and there's close to 50 of those," he said. "And then the big thing was trying to get Kirby's insights. You know after the game he got to bed about 4 a.m., something like that he told me. And then he's up for the press conference and then he flew home. So, he didn't sleep in his own bed until the second night. So, Monday night was Indianapolis, Tuesday night was Athens and then Wednesday morning, it was business as usual he had gone back to work. And he starts flying on that helicopter, recruiting then. Then the meetings he had to attend. He just didn't have time but he did help me at the strategic points. I wanted more of his insights into the thing and that's what I kept badgering him about. And, we got that done!
"But, really, I got this Return to Glory done relatively quickly because I had to start doing the interviewing with the players and coaches on a deferred basis," said Smith. "I couldn't do Kirby and the coaches until they got through recruiting so it was February. So, I got a late start but that gave me a chance to write the transcript in January."
Smart has the foreword in Smith's new book, praising the support of the Bulldog Nation and pointing out how the Georgia fan base was most instrumental in the Bulldogs' run to the national championship.
Return to Glory can be purchased online at the UGA Bookstore (bkstr.com/georgiastore), Whitman.com, Amazon, Books A Million and Barnes & Noble. Cost is $39.95.