After the second SEC beat down by Georgia in back-to-back games, Lorenzo Carter and Sony Michel talked to the media about why they came back for their senior seasons. The two mentioned the importance of buying into this program and if that happens, how special the season and program can be. Michel and Carter have definitely bought into what head coach Kirby Smart and the UGA coaching staff had 'sold' to the team, and how much that has helped them so far.

S. Michel talked about the standard at Georgia, and that was one of the reasons he came back to play. The most significant part was when he said that it's not about the seniors but the ones behind them and making sure they know what they're expected to do.


I mean that's what we came back for. We came back to kind of set that standard," Michel stated. "To come in and buy in and show the young guys that you believe in this program. This Georgia program has something special. It's not about us that came back its really for the ones that are behind us. That's what we wanted to show that, we can be something special, but we just had to buy in. "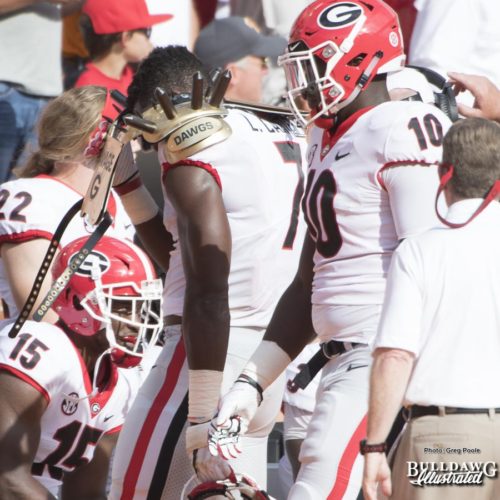 L. Carter talked about the change of leadership for this team and why that's important. He mentioned that the changes that were made aren't going anywhere anytime soon and it is something that these young players need to buy into.


This is my senior year. This is why I came back we got a great leadership on this team we have great young players that have bought in," Carter said. "Our coaching staff does a great job getting us in the right position and getting us prepared. This is why I came back and I don't see it  changing."


Both Carter and Michel notice the culture change that has occurred and is continuing to occur on the team and both are also humble, neither one will accept that its partly because they returned for their final season. Instead, they insist on it being the new process that Smart has implemented and is why this team is becoming successful. These two have more integrity and character than most coaches can ask for, and Georgia is lucky to have them on the team. After such an impressive win, Georgia should be proud of L. Carter and Michel for making it less about them and more about the new way of Georgia football.


For Lorenzo Carter's full interview click the Sound Cloud link below:




For Sony Michel's full interview click the Sound Cloud link below:


Recent Articles by Savannah Leigh Richardson


[pt_view id="8722077nva"]