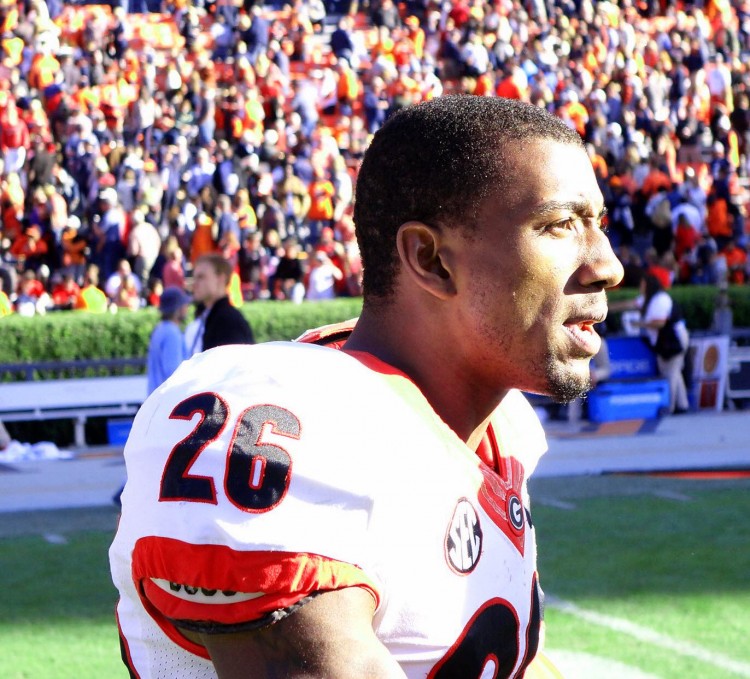 [su_spacer size="20″] Malcolm Mitchell, a senior wide receiver for the University of Georgia football team, has been selected a recipient of the Haier Achievement Award is presented to deserving student-athletes for their accomplishments beyond sports. The announcement of this year's third Haier Achievement Award recipient was made by John Homlish, Senior Vice President and Business Unit Leader of Digital Living for Haier America and Doug Vance, Executive Director of the College Sports Information Directors of America (CoSIDA).
[su_spacer size="40″] "The Haier Achievement Award program brings to light those student-athletes who have achieved success beyond sports," said Homlish. "By recognizing eight inspiring student-athletes like Malcolm throughout the year, we hope to further motivate other young people to achieve and succeed both on and off the field. We commend Malcolm for being a model student-athlete on the field, in the classroom and in the community."
[su_spacer size="40″] Malcolm, who is majoring in Communications Studies, has transformed himself from someone who struggled to read during his days at Valdosta High School into a voracious reader, an active member of a local book club and a regular reader and speaker at local elementary schools. Malcolm has even written a children's book – The Magician's Hat – and started the ReadWithMalcolm.com website to encourage the community to get involved with reading. Additionally, Malcolm has supported countless community service initiatives including; Usher's New Look Foundation; Learn, Play, Excel; Camp Sunshine; Gage's Dawg Fight Against Cancer; the Boys & Girls Club of Atlanta; and many others. He has also been honored this year with the 2015 UGA Hornsby Howell Community Service Award and is a member of the 2015 Allstate AFCA National Good Works Team.
[su_spacer size="40″] On the field, he was selected as the 2011 Freshman All-SEC by SEC Coaches; UGA's 2011 Newcomer of the Year; the 2012 Charley Trippi Most Versatile Player Award; and after suffering a torn ACL in the first game of the 2013 season, he was recognized as the 2014 UGA Comeback Player of the Year. Malcolm is currently second on the SEC's active career list for receptions (161), receiving yardage (2,122) and touchdown catches (15) and ranks fourth, seventh and 11th, respectively, on Georgia's all-time lists in the same categories. This season through 10 games, he leads the Bulldogs with 45 receptions for 637 yards and four touchdowns.
[su_spacer size="40″] "It is an honor to receive the Haier Achievement Award. Reading has truly reshaped my life in such a positive way. It has helped me begin to achieve all of my goals and dreams off the field, and to be able to spread that message to kids has been a great opportunity. I want to thank this group for giving me this award and look forward to continuing what I have started," said Mitchell.
[su_spacer size="40″] Haier will officially recognize him with an on-court presentation at the Dec. 4th UGA-Kansas State men's basketball game. In addition to awarding him with a plaque, Haier will donate $2,000 to the UGA general scholarship fund and award a Haier 48-inch LED HD television to the school's athletic department.
[su_spacer size="40″] "Malcolm cares about people, and he has done a good job of bringing reading to the attention of a lot of people, mostly children," Bulldog head coach Mark Richt said. "Malcolm believes doing great things for the community is important and I think that is a very important trait of his. He is very deserving of a great honor like this."
[su_spacer size="40″] Student-athletes from all sports, all schools, and all divisions are eligible for the Haier Achievement Award. Members of CoSIDA and fans can nominate student-athletes through December 31, 2015, at www.HaierAchievement.com. Haier will announce eight (8) honorees throughout the year and in March invite fans to vote online for the Haier Ultimate Achievement Award winner. The winner will earn his/her school a $5,000 donation to the general scholarship fund and a Haier 48-inch LED HD television. Additionally, all fans who vote will be entered into a drawing to win a Haier 48-inch LED HD TV. Kelly Thomson (Kansas State University), a junior women's basketball player and Megan Fish (University of Central Florida), a senior women's soccer player were the first two Haier Achievement Award honorees recognized this year.
[su_spacer size="120″]