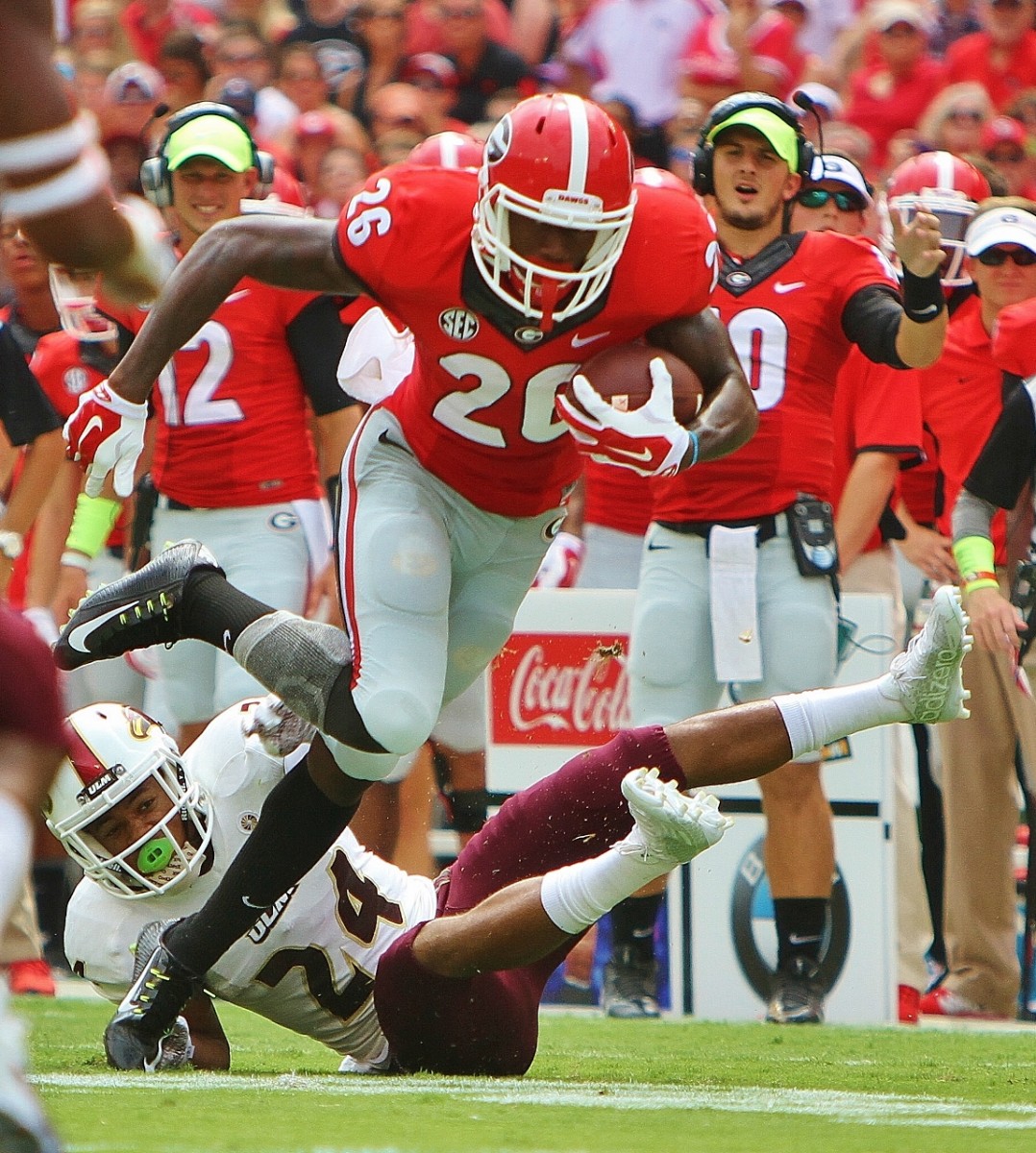 [su_spacer size="20"] Malcolm Mitchell had a couple big plays in Saturday's win against the University of Louisiana at Monroe's Warhawks but he does not like focusing too much on his highlights. Mitchell  would rather not focus on those plays but rather create new highlights in the future.
[su_spacer size="20"]
Georgia wide receiver Malcolm Mitchell did not have the biggest game due to the Bulldogs low amount of passing plays but when his number 26 was called upon to make a play, he did. Mitchell ended his day with just 3 catches for 52 yards and a touchdown. Malcolm's lone touchdown catch was a jump ball that he went up and got and it was viewed as the play of the game by many people.
[su_spacer size="40"] However, Malcolm does not like to constantly look back at past great plays he made. He would rather turn his attention and prepare himself to make future great catches. In a recent press conference this was Malcolm's reaction when he was asked about his catch.
[su_spacer size="40"]
I don't really remember much of it. I actually tried to forget about it, that way I move on to the next week.
[su_spacer size="40"] Mitchell also mentioned that the Bulldogs work on throwing and catching the deep ball in practice, so that they are prepared for any situation but that this week the deep ball was not needed because of the success of the running game and the running backs effectiveness in the receiving game, as well.
[su_spacer size="40"] Mitchell gave his thoughts with SEC play beginning this week for the Bulldogs, on how the Bulldogs prepare for their upcoming games. He mentioned that the day or night of the game were good times to celebrate the victory but Sunday was the time to start prepping for next week.
[su_spacer size="40"]
It's time to lock in, we spoke on that Sunday after the game… Sunday we came in, as a team, and made sure we're moving on. This game Saturday determines if we are competitive in the SEC East, so we need to make sure we execute.
[su_spacer size="40"] During the latter portion of Mitchell's interview, He showed that he wants to avenge the Bulldog's last result that they had against the Commodores in Nashville. When asked if not only if he wanted to avenge that loss but even erase it from the Georgia memory banks, this is what Malcolm had to say.
[su_spacer size="40"]
Yeah. That's the plan.
[su_spacer size="40"] Malcolm Mitchell has clearly moved on from his success against ULM and is ready to add on to it in his upcoming game against the Vanderbilt Commodores.
[su_spacer size="40"] [su_youtube_advanced url="https://www.youtube.com/watch?v=557frX8tD9U" autohide="no"] [su_spacer size="80"]