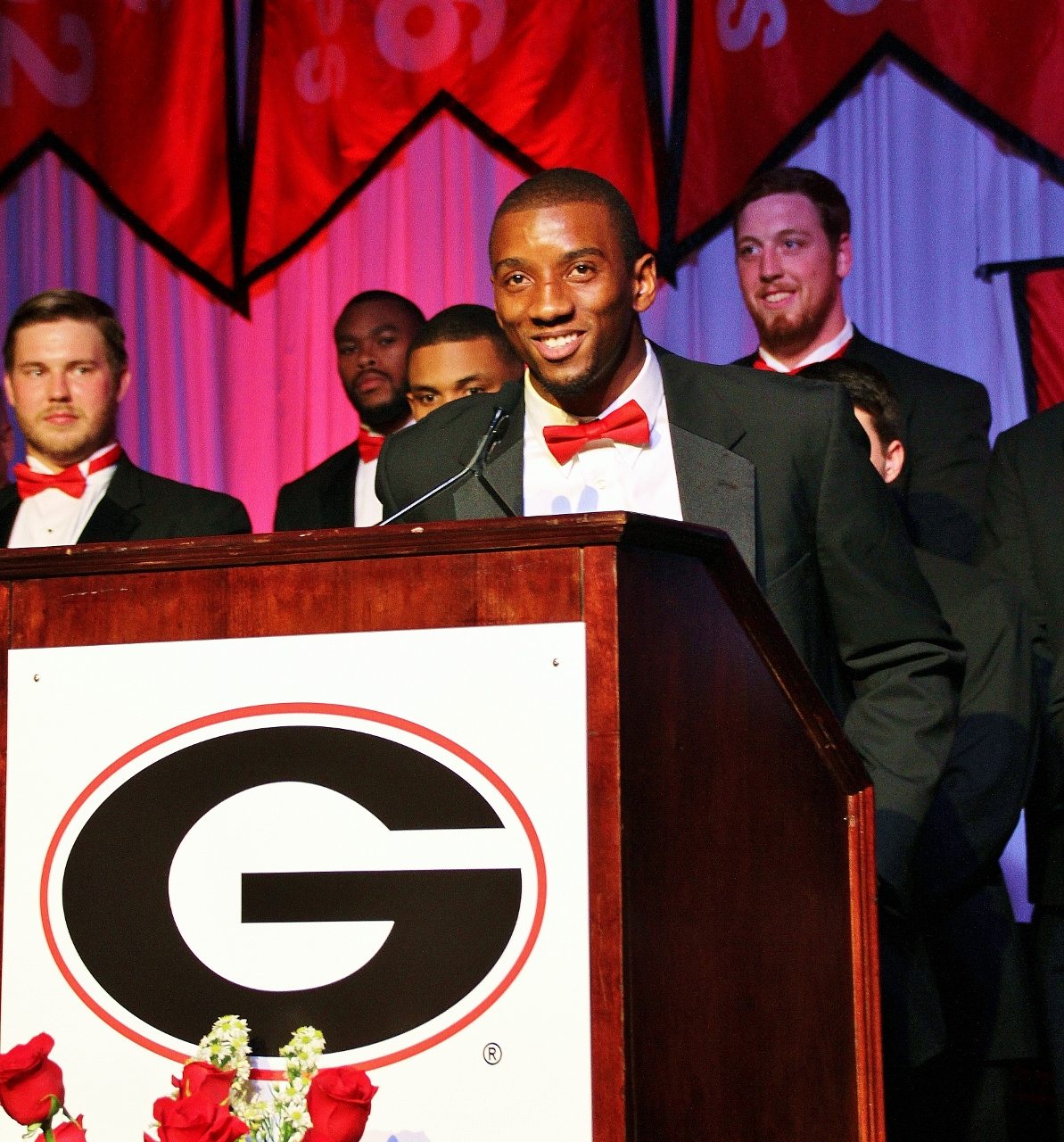 Eight student-athletes who have been recognized this year with the Haier Achievement Award for success beyond sports, including Malcolm Mitchellfrom the University of Georgia, are finalists for the 2015-16 Haier Ultimate Achievement Award.  Presented in partnership with the College Sports Information Directors of America (CoSIDA), this year's honoree will once again be determined by an online vote from March 2-31, 2016 at www.HaierAchievement.com. 
CLICK HERE TO VOTE FOR MALCOLM
Student-athletes from all sports, all schools, and all divisions are eligible for the Haier Achievement Award.  Each of the nominees have already earned a $2,000 donation to their school's general scholarship fund and a Haier LED HD television for the athletic department.  The winner of the online fan vote will earn their school an additional $5,000 donation and another Haier LED HD television. Additionally, all fans who vote will be entered into a drawing to win a Haier LED HD television.
"The Haier Achievement Award program brings to light those student-athletes who have achieved success beyond sports," said John Homlish, Senior Vice President and Business Unit Leader of Digital Living for Haier America. "The eight inspiring student-athletes we have honored this year serve as role models to motivate other young people to achieve and succeed no matter the obstacle.  We commend all eight of these student-athletes and the 12 others we recognized as honorable mentions for being model student-athletes both in the classroom and in the community."
Fans can learn more about the eight candidates and vote throughout March at www.HaierAchievement.com/vote.  The eight candidates include:
Imani Boyette (University of Texas) — a senior women's basketball player and Accounting major, who has overcome suicide attempts and molestation, uses slam poetry to share her story and inspire others while also serving as a team representative of SAAC.
Megan Fish (University of Central Florida) — a senior women's soccer player and Psychology major, overcame the loss of her father to cancer following her 13th birthday and a torn ACL in her freshman season.  She discovered her passion of using sports for social change after community service projects in the Caribbean.
Emily Fogle (Purdue University) — the senior swimmer's hip injury that involved three surgeries coupled with the sudden death of her mother led to a bout with anorexia that hospitalized her. Emily returned to the pool and from these experiences the Human Services major was inspired to pursue her master's in Social Work to help other, just like those who helped her.
Jesse Gunter (Baldwin Wallace University) – a senior wrestler who is fully blind in one eye and 90% in the other is a 2-time D3 All-American and has achieved a 3.3 GPA in Accounting and Education while volunteering with special needs children.
Femi Hollinger-Janzen (Indiana University), a senior men's soccer player and a Recreation/Sports Management major who was left for dead with a deformed leg after his birth in Africa before being adopted by an American family.  Femi has been an Academic All-Big 10 Honoree and a Hoosier HEROES student-athlete peer mentor.
Malcolm Mitchell (University of Georgia) – a senior football player and a Communications Studies major, Malcolm evolved from struggling to read in high school, into an avid reader. He is an active member of a local book club, wrote a children's book and started a website to encourage kids to read.
Brittany Snow (Stony Brook University) — a senior woman's basketball player and a Psychology major with a 3.67 GPA, she is a Dean's List student and a member of the America East Commissioner's Honor Roll, a CoSIDA Academic All-District I first team member and has volunteered at numerous community service events.
Kelly Thomson (Kansas State University) – a junior women's basketball player and a Health/Nutritional Studies major, she suffered two ACL injuries but has been a motivated student and community leader. Kelly is the VP of the K-State's SAAC & has participated in numerous community outreach programs.
Additionally, 12 student-athletes were recognized as Haier Achievement Award Honorable Mention including: Kacy Swain (UCLA); Laura Hall (Guilford College); Tori Biach (Northern State Univ); Mickey Ludlow (University of Dayton); Lauren Hancher (College of Wooster); Lea Sobieraski (SUNY Geneseo); Lafayette Rutledge (Southwest Mississippi Community College); Mitch Granger (University of Illinois at Chicago); Dalton Screws (Jacksonville State Univ); Jason Vander Laan (Ferris State Univ); Dominic Moroglio (University of San Francisco); and Michael Lewis (Wayne State Univ);
"We thank Haier for recognizing the many student athletes who are excelling both on and off the field of play," says Doug Vance, Executive Director of CoSIDA. "The student-athletes we have honored are representative of thousands of wonderful men and women who do a great job of representing their family, sport and school."
ABOUT HAIER:  Haier America (www.haieramerica.com) is a subsidiary of Haier Group, the world's No. 1 major appliance brand as ranked by Euromonitor International 2014, and a global leader in consumer electronics. Haier employs more than 60,000 people around the world and distributes products in more than 100 countries and regions with global revenues reaching $32.6 billion in 2014.
ABOUT CoSIDA:  CoSIDA (College Sports Information Directors of America, www.cosida.com) was founded in 1957 and is a 3,000-plus member national organization comprised of sports public relations, media relations and communications/information professionals throughout all levels of collegiate athletics in the U.S. and Canada. CoSIDA has two primary missions: 1) Assist communications and public relations professionals at all collegiate levels with professional development and continuing education, 2) Play a significant leadership and resource role within the overall collegiate athletics enterprise, thus helping other management groups and their respective memberships deal with the set of communications-based issues that is the most complex and challenging in history.

---