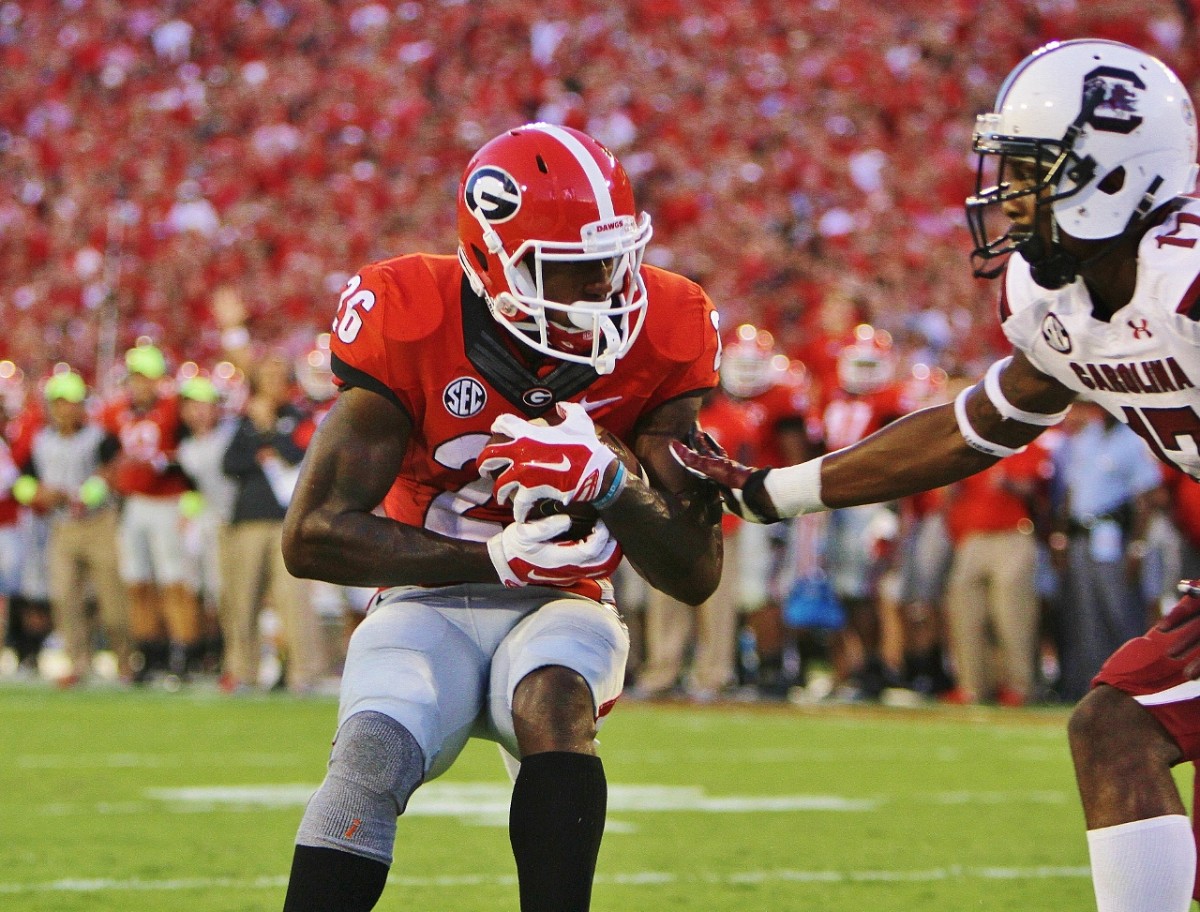 [su_spacer size="20"] Malcolm Mitchell and the rest of the Bulldogs offense had a banner day against their rival, the South Carolina Gamecocks. Mitchell played a pivotal part in getting the Bulldogs passing game going and he helped keep it going until the final whistle.
[su_spacer size="20"]
Malcolm Mitchell helped quarterback Greyson Lambert have a record-setting day by running precise routes and make routine and also tough catches throughout the day. Mitchell had an amazing day as he pulled in 8 catches for 122 yards and had one touchdown. Mitchell's touchdown came near the end of the first half and after his score there was no looking back for the Bulldogs. However, Mitchell continued to play hard and this was his reason why:
[su_spacer size="40"]
We're still fighting regardless of the scoreboard. We always have the mentality of 0-0
[su_spacer size="40"] Mitchell shows here that he does not want to let up and that he continues to fight even if the game is a blowout. That shows leadership qualities on his part and should make Mark Richt and other members of the UGA coaching staff proud to have him on the team. Mitchell also complimented UGA quarterback Greyson Lambert on his NCAA record setting day. When describing Lambert's day, Mitchell had this to say:
[su_spacer size="40"]
Phenomenal. I mean he's a great player. He's a competitor and you saw that tonight… He is the leader of this team
[su_spacer size="40"] When asked about what he thought about opposing teams that believed that UGA is a one-dimensional offense and a run team he had this to say:
[su_spacer size="40"]
Keep thinking that when you game plan for us. Please.
[su_spacer size="40"] Mitchell also was asked about if the team was excited when receiving the game plan for this game but he showed that as a player he just needed to do his job when he said this:
[su_spacer size="40"]
No, We just had to execute. That's what we focused on more than anything. Plays change week to week.
[su_spacer size="40"] One of the final questions Mitchell was asked was if he had revenge in his mind when going up agains the Gamecocks this weekend since they lost to them last season. Mitchell was more excited to have the opportunity to play against them again since the last time he played against them was in 2012 and the past few times he has been plagued with injury.
[su_spacer size="40"] Mitchell played a huge part in helping keep this Bulldogs' offense balanced against the Gamecocks and it made them unstoppable for a large majority of the game. If Mitchell and the rest of the member of the passing game can keep it up, the Bulldogs will have one of the deadliest offenses in the country.
[su_spacer size="40"] [su_youtube_advanced url="https://www.youtube.com/watch?v=vvIex8pONQA" autohide="no"] [su_spacer size="80"]