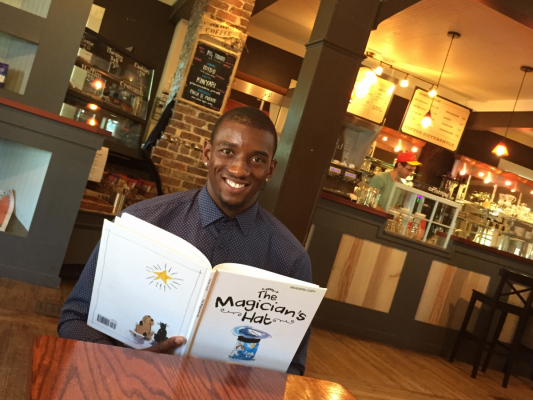 We could not be prouder of one of Georgia's newest authors, Malcolm Mitchell.  His message that picking up a book and
reading can change your life resounds with us so we encourage you to grab this children's book from the UGA Bookstore on campus or online and share it with your lil' dawgs.
Don't miss his website readwithmalcolm.com and enjoy his top ten reasons to buy his new book below …
MALCOLM MITCHELL'S TOP TEN REASONS TO BUY THE MAGICIAN'S HAT
1. To inspire children to follow their dreams!
2. You're never too old to read a children's book.
3. The illustrations are outstanding!
4. It is a lot shorter than War and Peace or a Harry Potter book; you can read it in one sitting!
5. It's good enough for the Governor's wife; it's good enough for you!
6. It's a great story – you're going to enjoy it.
7. You can tell your friends "I got his book" each time they call my name on TV.
8. So my book can be a bestseller and I can be on The Ellen Show.
9. It is recommended by women's book clubs everywhere (or at least in Athens).
10. What do you have better to do on a Saturday in the Fall?