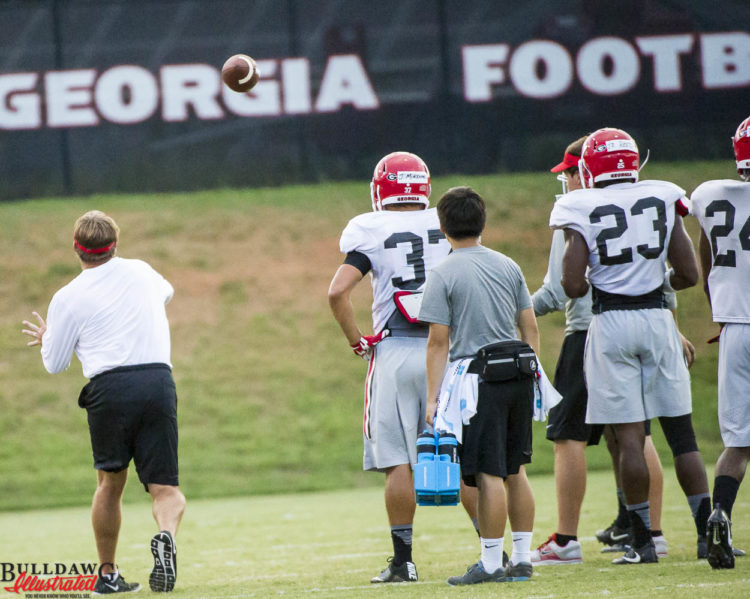 Malkom Parrish is going into his second year as a starter and his main goal this year is to be a better version of himself each and every day. One thing that has helped him reach his main goal through fall camp was the way he "pushed his character" thus far.
Parrish seems to be the epitome of a team player and has a mindset that he always wants to become a better player day in and day out so he can help the team. Parrish says the one thing that he really pushed this camp was his character during this fall camp.
I think I pushed my character more than anything. You know when you're out there and you're tired and you feel like you can't go anymore, something has to be able to tell yourself 'one more, one more' so I think I got better with that more than anything."


Parrish definitely holds the belief that his improvement in this area sill push him to be a better player for the Bulldogs, especially against their first opponent. Parrish understands that the Tar Heels have a very fast paced and uptempo offense and thinks that having the mentality to keep on pushing will help make him an even better player against a team like this.

That's what I'm saying about giving one more rep, one more rep when you're tired you gotta go because they move fast. So in the game you can't have a mental lapse, so thats what I'm holding to my self. Keep pushing and when the game comes maybe it'll slow down and maybe be easier, I don't know, but thats why I'm preparing myself now.


Parrish was also asked about what he saw out of the Tar Heels tape and had to give the opposition some compliments. He understands how good of a team the Tar Heels are and that Georgia will have to respect their opponents if they want to come out of the opener victorious.

They have tremendous play all over the field and Georgia itself has to respect that and prepare for it. That's the best we can do.


Parrish is his biggest critic and his team first mindset was most apparent in how he responded when asked how hard he is on himself whenever he misses a rep. Parrish had this to say concerning how he holds himself accountable during every rep he takes in practice.

I try to be harder on myself than any other man because I hold myself accountable not just for me but for this team, so when I mess up I feel like I let them down. So even when the coaches don't say anything, I'm on myself because I know I just screwed up and I know if I tell myself that I'm gonna retain it and I'll make it better the next time.


Parrish also sounds like he is turning into a leader for the secondary because he says he's trying to get the younger players to accept this mindset too. He says he remembers what its like being a younger player and hearing pointers from older players but not applying it. So Parrish is trying to get the younger guys to take on this mindset early to become better team players all around.


Parrish seems to have the perfect mindset for a football player and could be another important weapon for Kirby Smart, not only as a player but also a leader. Parrish is an experienced member of the secondary that could help the Bulldogs improve more from last year. He will be a fun player to watch under the new head coach and could be a pivotal player on defense.