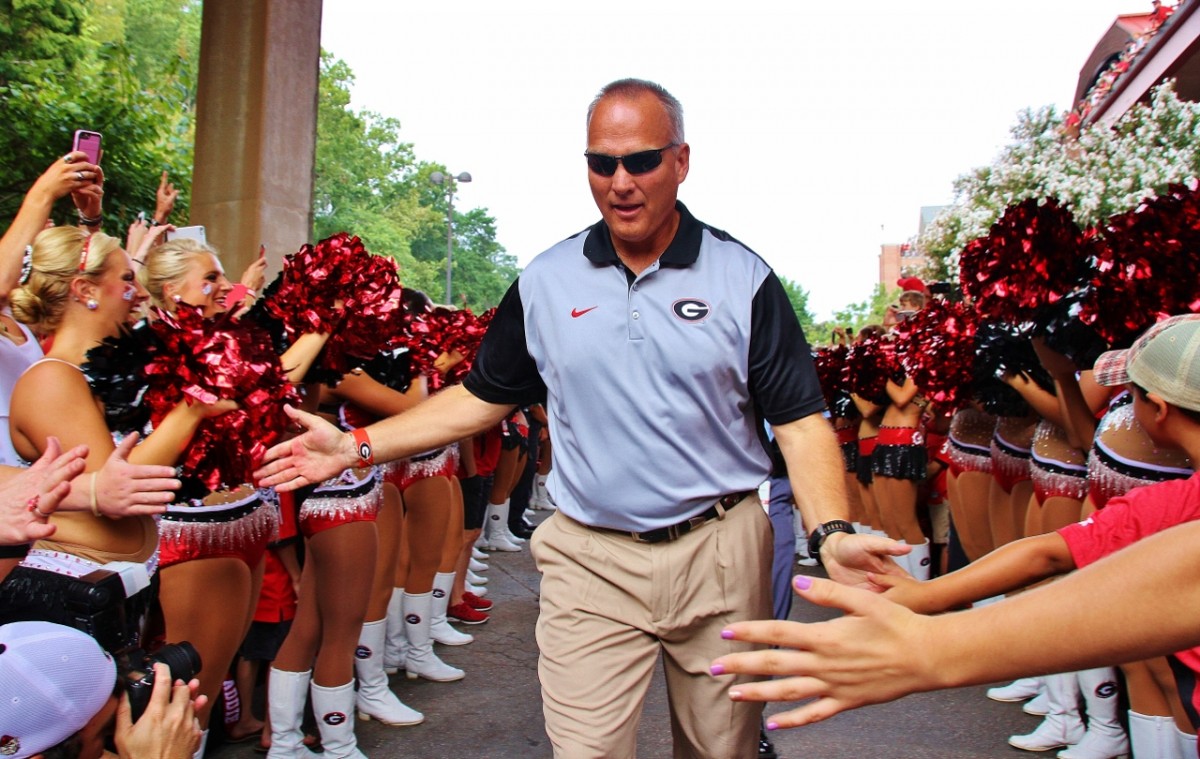 [su_spacer size="20″] Georgia Coach Mark Richt talks about the up-and-coming game versus Vanderbilt in Nashville, TN and also discusses the Dawgs victory over Louisiana-Monroe; how special teams, linebackers, and center Brandon Kublanow and the quarterbacks all contributed to the win. After one game, Richt is sleeping better.
[su_spacer size="20″]
Coach Richt was quick to give kudos to the Vanderbilt defense for holding Western Kentucky to only 246 yards of offense.
[su_spacer size="40″]
I thought they played great defensively against Western Kentucky … Western Kentucky is one of the better offensive teams in America quite frankly … Held them to the lowest yardage total in the Jeff Brohm era.
[su_spacer size="40″] Last season, under Head Coach Jeff Brohm , the Hilltoppers averaged 534.62 yards per game through 13 games. In 2013, he was Western Kentucky's assistant head coach, offensive coordinator and quarterbacks coach, where his Hilltopper offense averaged 458.5 yards per game.
[su_spacer size="40″] Coach Richt then goes on to talk about Georgia being focused no matter if they won or lost the previous match up in Nashville or won or lost the previous week's game:
[su_spacer size="40″]
I hope we'll be focused no matter who won what game. Last year. two years ago. Last week. If we're not focused, we're not doing a good job coaching.
[su_spacer size="40″] Mark Richt talks about special teams play versus Louisiana-Monroe and the aggressiveness of the punt return units on defense. Will we see more of that from Georgia this season?
[su_spacer size="40″]
We did come after those more than usual … It just depends on the game, on the team. A lot of it is just there operation time. If there operation is not fast enough, we may decide to go after it. If we don't think they block particularly well, we may go after it . . . schematically. If they do a good job schematically and they've got a quick operation time, it's almost impossible to block; so, we just assume to try to return it.
[su_spacer size="40″] In other words, it all depends on the team that Georgia is facing on a given week and how good that opponent is at punt protection and how good the punter is at getting off the punt as to whether or not how aggressive the Dawgs special teams will be.
[su_spacer size="40″] Coach Richt also said he would be sleeping a little better after watching center Brandon Kublanow and quarterbacks Greyson Lambert and Bryce Ramsey play this past Saturday.
[su_spacer size="40″]
Kublanow did a really good job. I was never worried about his blocking; I was always worried about his snap. After he got on the internet and watched some business man show us how to snap rugby style, it changed his life as a center and changed my sleeping pattern as a coach . . . When the snapping problem was over, I wasn't worried about him as much . . . I think after one game, I'll sleep a little bit better knowing these guys will be fine.
[su_spacer size="40″] One of the last things Coach Richt is asked to talk about is the contract extension for the SEC Championship remaining in Atlanta and did he feel like that was an advantage for Georgia
[su_spacer size="40″]
I think we got to get there, and win when we get there. I think its great though.
[su_spacer size="40″]
Mark Richt interview – Vanderbilt
[su_spacer size="80″]