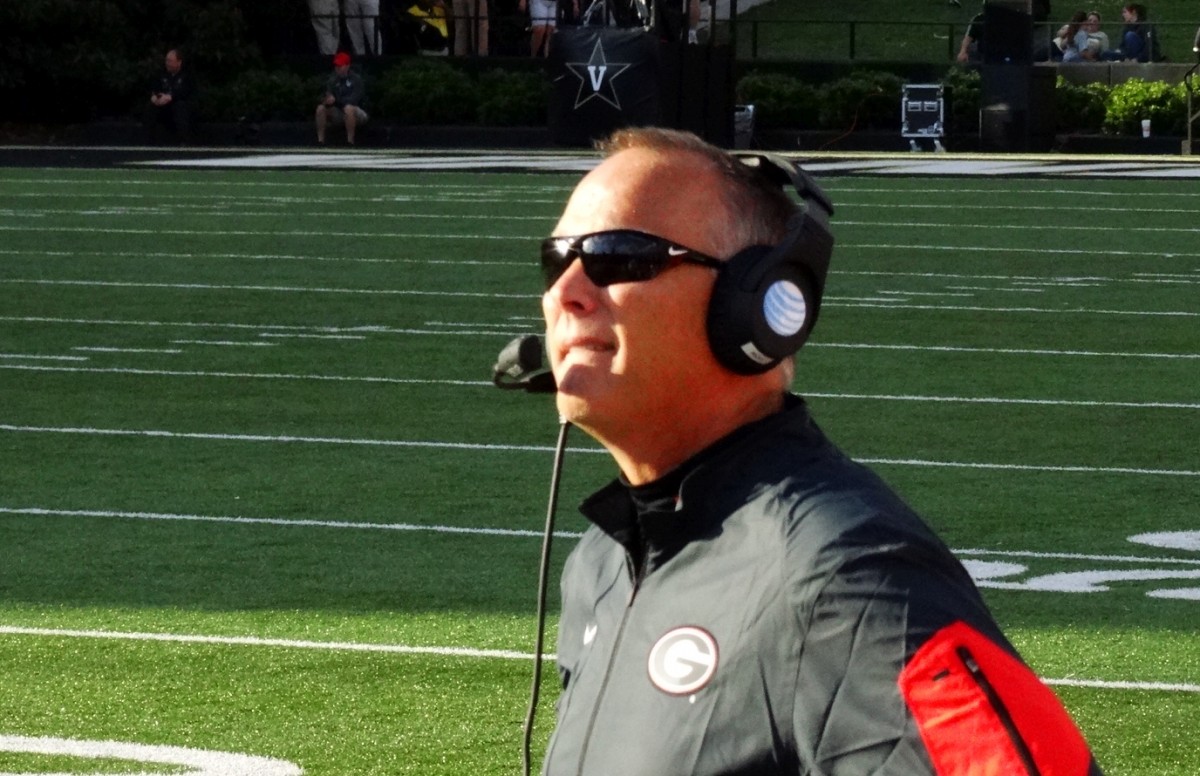 [su_spacer size="20″] If looks could kill, Mark Richt certainly had one after his team failed to recover an unusual onside kick from Vanderbilt in the waning minutes of the game.
[su_spacer size="20″]
With approximately 4 minutes and 23 seconds to go in the game, after the Commodores pulled within 10 points of the Dawgs on a 4th quarter TD and successful 2-point conversion, there was little doubt that Vanderbilt was going to go for the onside kick. Georgia fans watched in utter disbelieve as what looked to be a pooch type onside kick fell into an open area of the field, Reggie Davis tried in vain to gather in the ball, and a sea of Commodores were upon him and the loose ball in no time at all.
[su_spacer size="40″] If you were at the game or watching on TV, Mark Richt's expression was not a pleasant one. In fact, it looked like he was ready to let in to someone. I don't blame him. While Vanderbilt executed the play almost to perfection, Georgia looked lost on the play or, at the very least, not expecting what happened to happen. So what was Coach Richt thinking?
[su_spacer size="40″]
Mark Richt glad his pastor could not read his mind after onside kick
[su_spacer size="40″]
Well, I didn't say anything out loud, but if anybody could record my thoughts, my pastor wouldn't have been happy with them."
[su_spacer size="40″] Why did what happen . . . happen? Was it lack of focus? Was it not expected? Was it a misalignment? Was it lack of execution?
[su_spacer size="40″] The coaching staff expected the onsides kick, but it really came down to lack of execution and perhaps a little lack of focus on the part of the special teams unit that was in on that play. Mark Richt addresses this in Georgia's Sunday afternoon press conference:
[su_spacer size="40″]
They took advantage of the alignment, but there are a lot of guys that have a responsibility on that hands unit and that is to block the defenders coming down the field. They've got to block and give that guy time to gather the ball in.
[su_spacer size="40″] Even if Vanderbilt had managed to convert the onside kick recovery into another TD and 2-point conversion, the Commodores would have still been down by 2 points with not much time left on the clock, but we have seen stranger things happen during a college football game. It is certainly in the realm of possibility that that miscue could have cost Georgia the game if everything had gone Vandy's way.
[su_spacer size="40″]
It's one of the things that could have cost us. We got to make sure doing the right thing first of all and make sure we can execute it.
[su_spacer size="40″] Fortunately, Jake Ganus intercepted a Commodore pass in the end zone to avert disaster and stymie the Vandy voodoo.
[su_spacer size="40″]
Mark Richt Vanderbilt post game interview – onside kick
[su_spacer size="80″]