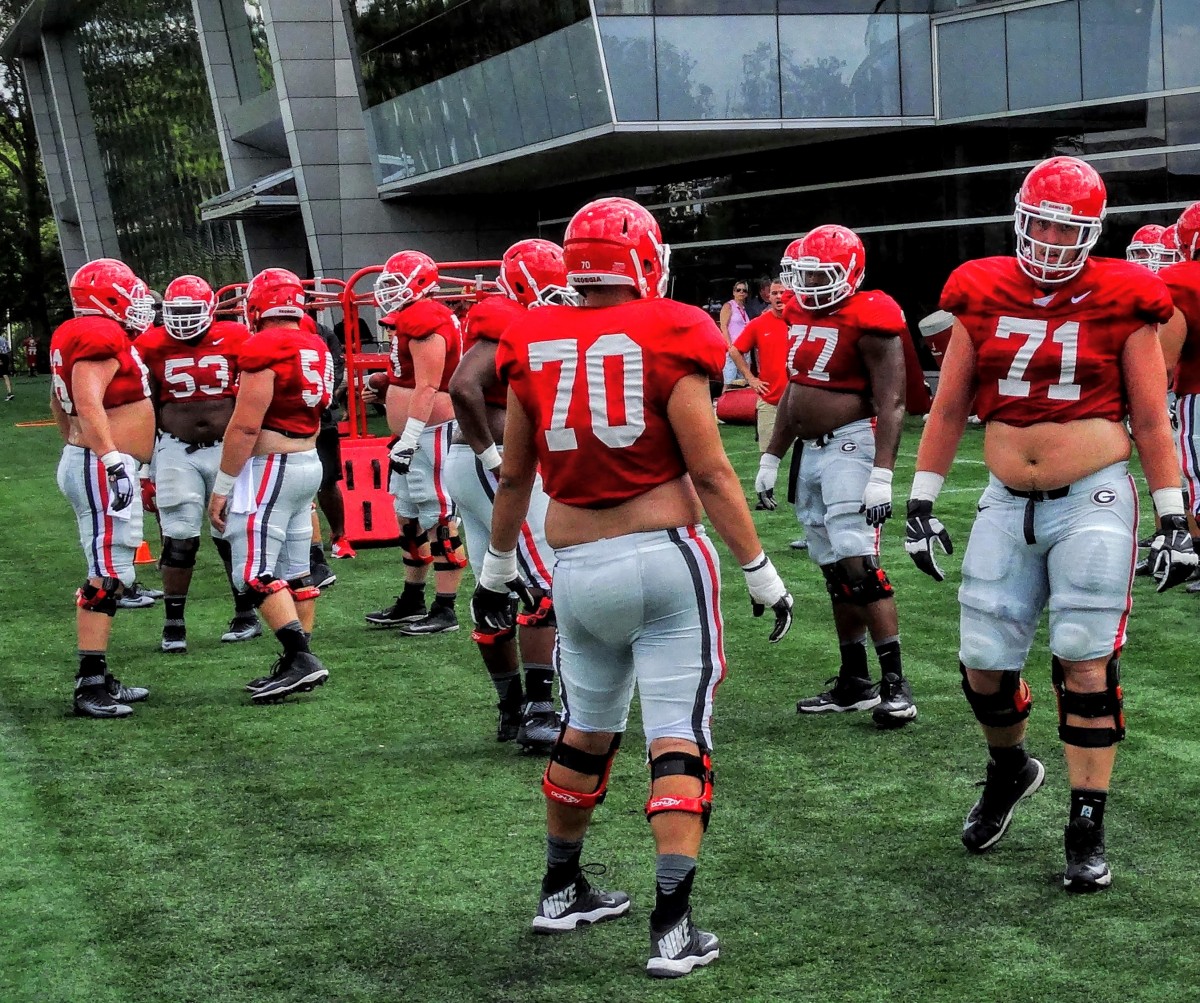 [su_spacer size="20″] Mark Richt discusses in his post-scrimmage presser the gap between the first and second offensive line units.
[su_spacer size="20″]
The biggest disparity or level of readiness is from the number one offensive line and the number two offensive line. That is the most glaring thing. Our number 2 unit is not ready to play winning football in my opinion right now. I think they are getting better.
[su_spacer size="40″]
One of the hardest things to do in football is to pass protect against very talented edge rushers. Lorenzo Carter today worked mostly against the number two unit and they could hardly tough him. If he was working against the ones, it would have been a better battle, but he would have still won his share.
[su_spacer size="40″]
Jordan Jenkins created a lot of pressure, even against the number one unit. There was a lot of edge pressure by those guys which isn't surprising. They are great rushers for us.
[su_spacer size="40″]
Between the one line and the two line, that's the biggest issue and biggest concern.
[su_spacer size="40″] Coach Richt was asked whether or not he felt that the number two guys are ready to step in and provide depth:
[su_spacer size="40″]
Right now, I don't know if there is anybody on that unit ready to play winning football, yet. I'm not trying to dog them out. They're just developing. They are getting better. They're learning.
[su_spacer size="40″] It is not all doom and gloom, though, as Coach Richt does take a moment to point out that he believes Georgia's offense could function if senior offensive lineman Hunter Long had to step in at center or guard:
[su_spacer size="40″]
The guy that would be closest, in my opinion, would be Hunter Long. If Hunter had to play center or guard, I think we could keep functioning pretty good. The rest of the guys at this moment, I would be a little more concerned with them.
[su_spacer size="40″] Mark Richt is asked about how important it is to have Kolton Houston back for a sixth year:
[su_spacer size="40″]
It's huge. If he wasn't there, somebody would have been there all along and maybe they would have been a little further along. Possibly. Sometimes when guys see "Hey. I'm the guy," it just changes their life a little bit, but I'm glad we got his sixth year back.
[su_spacer size="40″]
Mark Richt: there is a big drop off between the first and 2nd offensive line units
[su_spacer size="40″] How important was it to have 6th year senior Kolton Houston be granted an extra year of eligibility by the NCAA on his appeal? In Mark Richt's words, "huge." While not technically a member of the 2015 recruiting class for the Dawgs, by default, he may be the most important "get" for Georgia for this year in terms of the offensive line and what that means for the offense overall. This is especially true if the number two offensive line unit continues to struggle.
[su_spacer size="40″] The other conclusion we can inference from Mark Richt's remarks about the offensive line having trouble blocking sophomore linebacker Lorenzo Carter and senior linebacker Jordan Jenkins, is that those two could end up also causing havoc not just to Bulldawg offensive linemen but to opposing teams as well.