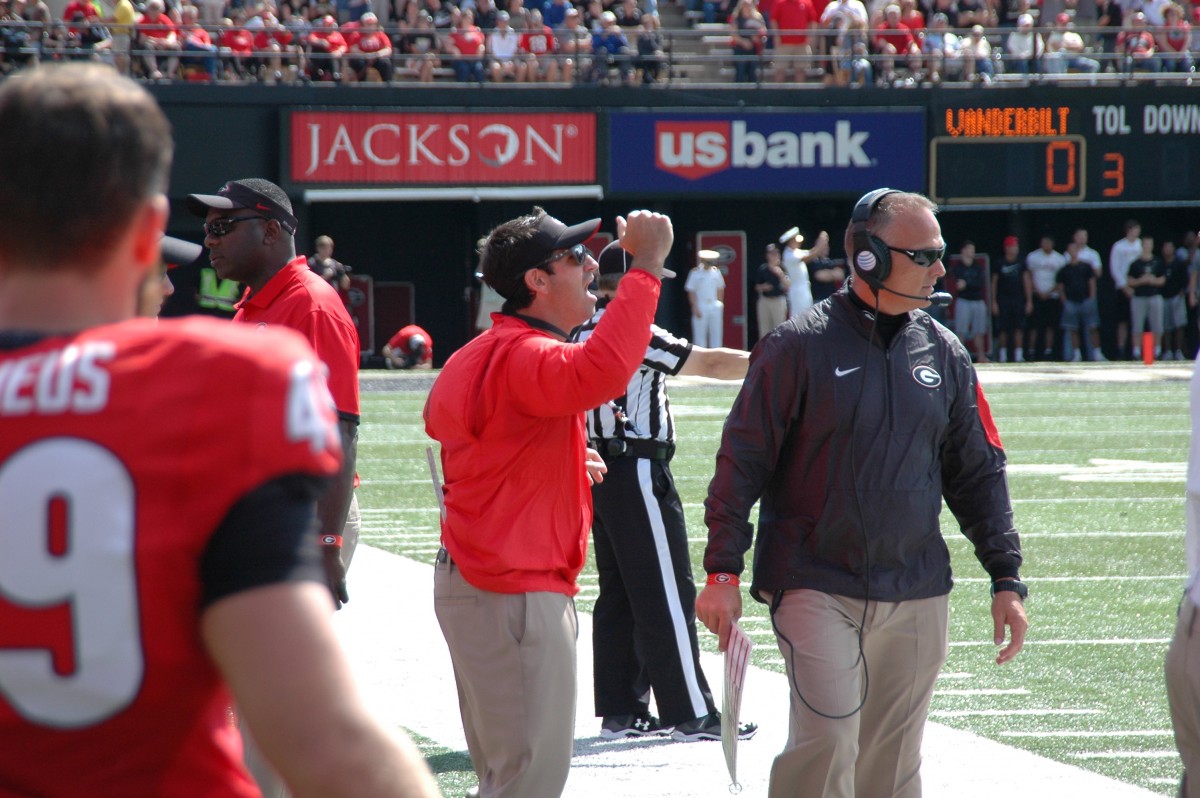 [su_spacer size="20″] The Bulldawgs will face their arch nemesis Steve Spurrier and his Gamecocks for the third contest of the 2015 college football season. In their first two games, Georgia has won by at least two touchdowns or more, but they have done so via a stout defense and a punishing running game. Where has the passing attack been? Is it MIA? Coach Mark Richt in his presser today talks about the offense and says "We've got to have more balance."
[su_spacer size="20″]
It was not secret going into this season that on offense, Georgia's bread and butter was going to be the ground and pound, running the ball with its talented tailbacks: Nick Chubb, Sony Michel, Keith Marshall, and Brendan Douglas. However, versus Vanderbilt this past Saturday and even to some degree versus Louisiana-Monroe in the Dawgs first game, even when the defense has stuffed the box with 8 to 9 defenders, instead of attempting a pass, Georgia has chosen to run the ball into the teeth of those 8 and 9 man fronts. Coach Mark Richt addresses this:
[su_spacer size="40″]
Well, we got to have more balance in our passing attack, in our offensive system. I say that. In game one, we had good balance really. We threw the ball well. Greyson was 8 of 12. Sixty-seven percent. Two were tipped at the line and two were throw aways [referring to the incompletions]. I mean really, he graded 100% as a passer. He hit every target he could have hit. Threw two away which he should have done. Good decision; so, you get a plus on your decision and a no grade on your accuracy because you threw it away.
[su_spacer size="40″]
Brice was 2 for 2.
[su_spacer size="40″]
Game one, we had a big lead; so, we weren't sitting there trying to set the world on fire throwing and catching. Game two, we had a pretty good lead as well. A lot of our plan was try to run as much clock as possible, and you do that running the ball.
[su_spacer size="40″] Now, does that mean Mark Richt and the coaching staff are satisfied with Georgia's offensive performance so far? No.
[su_spacer size="40″]
Were we as proficient as I like us to be. No. We'll get better . . . I see what happens in practice every day. It's a matter of time. I don't think there is anything to fret about right now.
[su_spacer size="40″] How close is Georgia to getting better? How does Georgia get better?
[su_spacer size="40″]
It's like anything else. No matter what we're doing, that's our goal every day is to get better. It sounds boring. It is boring. Really, football is kind of boring. You run plays over and over and over until you get bored with them. When you're finally bored with them, you probably got it. If you are running them and you're still not sure and it's a new adventure for you, then you're probably not ready to play a game. The goal is to rep it enough to where you get a little bored with it and then you can do it your sleep. You can do it under pressure. That's true in running the ball, throwing the ball, kicking, tackling . . . We're just trying to get better . . . in all areas.
[su_spacer size="40″] I hope readers don't take Coaches' quote and think that Mark Richt is saying football is boring, literally. Practice is boring. It can be monotonous because of the repetition. Games are different than practice. The energy. The atmosphere. Coaches and players get excited for games. Practice is part of the work that you have to put in to be good on game day, but it isn't a part of the game that a lot of players get excited about.
[su_spacer size="40″] It is why you hear players talk about they cannot wait for game day during off-season. It is also why it is so hard to replicate the live game experience in practice. It is why getting that game experience is so important. It is why we generally see teams improve over the course of a season because they not only get more practices under their belt but also more actual game experience. Of course, this is not always true, but in general, teams will get better from game one to game two and so on and so forth.
[su_spacer size="40″] Hopefully, if the Dawgs are practicing well and their experiences in their first two games have them ready for Spurrier and the Gamecocks on Saturday.
[su_spacer size="40″]
Mark Richt interview: Georgia vs. South Carolina
[su_spacer size="80″]