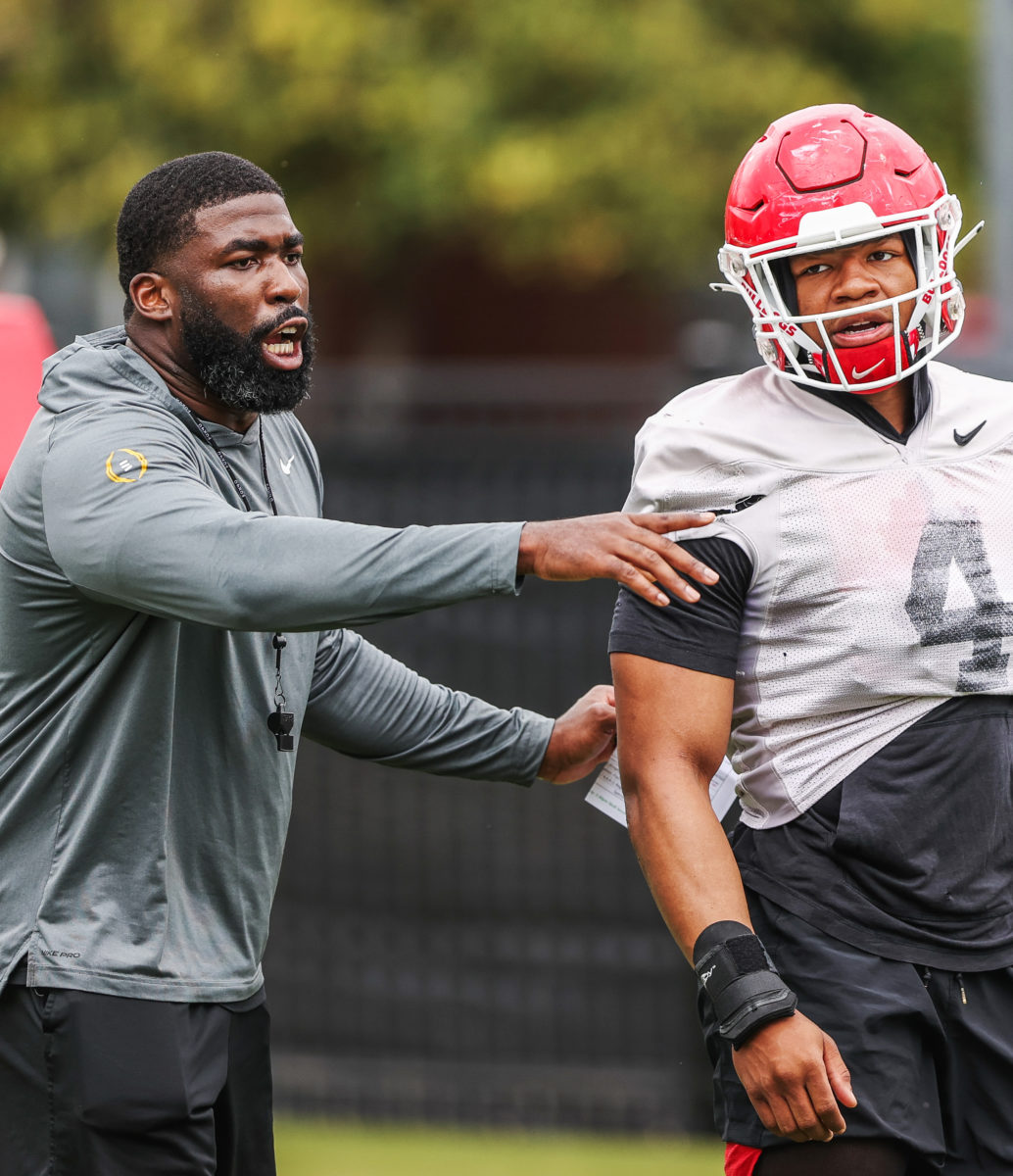 This has been one eventful offseason for the Georgia Bulldogs. In addition to the starters they lost to the draft and the depth leaving to enter the transfer portal, the national champions also bid farewell to four of their position coaches. Dan Lanning (linebackers coach and defensive coordinator), Cortez Hankton (wide receivers coach and passing game coordinator), Jahmil Addae (defensive backs coach), and Matt Luke (offensive line coach and assistant head coach) have all left the program. From head coaching opportunities for Dan Lanning to just wanting more family time for Matt Luke, these men all have their reasons. With big holes to fill, Kirby went to work immediately. The coaches' departure from the program called on him to do what he does best and that goes out and recruit. And that's exactly what he did.
Coming in after a short stint with Southern Methodist University is Georgia's new linebacker's coach, Chidera Uzo-Diribe. Better known for his time at the University of Kansas and Texas Christian University, Coach Uzo-Diribe comes to Athens possessing a special youthfulness that players gravitate towards. He is just 29 years old after all. In his short time with the team, senior linebacker Nolan Smith already had so much to say, "You know, he's really been coaching us up a lot, and I love him…I've known him for about two, three weeks, but he seems like a great guy, and hopefully we get to know him further." Nolan raved about Coach Uzo-Diribe's ability to relate with the team, going as far to say as "It's almost like he's a player." Coach Uzo-Diribe shares a lot of the same interests as his players when it comes to music, fashion, and pop culture. And his transition has been quite smooth because of it. While he's fun to be around when it comes to business, the coach gets serious, easily transitioning from work to play and vice versa.
Fran Brown's hire for defensive backs coach was a surprise to most fans, but Kirby definitely knows best. The New Jersey native brings a new attitude to the team. Fifth-year safety Chris Smith commented about it saying, "He's really up north. You know, I'm a real down south kid," referring to their differing upbringings. But even with these differences the coach has done just fine winning over the hearts and minds of his position group. Both Chris Smith and Kelee Ringo referred to him as a real "down-to-earth-guy." Brown has had no issue adapting to the south's football culture. In practice he looks like everyone else out there; he just sounds a little different.
Both Uzo-Diribe and Brown are rising, stars in the coaching world. Especially Uzo-Diribe, being so young and having the opportunity to coach at an institution like Georgia, given that he was just suiting up and on the field only a few years ago. But something the two must work on is their ability to recruit. Brown impressed at Rutgers, but Georgia is a whole different beast. Their predecessors Dan Lanning and Jahmile Addae were elite recruiters, to say the least. To put it into perspective, Addae was the primary recruiter for three out of five of the Bulldog's five stars in the 2022 cycle. However, with Kirby's tutelage, no one should have to worry. Uzo-Diribe and Brown haven't had access to resources like Georgia's. This is their first time at a school in the SEC. Now that they have access to Georgia's firepower, it shouldn't be too long until we see them making moves in the recruiting realm.
Speaking of recruiters, Georgia returns one of its best in its new wide receiver's coach and passing game coordinator, Bryan McClendon. Coach McClendon, or "Coach B-Mac" as the players call him, is responsible for the commitments of countless Georgia greats. Georgia fans can attribute the signings of Todd Gurley, Nick Chubb, and Sony Michel to Coach B-Mac, just to name a few. As soon as he stepped foot at the practice facility, players were already familiar with him because of his presence on the recruitment trail.
And not surprisingly, Coach B-Mac is already making impressions. Wideout Kearis Jackson had this to say about his coach, "[He's] always been a high energy guy, but means business at the same time." Prior to UGA, McClendon served as the interim head coach at Oregon and coached receivers at South Carolina. He returns to his alma mater for the second time after spending six years in other programs.
Also returning for his second go with the Dawgs is offensive line coach, Stacy Searels. Coach Searels is objectively the most experienced out of the four hires. In almost thirty years coaching at eight different schools, you could say he knows a thing or two about the men up front. Searels is already hard at work. At one spring practice, you could hear him loud and clear grinding his guys, critiquing their hand placement. Players say he's a bit different than Matt Luke because Searels' coaching style is straight to the point whereas Luke was a motivator. Starting center Sedrick Van Pran gave his opinion, "Coach Searels is more straight to the point, and that can be either good or bad depending on the player, honestly. But I think, ultimately, the biggest thing is just to take the message." The experience Searels brings to this program is invaluable. He's been around the block and back; his presence should set a high floor for the offensive line.
The addition of so many new faces comes with change. There has to be a culture shift given this level of turnover. Something to note is how much more experience Todd Monken and the offensive coaching staff has as a whole versus the defensive coaching staff. Glenn Schuman and Will Muschamp are said to be doing well in Lanning's place as co-defensive coordinators, but they have yet to be tested, and until that happens this defensive regime has question marks. Given that Georgia returns its national championship-winning quarterback on offense and with the defense losing eight of its starters, will we see Georgia take a step back on the defensive side of the ball, thus placing more emphasis on the offense? Does Monken take this opportunity to take on a bigger role on this team?
Last season, the team's identity revolved around the defense and the evolving quarterback situation. Now, heading into the 2022 campaign, the defense is essentially gone, and the quarterback situation has been resolved with everything pointing at Stetson Bennett to be the starter come fall. With a proven quarterback, all the team needs to do is prepare and develop the talent around him. Luckily, new hire Bryan McClendon is as good at developing as he is at recruiting. In his time at South Carolina, McClendon was credited with the development of Deebo Samuel and Bryan Edwards. Both of whom currently play in the NFL.
Looking at the team in its current state, the offense, with more returning players than the defense, looks more solidified at this point in the offseason. That side of the ball should at least take a step forward as the defense matures and figures out who will replace the dynamic men who will soon be shining on Sundays. Nonetheless, the future identity of Georgia football looks bright with Kirby Smart's quality new coaching hires.