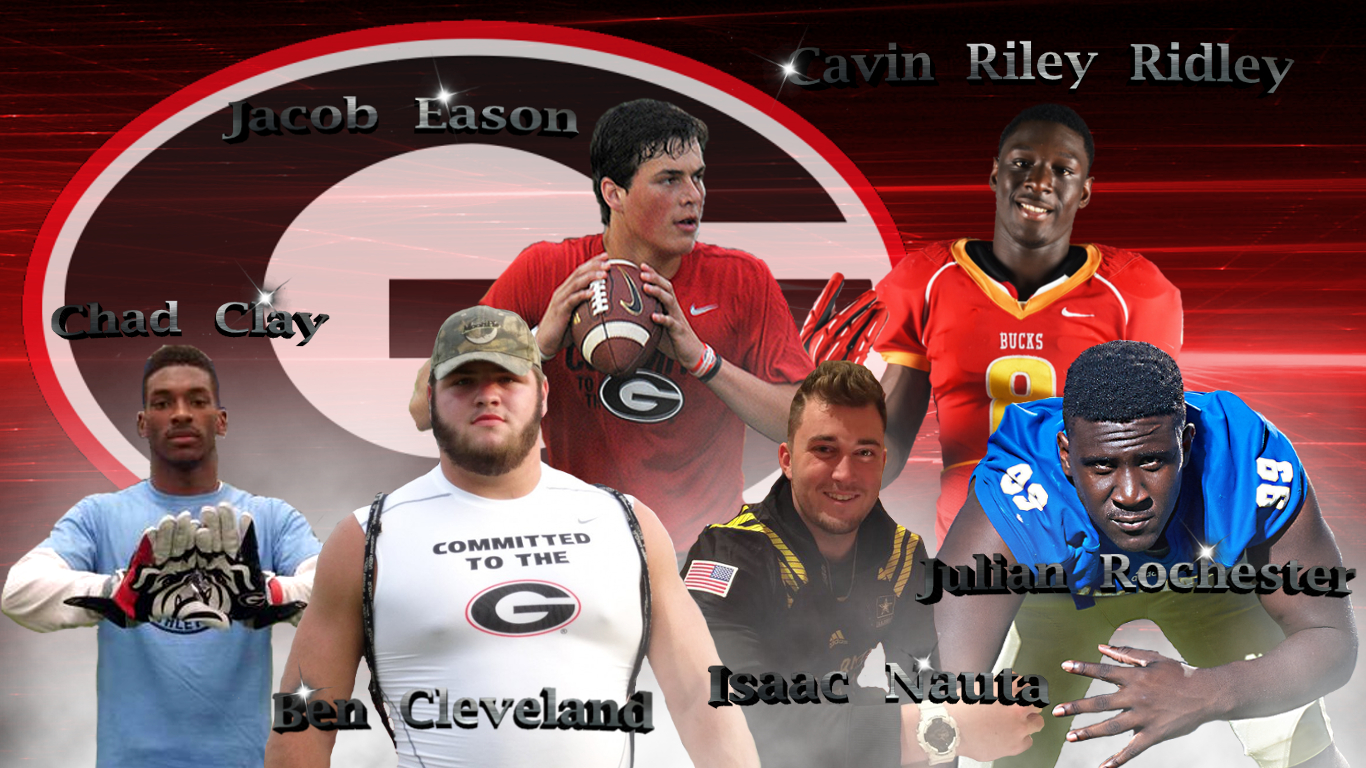 Yesterday marked the first day of classes for the spring semester at the University of Georgia, and there were six early enrollees for the Bulldogs 2016 football recruiting class that were walking the historic campus in Athens. Meet the Georgia Bulldog's Class of 2016 early enrollees!


Chad Clay, Ben Cleveland, Jacob Eason, Isaac Nauta, Cavin Riley Ridley, and Julian Rochester were all set to be at Georgia Monday to enroll and start classes, and they indeed were confirmed by UGA to have done so. Three of the group had to travel quite a distance to get to Athens as Cleveland, Eason and Rochester were coming from San Antonio, Texas after playing in the U.S. Army All-American Bowl on Saturday afternoon.

All six EE's are expected to compete and practice with the football team during spring camp which will start sometime in March and then the G-Day scrimmage game set for Saturday, April 16th.

Of course, the talk around the Classic City and Bulldawg Nation is quarterback Jacob Eason, who comes to UGA with his star on the rise after a stellar high school career out of Lake Stevens, Washington. Being named an All-American and earning a couple of national player of the year accolades as well as being rated as a 5-star prospect, the 6 foot 6, 220 lbs quarterback certainly looks the part. He is expected to be in the thick of the quarterback competition, if not win it, between incumbent graduated senior Greyson Lambert as well as junior Brice Ramsey, who ended up pulling down punting duties along with Collin Barber in the latter half of the season. Preferred walk-on redshirt freshman Nick Robinson will also throw his hat into the ring for the QB competition along with redshirt sophomore walk-on Sam Vaughn. But all eyes will be on the highly touted Eason this spring .

Could Georgia fans see a battle between Jacob Eason and Greyson Lambert in the G-Day game between the Red and Black teams?

---
---

Jacob Eason is not the only highly rated prospect enrolling early out of the bunch, as it also includes the number one tight end for the Class of 2016 and 5-star prospect, 6 foot 4 and 237 lbs Isaac Nauta, who committed to Georgia during the fourth quarter of the U.S. Army All-American Bowl game on Saturday. In case you haven't seen this young man play on the football field, you will be in for a treat when you get the chance to do so as he is a force to be reckoned with. Nauta will provide instant quality depth at the tight end position as well as compete for playing time as a freshman. He is another player that fans will be looking at this spring camp.

---
---

And there are two players that will definitely be hard to miss on campus this spring. Offensive lineman signee Ben Cleveland, who stands at 6 foot 6 and 319 lbs and comes to UGA via Stephens County high school in Toccoa, GA, along with defensive lineman signee Julian Rochester, who stands at 6 foot 5 and 321 lbs and hails from McEachern high school out of Powder Springs, GA, weigh in at a combined 640 lbs. New Georgia Head Coach Kirby Smart had stated that he thought the Bulldawgs needed to get bigger in the trenches, and Cleveland and Rochester definitely fit the bill. Both players are top 100 ranked prospects in the country, top 10 players in the state of Georgia, and Army All-Americans.

---
---

Not to be out done by the big men in the trenches, are defensive back signee Chad Clay and wide receiver signee Cavin Riley Ridley.

Peachtree Ridge's Chad Clay looks to join a stellar group of defensive backs in the Georgia's secondary that returns most of the starters from the 2015 squad, and Ridley, out of Deerfield Beach high school in Florida, looks to compete for playing time and possibly a start in a young but talented group of receiver for the Dawgs.

Can Georgia expect any last minute early enrollees? It is unlikely; although, technically, a student-athlete still has till the last day of drop-add on Friday, January 15th where he could squeeze enrolling and getting into classes.

As it stands now, Georgia has 16 commitments for the Class of 2016 and could end up signing as many as 26 to 28 before the end of National Signing Day on Wednesday, February 3rd. And this new Bulldog coaching staff will be hitting the road again as soon as the dead period ends on Wednesday, January 13th to get those spots filled.

---
CLICK HERE FOR BULLDAWG RECRUITING BITES
---
CLICK HERE FOR THE LUCAS ROGERS BI RECRUITING 2016 HOT BOARD
---
---


UGA Alumni Association: Bulldog 100



---
---