[su_spacer size="20″]
[su_spacer size="20″] There have been some pretty close games among the SEC rivals so far this season; then again there have been some blowouts too. One of the best and oldest rivalries is about to take place between the hedges. Alabama and Georgia have met 66 times total, including the SEC championship game back in 2012 (This seriously was one of the most shocking endings in my lifetime!) Of these 66 games, Georgia has won 25, lost 37, and tied four.
[su_spacer size="20″]
This rivalry began in 1895. On November 2, 1895 Georgia got its first win against Alabama, 30-6 in Columbus, GA. As you can tell, these two have not always met between the hedges or in Tuscaloosa. This rivalry has also been played in five other places including Athens, Tuscaloosa, Montgomery, Birmingham, and Atlanta. Alabama hosted 21 of the first 25 Georgia vs. Alabama games. These two teams settled down in their own stadiums starting in 1934 in Tuscaloosa and then they played their first game in Athens in 1935. Georgia and Alabama combined have won 17 national championships and 36 SEC titles.
[su_spacer size="40″] Several of the meetings between these two teams have memorable beginnings, ends or moments in between. Looking way back to 1962, Joe Namath debuts for the Tide. The final score was 35-0, Alabama. This one falls under the category of a blowout, unfortunately. In 1965, the Dawgs won on a controversial call. We did the old hook and ladder and won in Athens.
[su_spacer size="40″] It was said that the ball carrier's knee touched the ground. That was probably according to the Alabama folks. I'm sure Georgia won fair and square. Fast forward to 1991, the Dawgs fell to the Tide. This game was a record for Alabama's 28 game winning streak. Moving on, Georgia starts to rally in 2002, winning in Bryant-Denny Stadium for the first time. Our wonderful Billy Bennett led the Dawgs to their first win in Tuscaloosa by kicking a game winning field goal to shut the Tide down and win 27-25. The next season the Dawgs win again against new Coach Mike Shula and also defeated new coach Nick Saban in 2007 in Tuscaloosa once again. We all know what happened in 2008, with an undefeated season and dressed in all black enough said!
[su_spacer size="40″] Between 1971-82, the SEC Champion was either Alabama or Georgia with Georgia winning 1976, 1980, 1981, and 1982. Alabama won it in 1971, 1972, 1973, 1974, 1975, 1977, 1978, 1979, and 1981. In '81, Bama and Georgia shared the title.
[su_spacer size="40″] I spoke with some local celebrities and the memorable moments from the Georgia vs. Alabama rivalry are easy to come by. In all my years in this business, (haha, that's funny) I had the honor of speaking with one of the best all time local celebrities from the Dawg nation, Coach Vince Dooley. If you can tell me a cooler Bulldawg to talk to then I'd like to talk to you too.
[su_spacer size="40″] I asked him about his most memorable Georgia vs. Alabama game/play. He said, "It was in 1965 and it was my second year as head coach for Georgia. We upset them for the season opener on a play called the flea flicker. We had to go for two to win and we got it! We won 18-17. We were Alabama's only loss that year. They went on to win the national championship."
[su_spacer size="40″] I was also able to get some feedback from my great friend and voice of 960 The Ref, the one and only Dave Johnston.
[su_spacer size="40″] I asked him to remark on a favorite memory from this great rivalry, and he said, "My favorite play was back in 2007 on the one and done play. When Stafford threw to Mikey Henderson on the first play of OT for a touchdown and the Dawgs won. What a great time that was."
[su_spacer size="40″] As you can tell, I am blessed to have the opportunity to speak with unbelievable people from the Dawg nation. Today I added to this list when I called Shaun Chapas and he answered. He was a former full back for the Dawgs and was good friends with my dad. I asked him the same question and, of course, since he was on the 2007 team, his memory of this game was truly from experience. He said, "I was a redshirt freshman and it was my first time in Alabama."
[su_spacer size="40″] It was 2007 and we beat Alabama in OT on a pass from Stafford to Mikey Henderson. We all ran into the end zone and dawg piled on Mikey.
[su_spacer size="40″] This was right in front of the Alabama student section so they were throwing their food and drinks at us. It was a great victory for us and we were all pumped."
[su_spacer size="40″] I was on fire with these interviews and I was feeling good so asked another legend in Athens, Chamber president and former Mayor Doc Eldridge. I asked him the same question as I did the others, what was your favorite Georgia Alabama game/moment. He said, "The flea flicker. In 1965 they threw a flea flicker to win it. No one remembers the going for two but we had to do it to win. I was twelve and was sitting in the old grass bank in the south end of the stadium." Then he said, "Actually I have another. There was a game in Tuscaloosa (2002) and Pat Dye, a former player for the Dawgs, said the Dawgs aren't man enough to beat Bama in Tuscaloosa. This was the big headline for this game and Paul Finebaum called me up and got me in touch with the mayor of Tuscaloosa. We talked about the whole Pat Dye thing and if Georgia won he would have to send him an order of their famous BBQ and if Bama won I would I have to send him a thing of Vidalia onions."
[su_spacer size="40″] "Well, we won so about a week later the bar-b-que place called me and said we're 25 minutes out of town. That night we had a huge cookout and it was some of the best bar-b-que I've ever had." Lastly, he brought up the game in 1976. "My wife's father was the offensive coordinator at Georgia at the time. I was up in Minnesota at the time but I saw this game on TV and I heard the fans crowded Lumpkin all the way to Milledge. They had to shut down the streets. Not only did we beat them, we shut them out 21-0."
[su_spacer size="40″] As you can tell this matchup is legendary. I believe the game this weekend will be the SEC game of the century. Alabama was upset two weeks ago and I hope this doesn't happen to Georgia. There are some serious pros and cons on both Georgia and Alabama. For example, they both have great running games and their defenses are very strong, but both teams have weaknesses too. Alabama's secondary is trying to hold up but they had a tough time against Ole Miss. I have to be honest; I'm worried about Grayson Lambert. He did great against South Carolina. Let's keep our fingers crossed this continues. This game is such a big rival game that I think his nerves will be bouncing around like a monkey. Mine will for sure. I can't wait. I'll see you in the stadium! Go DAWGS!
[su_spacer size="40″]
Hamilton Culpepper is an 8th grader at Prince Avenue. He is a diehard Georgia fan and an aspiring sports announcer/writer.
[su_spacer size="40″]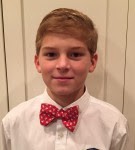 [su_spacer size="40″]
---
[su_spacer size="40″] Make sure to check out
Bulldawg Illustrated's
latest print edition:
Saban vs Richt – Only one man will be smiling after this one
, digital issue available for free online click
HERE
.
[su_spacer size="80″]