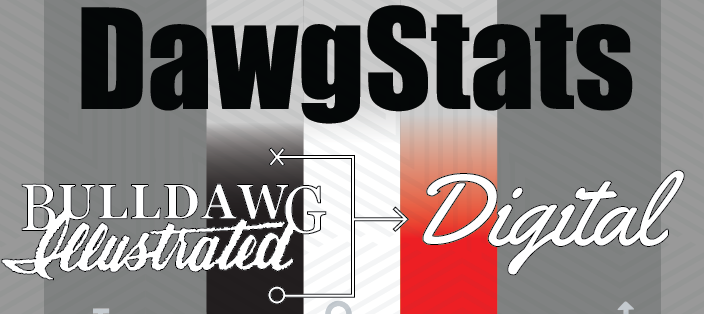 Today would be the day that UGA was scheduled to kickoff their 2020 campaign versus Virginia. But while that unfortunately is not the case, we are inching closer to the kickoff in an all SEC season. A lot has happened since the last time UGA played a meaningful down. The Dawgs have replaced an all time QB, and had another one opt out. Coach Smart has replaced his OC and a new OL coach is getting his first season in Athens going.
One of the things that stuck out in the press conference after the SEC Championship was Coach talking about the lack of explosive plays on offense. I wrote a post in the spring attempting to explain "explosiveness" and how it's calculated. Coach Monken talked about being explosive and even gave his definition.
Ok, so Coach defines explosive as 16+ yard passes and 12+ yard runs. That is significantly different from how most analytics chart and count explosive plays. For an offensive coaching staff- it's advantageous to have a simple definition. They have extremely short amount of time to work with the players, install a game plan, coach technique and however many other countless things they have on their agenda. There is nothing wrong with 16 yards passes and most of those would count towards an advance box score's explosiveness rate.
But, is a 12 yard run on 3rd and 16 really "explosive" ?
This play was "unsuccessful" from an analytics point of view and "explosive" according to coach's measure. What EPA (expected points added) metric intends to do is add value to all plays and track them for analysis's sake. This play had a EPA of .899. Which is not a negative play by any means, but it did not lead to a conversion or scoring opportunity. This number is based on a lot a math calculated by people smarter than me and based on literally hundreds of thousands of plays and outcomes. The explosive rate for a game adds up all of the EPA points on successful plays and divides them by number of successful plays.
Here are UGA's top ten explosive plays from 2019.
Why does any of this matter? If you add up every single play's EPA you get a team's total EPA. Here are UGA's Playoff ERA metrics. One can see that as good as our defense was in 2019, the offense dragged us back to pack in total efficiency. Eyeballs and numbers agree on this.. Monken is here to improve on that, and while I doubt he cares about EPA, he will have to create explosive plays to get UGA to the playoff and a Championship.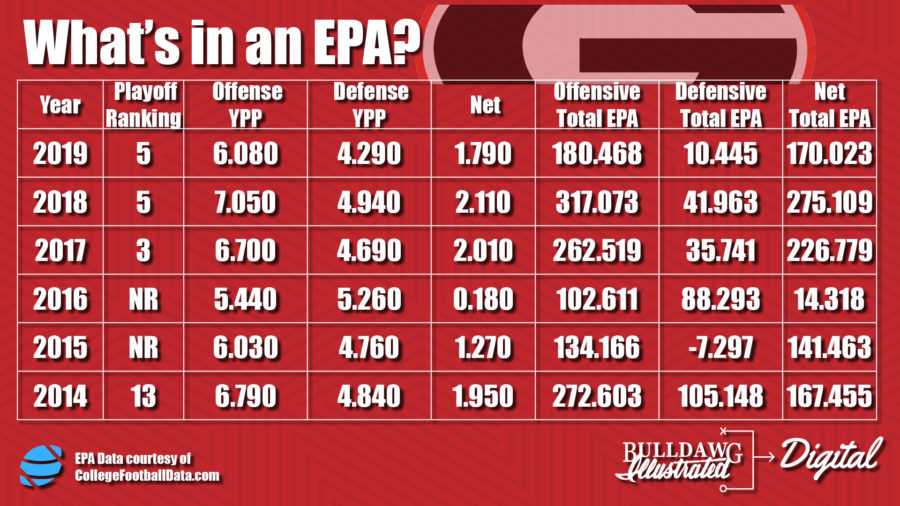 I am looking forward to another season of blogging about stats for Bulldawg Illustrated. If you want to follow me on Twitter, you'll find me chatting about this stuff. I'd also invite you to check out a side project that I am a part of. Some of the guys over at DawgSports and I have created a web show talking about UGA stats, plays, and schemes called the "Battle Hymnal." So, after you have checked out "One on One" on BI's YouTube channel, drop in and see what we have cooked up.