[su_spacer size="20″]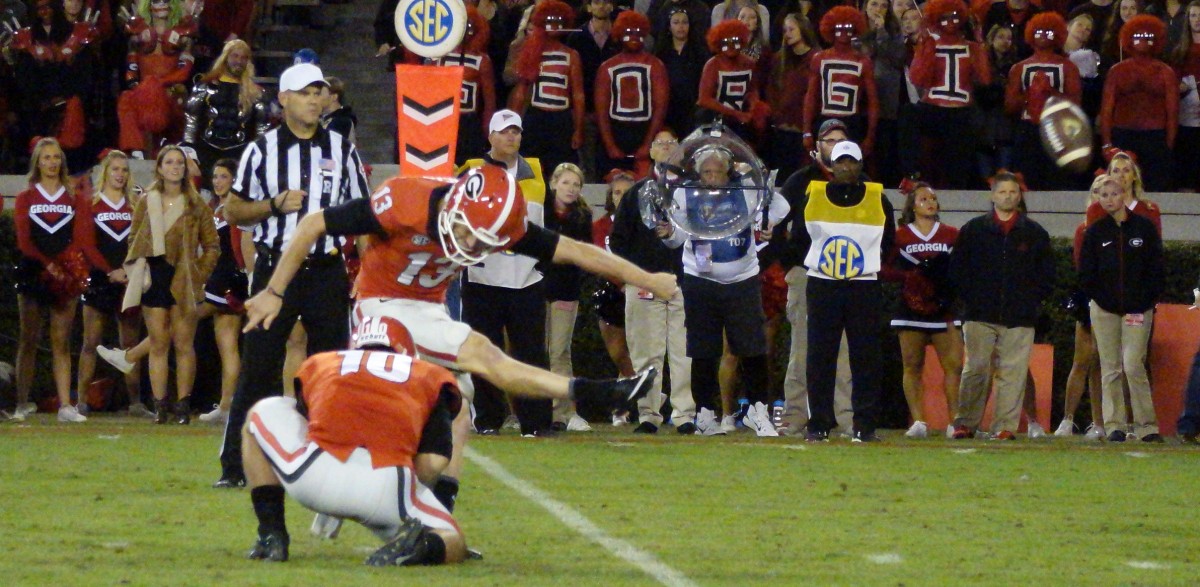 [su_spacer size="40″] It was a throwback to the 1950's, early '60s when mighty defensive duels were staged between the nation's top collegiate teams, when the winning team would tally 10 or less points.
[su_spacer size="20″]
But when it came to Saturday night's Georgia-Missouri SEC battle between the hedges of Sanford Stadium, the Bulldogs and Tigers went those decades-ago defensive wars one step better. Indeed, the Georgia and Missouri defenses were so good on this perfect autumn evening for football that they didn't allow their opponent a single touchdown.
And in the end, it was Jeremy Pruitt's Bulldog defensive unit that stood tallest as Georgia held off the Tigers 9-6 with Marshall Morgan's 34-yard field goal with just 1:44 left in the contest sending the Bulldogs to 5-2 on the season and 3-2 in the conference. With the Florida Gators going down to LSU in Baton Rouge, it sets the stage for a huge battle in two weeks in Jacksonville, a game in which the winner likely gains the inside track toward the Eastern Division title.
Marshall's winning field goal came after he had misfired on another kick with 5:40 remaining, his attempt to then also break the 6-6 tie hooking left of the same East end zone goal posts.
"As a kicker you've got to forget every kick, where you make it or miss it," said Morgan, who had the Bulldogs' only score of the first half via a 29-yard second quarter field goal and then came back with a 24-yarder near the end of the third quarter to finally enable Georgia to catch the Tigers at 6-6. "Luckily, I was able to put that miss behind me pretty fast and a lot of the players and coaches gave me some good speeches supporting me and I got lucky and got another chance to get out there and we got the win. I actually think I hit the first one pretty good," said Morgan, "but I just kind of misaligned. But then I hit the last one really good."
Andrew Baggett had boosted the Tigers into a 3-0 lead early in the contest after the Bulldogs' fashioned a sterling goal line stand down at the Georgia 1. Missouri had a first and goal after Ian Simon picked off Greyson Lambert's tipped pass on the Bulldogs' very first play and took it 39 yards to the Georgia 1-yard line. Three Georgia stops later, the Tigers were back on the 2, from where they had to resort to Baggett's 20-yard field goal.
Missouri then went into a 6-3 halftime lead on Baggett's second field goal with just seven seconds left in the second quarter before the Bulldog defense really bowed its collective neck and kept the Tigers off the scoreboard the entire second half.
On a night when the Georgia offense likewise simply couldn't dent the goal line against the Tigers' SEC leading (against scoring) defense, the Bulldogs' stop-em gang stepped up with its finest showing in several years, not only allowing Missouri just the two first-half field goals but holding the Tigers to 164 yards of total offense … a mere 21 net yards rushing, just six first downs and 143 yards passing.
Senior linebacker Jake Ganus, the transfer from UAB, again was at the top of the tackle list with nine total stops including one sack and 1.5 tackles for loss. Sophomore outside linebacker Davin Bellamy had six tackles including also a sack and tackle-for loss and then there was junior linebacker Leonard Floyd with five stops, a sack and two tackles-for-loss. Senior end Sterling Bailey also was credited with a sack of Missouri quarterback Drew Lock and had 1.5 tackles for loss. But, really, the credit for this nerve-wracking victory has to go to the entire Bulldog defensive cast.
"It shows you that when we play our style of defense, when we go out there and play our game and we have fun we can be a really good defense," said Bailey. "Going into the half, we knew we just had to keep chopping wood. We just had to keep playing in the second half."
Commenting on stopping the Missouri offense on their final series of the game after the Bulldogs had finally grabbed their first lead at 9-6, Ganus offered:  "It was fun. I knew we were going to get a stop. I am so confident in our defense and the way we were playing. The crowd got into, which was nice, so it was fun."
Ganus praised the play of fellow linebacker Leonard Floyd.
"It's nice when you have a guy like him that can come off the edge and wreak havoc," said Ganus. "He is such a versatile player and can do it all."
"A win is a win," said Georgia quarterback Lambert, who finished the night with 23-of-32 completions for 178 yards and the early interception, his longest completion being a 35-yard strike to freshman Terry Godwin. "I am so proud of this team and especially proud of our defense. I felt like we were able to move the ball here and there. We had some drives that did not end the way we wanted them to. We just were not able to keep them alive. We had a first down here, a first down there, but we just couldn't finish."
"But we leaned on the defense a lot today and I could not be prouder or happier for our defense," Lambert said.
Against the tough Missouri defensive front, the Bulldogs could manage but 120 rushing yards on the night but sophomore tailback Sony Michel time and again broke tackles to reach the first down marker and take the offense into field goal range for Morgan. Michel, stepping in again for injured star Nick Chubb, carried the ball 26 times for 87 yards. Keith Marshall and Brendan Douglas also aided in the run production, with 24 yards each on a night when every inch was hard to come by against the gang-tackling Tigers. Malcolm Mitchell again led the receiving corps with seven catches for 49 yards but it was freshman Godwin who really sparkled with six receptions for 78 yards plus 49 additional yards on three punt returns. And though he averaged only 36 yards on five punts, Collin Barber was most effective by placing three of his kicks inside the Tigers' 20-yard line.
Georgia coach Mark Richt said he was "ecstatic" over the hard-fought win.
"I'll take that every day, just so long as there's a victory at the end of it," said Richt. "I'm thankful and happy right now. It's never fun to lose two games in a row. It's not going to be pretty all the time, but the victory is pretty. The bottom line is everyone kept battling, kept fighting, kept believing. I'm just really proud of the job everybody did. Sometimes the toughest ones are the best ones."
What advice did Richt have for Morgan prior to the game-winning kick?
"I told him I love him no matter what," said the coach. "There's so much pressure on these kids. I told him, 'I believe in you, so relax and focus on your job and your fundamentals and let it rip.'
"It felt like if either team got a touchdown, it might be too much to overcome," continued Richt. "Both defenses played spectacularly. One of the biggest plays was Malcolm Mitchell hustling to make a tackle (at the Georgia 1) after the interception. That allowed our defense to do its thing and force them to kick. That's why you never quit. The defense bowed their necks and did a beautiful job of forcing the kick. Our defense played lights out and keeping them out of the end zone was huge."
Now, for Georgia, the open date next week and then the Halloween day battle with the once-beaten Gators on the banks of the St.  Johns River.
"We'll probably practice three days next week and allow our guys some time to heal up," said Richt. "We'll enjoy this victory for a bit and start focusing on the Florida game. Certainly, they're a great defensive team. We've got a lot of guys playing through pain and now thankfully we've got a little time to heal up and get some rest."
[su_spacer size="80″]