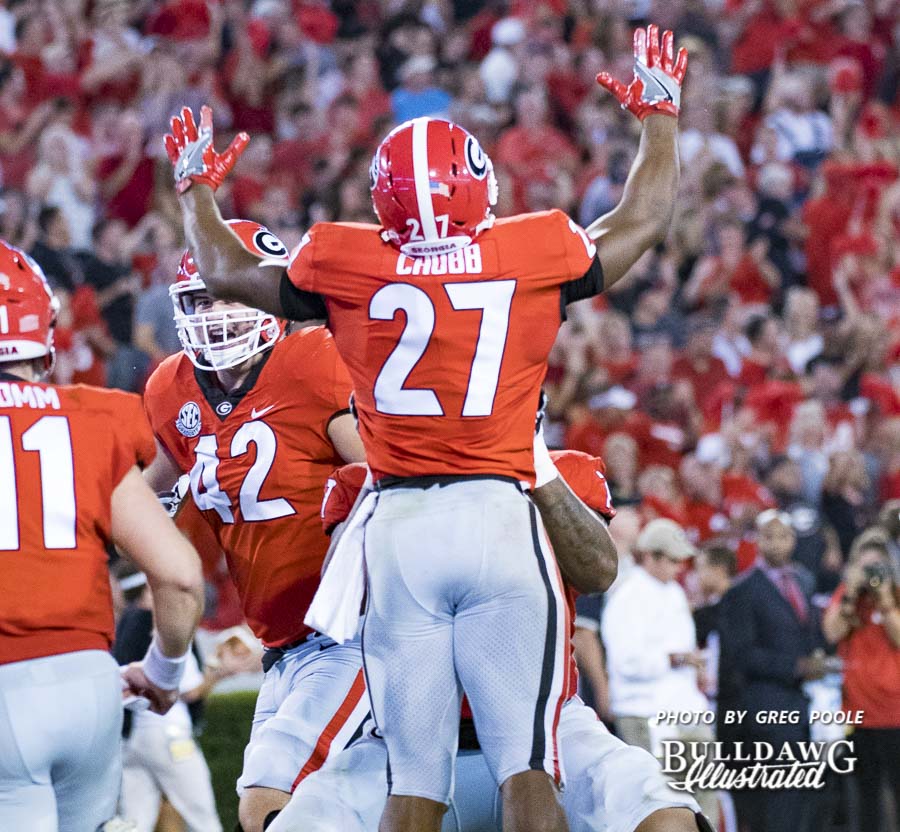 This one was easy from the very start.

The next one coming up, not so much.



As would be expected, 13th-ranked Georgia waltzed past the 17th-ranked FCS team from Samford University Saturday night by 42-14. Mixing the running of Nick Chubb and freshman D'Andre Swift with the passing of freshman Jake Fromm the Bulldogs barely worked up a good sweat in dispatching these visiting Bulldogs.


Indeed, anyone who thought Georgia would experience a letdown following the stirring 20-19 win at Notre Dame was badly mistaken as the Bulldogs bolted into a 21-7 halftime lead and then won the second half by that identical margin.


Now, however, after climbing to 3-0 on the young season, Georgia welcomes a band of Bulldogs to town next Saturday night that is a bit fiercer in the tooth than the ones UGA romped past on this night between the hedges.


It's the also undefeated Mississippi State Bulldogs that bark into Sanford Stadium this coming weekend. Mind you, a Dan Mullen-coached MSU team that blew the doors off 12th-ranked and previously unbeaten LSU to the tune of 37-7 Saturday night in Starkville, Miss.


Can Georgia beat this very tough Mississippi State team, one that features maybe the SEC's top quarterback in Nick Fitzgerald plus a pretty fair defensive unit (ask the LSU offense)? To that question I say, I don't know. No doubt, the Georgia defense, as it showed against Notre Dame, is plenty good enough to slow Fitzgerald and the State offense. But will it slow it enough to enable the Bulldogs to win their first SEC test of this 2017 season? And the Georgia offense, is it consistent enough yet to score enough points to complement the defensive unit's play and beat Mississippi State? It surely wasn't against the Notre Dame defense but did tally the 20 points it took to win the game in South Bend, Ind. And in this game with Samford, Georgia was much more consistent mixing the run and pass and keeping the ball moving but, here again, this was Samford, not those defensive Dawgs Georgia is about to encounter Saturday night.


So, you can bet head coach Kirby Smart will have his team's devoted attention in practice this coming week. Yes, these Bulldogs have gotten off to a good start in the new season but, guess what … Georgia hasn't played a SEC game yet. These past three wins only count on your overall season record. The road to Atlanta and the conference championship game begins Saturday night when the maroon and white Bulldogs invade the Classic City. Indeed, with State, Tennessee, Vanderbilt, Missouri, Florida, South Carolina, Auburn and Kentucky lying dead ahead, the real season begins now for the Georgia Bulldogs.


All in all, the pasting of Samford was a good tuneup for Smart's football team. Georgia put the game away considerably early and got to play a lot of people as the contest moved to the final quarter.


For the record, the Bulldogs hammered the Samford defense for 284 yards on the ground and 175 yards through the air, for a 459 offensive total. At the same time, that crashing Georgia defense limited the SU running game to a microscopic 22 yards net rushing on 23 carries. Samford, as you might expect, totaled 227 yards through the air as quarterback Devlin Hodges put the ball up 35 times — mostly of the short variety — and completed 26 of them but only one completion was for more than 20 yards.


Senior tailback Nick Chubb, with his buddy Sony Michel sitting out the game with a minor ankle injury, went over the 100-yard mark for the first time this season. In fact, he reached that mark in the first half when Chubb ran for 108 yards. He finished the night with 131 yards on 16 carries with scoring runs of 32 and 14 yards. The freshman Swift zipped for 54 yards in nine trips including an 11-yard scoring scamper, the first of what should be many TD runs for Swift in his UGA career. Passing-wise Fromm was most efficient, completing 8-of-13 for 165 yards and three touchdowns … a 5-yard scoring pass to Mecole Hardman, a 51-yard strike to Terry Godwin and another 9-yard TD pass to Godwin, who led the Bulldog receivers with four catches for 98 yards and the two scores. Fromm also hooked up with Riley Ridley on a 47-yard pass late in the opening quarter, which set up Chubb's 32-yard scoring dash. Brice Ramsey came on in relief of Fromm in the fourth period and completed 1-of-2 attempts for 10 yards.


Defensively, it was a familiar cast of characters for Mel Tucker's gang-tackling unit. Junior linebacker Roquan Smith led the balanced effort with six tackles and senior outside linebacker Lorenzo Carter added to his sterling performance in the Notre Dame game by notching four tackles including two more quarterback sacks. Freshman inside linebacker Monty Rice recorded a career-high five tackles and joining in the fun with a tackle-for-loss each were the likes of Trenton Thompson, Justin Young, Walter Grant and D'Andre Walker with Walker's being a sack of Hodges.


So bottom line, Bulldawg Nation, the SEC race is now upon us. Thus far, this Georgia team has done everything it's needed to do to become 3-0 on the season. But this coming Saturday night, we'll begin to find out if Georgia is a contender or pretender in 2017. Unbeaten Dawgs vs. unbeaten Dawgs 'tween the hallowed hedges. Ought to be fun!


---
Recent Articles by Murray Poole


[pt_view id="2fb799183g"]