It was Friday, Sept. 8, 2017 and as Hurricane Irma roared toward landfall in southwest Florida, coastal Georgia was also placed under a hurricane watch with a mandatory evacuation of Glynn County already in progress.
But while my wife Barbara, along with our two pet cats, prepared to join the bumper-to-bumper traffic and evacuate to our son's house in Newnan, Georgia, just southwest of Atlanta, myself and Bulldawg Illustrated colleague Greg Poole (maybe a distant kin, not sure) were already in the Jacksonville International Airport, awaiting a somewhat delayed flight to Chicago's Midway International Airport.
We weren't there to escape the hurricane and tropical force winds but, rather, were headed for our eventual destination of South Bend, Indiana to cover the University of Georgia's rather historic football meeting with Notre Dame, set for the next night, Sept. 9, at the Fighting Irish's stadium.
It would be the Bulldogs' first confrontation with the Irish since Jan. 1, 1981 when Georgia bested Notre Dame 17-10 in the Sugar Bowl to deliver UGA the 1980 championship of all college football.
After our plane finally took off from Florida's River City, the flight to Chicago was without incident, that is, until we landed at Midway. As Greg waited at the conveyor belt for his luggage, he waited, and waited and waited some more for one of his travel bags that never appeared … one that contained his clothing items.
A hurricane, Greg Poole's missing luggage … I got to thinking, is this an omen that this much anticipated, long-awaited game between Georgia and Notre Dame might not turn out well for the Bulldogs and the thousands and thousands of UGA fans who had circled their calendars from the moment the contest was announced?
But the good news was that after Greg filed his missing luggage complaint with the airlines and we set out for our lodging site in Elkhart, Indiana., about 16 miles or so from the Notre Dame campus, Greg's travel bag was delivered that night to our motel.
The day of the game, we arrived in South Bend just after lunchtime, a good six hours before the 8 o'clock kickoff. That gave us plenty of time to take in the Golden Dome, Touchdown Jesus and other points of interest on the iconic campus, as Greg snapped fan photos all the while for Bulldawg Illustrated. And as you may have heard by now, the Notre Dame reps both around the campus and inside the stadium itself were super accommodating to all those visitors dressed in red and black.

And then came the monumental clash that evening. As the 80,795-seat stadium filled to capacity, I told someone this looks identical to the Georgia-Florida game in Jacksonville. You know, where one half of the stadium is Bulldog red and the other half of the stadium is Gator orange and blue. The Bulldawg Nation literally filled one half, or more, of Notre Dame's stadium that night as more than 40,000 made the trip to northern Indiana, making for nearly a home atmosphere for the guys dressed in red helmets, white jerseys and silver britches that night.
And the game itself was everything it was built up to be as the then 15th-ranked Bulldogs boosted their record in the young 2017 season to 2-0 with a stirring 20-19 win over the Irish. No matter it seemed like the Bulldogs had a jillion penalties that night (actually 12 for 127 yards). No matter that the offense — as head coach Kirby Smart noted — ran hot and cold over the four quarters of play. All that mattered, in the end, was that Georgia had one more point than did Notre Dame.
Freshman quarterback Jake Fromm, who had moved into the starting role a week earlier when Jacob Eason went down in the season opener against Appalachian State, completed 16-of-29 passes for 141 yards while also showing the usual freshman jitters by losing a fumble and throwing an interception. Senior tailback Sony Michel rushed for 73 yards and a touchdown as the Bulldogs ran for 185 yards and outgained the Fighting Irish in total offense, 326 to 265.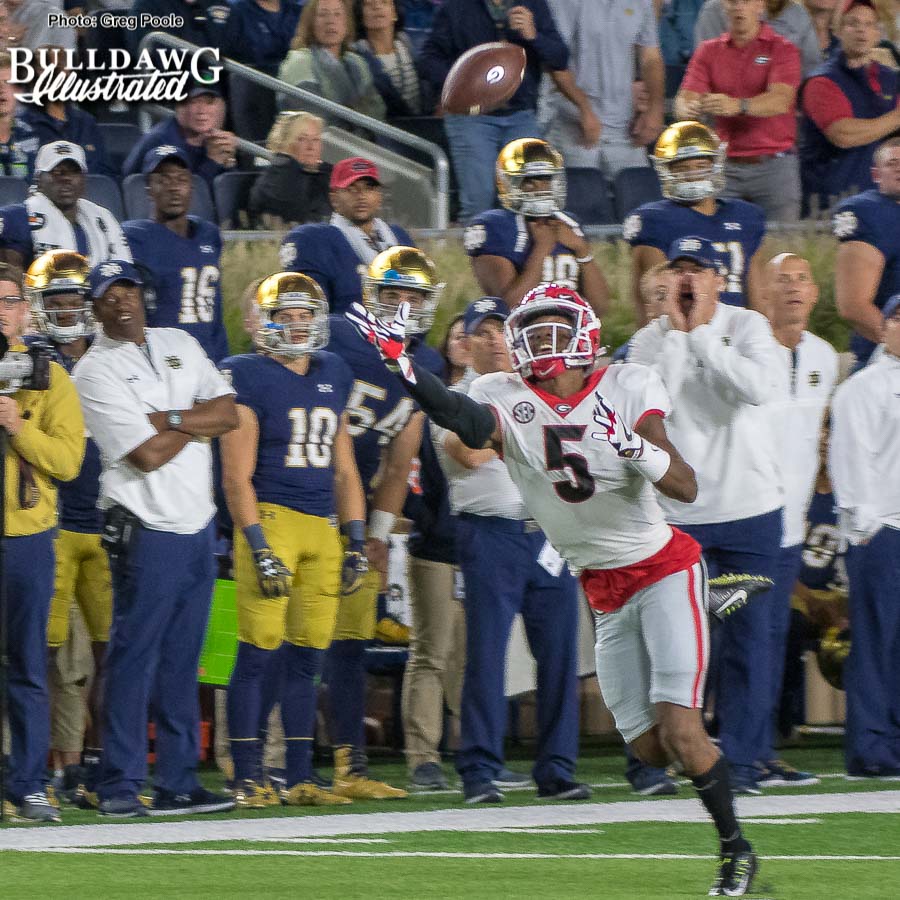 And Georgia fans will never forget the second-quarter, 5-yard touchdown reception by junior Terry Godwin, who made a sensational one-handed grab falling backwards and kept his feet in bounds on the right side of the end zone. Truly, one of the most spectacular plays in the program's history!
In the end, though, it all came down to a 30-yard field goal by Rodrigo Blankenship, who was placed on scholarship a day earlier, and then a late fourth-quarter sack-and-strip of ND quarterback Brandon Wimbush by senior defensive end/OLB Davin Bellamy, with fellow outside linebacker Lorenzo Carter recovering the ball at the Notre Dame 25-yard line.
So, for Greg and I, this excursion to the land of the Irish ended much, much better than it began. Because these Dawgs were able to escape South Bend with a one-point victory over 24th-ranked Notre Dame, they were able to go on and beat Auburn for the SEC championship, win a dramatic Rose Bowl playoff game against Oklahoma and play for a national championship against Alabama.
Talk about a season the Bulldog Nation will never forget, 2017 was it!
Next Week in Texas A&M Issue, No. 3, A Historic Play on the Banks of the St. Johns River.