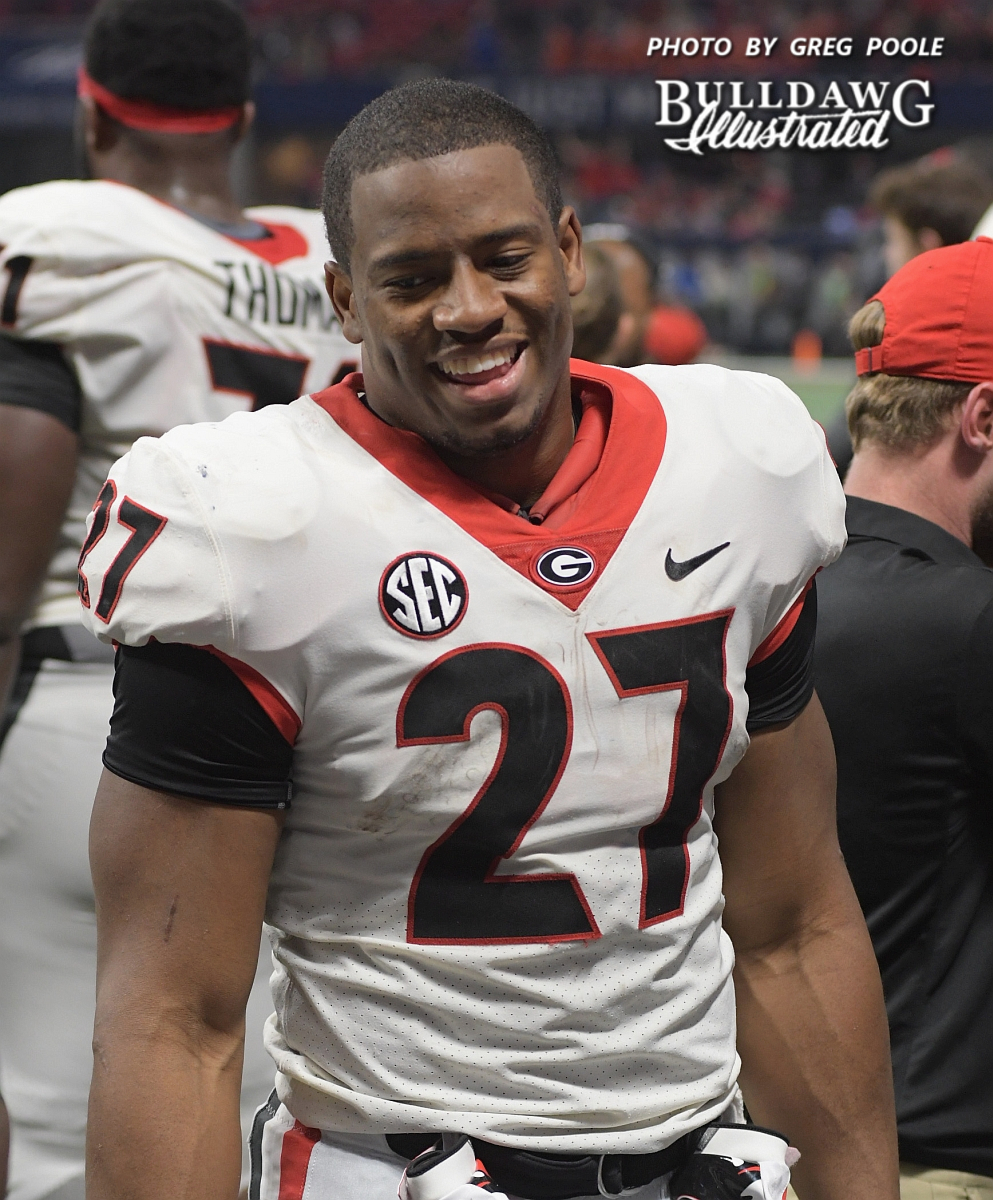 ATLANTA ‑‑ As SEC Championship Game Most Valuable Player Roquan Smith and Georgia senior tailback Nick Chubb joined head coach Kirby Smart at the table in the post-game press conference following the 6th-ranked Bulldogs' 28-7 dismantling of 2nd-ranked Auburn Saturday night at Mercedes-Benz Stadium, one could easily distinguish the glow on all three faces as they talked about their showing against a Tiger team that had walloped Georgia by 23 points back on Nov. 11.
"First off, I'll just give glory to God for it," said Smith, who swept the MVP award by totaling 13 tackles including a sack and two tackles-for-loss while also pouncing on two Auburn fumbles and posting two quarterback hurries. "And then just my teammates, them taking on blocks, and just then my coaches' preparation just setting me up to be in the right place at the right time and just seeing ball, hit ball, or give ball," said Smith. "It's pretty much give all the credit to them because those guys did a lot of what made me be able to do what I was actually doing throughout the game."
Smith said he just happened to be in the right place at the right time, particularly on his first fumble recovery at the Georgia 16, when senior outside linebacker Davin Bellamy stripped Auburn quarterback Jarrett Stidham of the ball. The Tigers were threatening to go up 14-0 at the time but Smith's recovery then ignited an 84-yard touchdown drive, enabling the Bulldogs to even the game at 7-7.
"You never try to make the moment too big or anything like that," the junior from Macon County said. "All I remember is seeing one of my guys hit the ball, and I just saw the ball on the ground. It took me back to practice, you know, scoop drills. I just scooped the ball and said, let me get what I can get."
Chubb finished the night with 77 hard-earned yards on 13 carries, second to freshman D'Andre Swift's team-leading 88 yards, to help the Bulldogs' rushing attack compile 238 yards … quite the opposite of the first meeting in Auburn when the Tigers checked Chubb to 27 yards and fellow tailback Sony Michel to just 21 yards rushing.
"The difference this time was just the preparation coming into the game," said Chubb. "We kind of had the motivation from last game just not being as successful as we wanted to. We just put it in our minds this offense, like, no one should be able to stop it. We have a great offensive line. We have so many talented backs, and the play calling all came together and worked out for us."
Chubb said the Bulldogs' run to the SEC title meant everything to him and the other three seniors … Lorenzo Carter, Michel, and Bellamy … who opted to forego an early entry into the NFL and suit up for their final year at Georgia.
"It's just crazy, man, just an unbelievable experience," Chubb related. "This is why the guys came back for it. I remember just talking to the senior class, I mean, back at camp, we'd be in the room with a little private meeting, and we just talked about what we wanted to do, and it all paid off. This moment right here, this is what we worked for."
Chubb said it was special to see the freshman Swift reel off a 64-yard touchdown run with still over 10 minutes remaining in the final quarter, a score which blinked the scoreboard to 28-7 and effectively sent the Auburn faithful heading for the exits.
"It was," he said. "We kind of give him a little trouble. We tell him he needs to break away, and he was picking his knees up, man. He was moving on that. We're proud of him. He's a great running back."
Chubb said becoming the SEC's second all-time leading rusher behind former legendary Bulldog Herschel Walker – who appeared on the field at halftime with former Auburn great Bo Jackson – is truly a blessing for him. "Just a lot of hard work all-around," Chubb said. "It's the whole team and our coaches and our great blocking up front. I feel like it's a team award, a team honor."
And Georgia head man Smart, who has delivered an SEC crown to the Bulldawg Nation in just his second year at the UGA helm, couldn't say enough about the performance of his players … and especially the Georgia senior class.
"I'd first like to kind of reiterate what I said the other day," Smart said. "It's been a very special privilege to be part of the SEC Championship Game. I've always said it's one of the greatest events in all of college sports. It's a special opportunity to bring a young team into this environment.
"I also want to say a special thanks to our seniors," he continued. "These guys, incredible leaders from day one, bought in. I know how much it meant for these guys to be in this game. I know how excited they are to play again against whoever, whenever. They enjoy being together, and I always say chemistry outweighs competence. They've always been a privilege for us to be around.
"But our goal today was to come out and compete. We stressed two words the entire week. We tried to keep it really simple: composure and physicality. It was a physical, tough game. We kept our composure for the most part. We had some moments in there. Nothing worth having comes easy in this game," Smart said. "These guys certainly earned this honor and this distinction of being SEC champs."
Smart said it doesn't concern him what seed the Bulldogs will get in the College Football Playoffs, when the top four teams are announced Sunday afternoon.
"I'll be honest, this team, since there is no home field advantage, they're excited to be in the playoff," he said. "Hopefully be in the playoff. We don't concern ourselves with rankings. We never have. What does it really matter? If you're 1 through 4, you're in the tournament. That was our goal, and that's what we've achieved."
Smart said it's especially gratifying to be able to return the SEC championship trophy back to his alma mater.
"It's special. I'll tell you what's special to me — bringing it back to my alma mater is great. I was very fortunate to get a coach on the team that won one in 2001. But to see Nick, Jeb, Sony Michel, Roquan Smith, hugging on the stage in tears because they care about each other so much, that's why I do this. It's because of these guys. It's great to bring it back to Georgia, and the Bulldog Nation is certainly starved, but these young men deserve a ton of credit."
Smart said he was especially proud of his defense's performance, for holding the Tigers to just the one touchdown and only 259 yards of total offense, after the Tigers ran wild in the 40-17 win over Georgia at Auburn.
"Auburn's a hard team to play," Smart said. "I've got a lot of experience playing that offense. I don't think I've ever had a game where you started out in gang busters. They've got a script, they sub, they change, they go fast. They do a great job using their skill set. Usually, you can make some adjustments, figure things out, try to confuse the quarterback. And just be honest," he added. "Kerryon (Johnson) was not 100 percent. He wasn't the same guy he was last game, so that probably helped some as well. We felt getting after the quarterback was the way to beat them, and we did that much better this game than we did the last game.
Smart, talking about the high-stakes pressure a Power-Five college head coach must deal with today, recounted a humorous incident before Saturday's kickoff concerning Auburn's former tailback great, Bo Jackson.
"I thought it was hilarious Bo Jackson came up to me before the game," he said. "He's my childhood idol. I worshipped Bo Jackson. I had Bo Jackson posters, baseball cards. I had over 300 baseball cards of Bo Jackson. He comes up to me before the game and said, 'A lot of pressure in this job, isn't it?' I said, 'Hell yeah, it is.' But that's why we do it, for moments like this. All that work for moments like this for these guys to enjoy."
"We've got a beat up football team," Smart concluded. "We've got a tired football team. Nobody really talked about it. Malkom Parrish had an injury this week and didn't get to play. There was guys beat up out there that kept pushing through. We almost lost John Atkins. So we've got to get to healthy and find out who it is. Regardless, I've been through this before. They're all good teams (in CFP). There's a reason we're there."
One of the championship game's brightest stars wasn't in the post-game press conference but freshman quarterback Jake Fromm, who calmly completed 16-of-22 passing attempts for 183 yards and two touchdowns after struggling mightily the first go-round against Auburn, was all over the field in the title-clinching celebration as he paused for interviews and posed for pictures with friends and family. Since Smart doesn't permit freshman players to conduct interviews during the regular season, Fromm was making up for lost time as he gleefully discussed the big win with media members.
"The atmosphere was just incredible tonight," said Fromm. "It just feels great to be a Georgia Bulldog. I couldn't be any more thankful that God put me in this opportunity and now it's time to go make something more with it."
Fromm said the Bulldogs were simply more prepared to face the Tigers this time, as compared to the dismal showing back on Nov. 11 at Auburn.
"We were just ready, we came out and I really think it had to do with the mindset. Guys were just ready today, ready to go play. Roquan and those athletes on defense, they're some of the best athletes I've ever seen before," Fromm said. "Those guys on defense go out and play and really go for the ball. But it's been an incredible journey for me this season. I never thought it might turn out this way but I couldn't be more thankful. Sometimes I forget I'm a true freshman," he said. "You just kind of take it day by day and go through a process and now I love it. I love the guys I'm around, the guys I'm with, they believe in me and again, I couldn't be more thankful."
Fromm said the offense started the championship game a little slow but "in that second quarter things started turning our way and we never looked back from there. We kept pounding and pounding and sooner or later, we put points on the board," he said.
And with Jake Fromm leading the Bulldogs to a 12-1 record thus far and the first SEC crown since 2005, is there any doubt that the Georgia quarterback is the SEC Freshman of the Year this football season?
Here is the full audio of the post-game SEC Championship press conference:
---
Recent Articles by Murray Poole


[pt_view id="2fb799183g"]