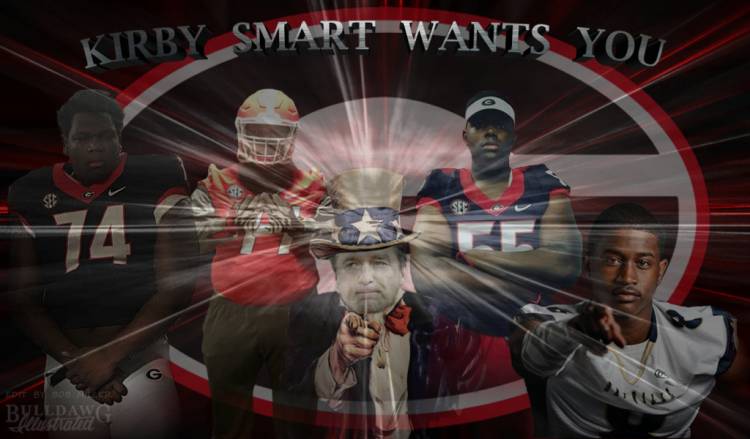 The day that is "Christmas" in February for college football fans and those that follow recruiting is upon us. National Signing Day 2017. Tomorrow, coaches and their staffs will await phone calls and electronic communications that will carry welcoming words and signed National Letters of Intent from prospective student-athletes all across the country. I'm firing up the old prognostication crystal ball; so, come take a look with me to see who the Georgia Bulldogs will finish out with in the 2017 recruiting class.


UGA currently has 23 scholarship, 7 preferred walk-ons, and 2 walk-ons committed for the class of 2017, but nothing is official until those scholarship prospects turn in their signed National Letter of Intent or LOI. Six of those 23 scholarship players are already in Athens taking classes. Quarterback Jake Fromm, defensive backs DeAngelo Gibbs and Richard LeCounte III, offensive tackle D'Marcus Hayes, wide receiver Jeremiah Holloman, and inside linebacker Monty Rice enrolled early back at the first part of January. That leaves the remaining 17 verbal commitments.


VERBALLY COMMITTED
Robert Beal Jr. – DE 6-3.5, 230 lbs, 5-star, IMG Academy, Bradenton, FL
Tray Bishop – ATH 6-2, 198 lbs, 4-star, Terrell County HS, Dawson, GA
Trey Blount – WR 6-2, 196 lbs, 4-star, Pace Academy, Atlanta, GA
D'Antne Demery – OT 6-6, 319 lbs, 4-star, Brunswick HS, Brunswick, GA
Walter Grant – LB 6-4, 236 lbs, 4-star, Cairo HS, Cairo, GA
Malik Herring – DE 6-3, 259 lbs, 4-star, Mary Persons HS, Forsyth, GA
Jaden Hunter – LB 6-2.5, 218 lbs, 4-star, Westlake HS, Atlanta, GA
Netori Johnson – OT 6-3.25, 341 lbs, 4-star, Cedar Grove HS, Ellenwood, GA
Matt Landers – WR 6-5 182, lbs, 3-star, St. Petersburg HS, FL
Nate McBride – ILB 6-1 223, lbs, 4-star, Vidalia Comprehensive, Vidalia, GA
William Poole III – CB 6-0, 180 lbs, 4-star, Hapeville Charter HS, Atlanta, GA
Justin Shaffer – OL 6-5, 356 lbs, 3-star, Cedar Grove HS, Ellenwood, GA
D'Andre Swift – RB 5-9, 222 lbs, 4-star, St. Joseph's HS, Philadelphia, PA
Andrew Thomas – OT 6-5, 335 lbs, 4-star, Pace Academy, Atlanta, GA
Mark Webb Jr. – WR 6-2, 195 lbs, 4-star, Archbishop Wood HS, Warminster, PA
Isaiah Wilson – OT 6-7, 354 lbs, 5-star, Poly Prep, Brooklyn, NY
Devonte Wyatt  –  DL 6-4, 300 lbs, 3-star, Towers HS, Decatur, GA


Will all 17 remaining commitments end up signing their LOIs with Georgia or is there any risk of any of them flipping their commitment and signing with another school tomorrow?


There is not too much concern of any wavering commitments this year with the exception of defensive lineman Devonte Wyatt. He was originally committed to South Carolina but de-committed from the Gamecocks back on August 8th. That same day he flipped his commitment to Georgia, but the USCe coaching staff has not waivered on recruiting Wyatt and trying to flip him back. Will Muschamp and the Chickens have shown a lot of love towards Wyatt and he has been receptive; however, the defensive line is a need for the Bulldogs, and Kirby Smart and company have done their best to let Wyatt know he has a spot and a chance to compete with the Bulldogs if he so chooses. Wyatt took visits to South Carolina, Georgia, and Florida to close out his officials in January, and I'd put him at 50/50 of staying with Athens, GA or flipping to Columbia, SC.


Will Georgia pick up any more commitments/signees on National Signing Day? If so, who and how many?


Yes. The UGA coaching staff is not done with this recruiting class and I expect the Bulldogs to pick up at least 3 if not 4 more signees for 2017 when the NSD is done. That means a 2017 recruiting class of 26 to 27. Here are the potential prospects that Georgia could finish with and my confidence in whether or not they sign with the Bulldogs or go elsewhere.


Elijah Blades – 2017 CB
70% Nebraska, 10% Southern Cal, 10% Oregon, 5% UGA
Blades was committed to Florida but de-committed on Wednesday, January 26th. Does that mean he could end up at UGA? Doubtful. He likely will go to Nebraska, but Southern California or Oregon are also likely landing spots. He will announce his final decision and sign with the school of his choice on from John Muir High School at 4:00 p.m. ET.
Latavious Brini – 2017 CB
20% USF, 20% FIU, 20% Miami, 10% Oregon, 10% UGA, 10% VT, 10% Other
Brini is set to announce his decision on tomorrow between 1:00 – 1:30 p.m. He was a Hokie lean earlier on, but Coach Strong and USF have made a big push here along with a couple of other sunshine state programs in FIU and Miami. Brini just visited Oregon with Ameer Speed over the weekend and he did visit UGA back on January 20th.
Markaviest Bryant – 2017 WDE
80% UGA, 15% Auburn, 5% LSU
Bryant has been a big UGA lean for a while now, but Auburn has made a late push here for the "Big Cat;" so, my confidence has dropped from 95% to 80%. He visited LSU the weekend of Jan. 20th, visited Arkansas on the 25th, and is coming off a visit to Auburn from over the weekend. I still think UGA is the favorite here, but Georgia fans should always be a wee bit nervous when a prospect visits the Plains the weekend before NSD. He will announce his final decision between 11:00 – 11:30 a.m. tomorrow.
Nico Collins – 2017 WR
44% Michigan, 41% Georgia, 20% Alabama
Georgia is doing an outstanding job recruiting the phenomenal wideout to be in Collins' top three schools. The Bulldogs held a slight lead headed into this past weekend with Collins coming in for an official visit, but as of right now, he may be leaning to Michigan again despite a good visit to Athens; so, this is one to definitely keep your eye on. He is scheduled to announce his decision and then shortly afterward sign his LOI with the school of his choice on at 2:30 p.m. on Wednesday.
Tedarrell Slaton – 2017 OL/DL
45% Florida, 20% UGA, 20% Ole Miss, 15% FSU
Slaton took an official visit to Florida over the weekend on Jan. 20th, and he visited Georgia this past weekend. The Bulldogs could have a shot at the big man out of American Heritage. "TD" is scheduled to announce his decision and then sign with the school of his choice on NSD at 8:00 a.m.
Aubrey Solomon – 2017 DT
30% Michigan, 30% Alabama, 30% Georgia, 10% Southern Cal
Was a Michigan-Georgia battle for a while, and now it appears to be an Alabama-Michigan-Georgia battle, but it is anybody's guess as to where Solomon ends up. His announcement and signing ceremony will be carried via ESPN from Lee Co. High School tomorrow between 9:45 a.m. – 10:00 a.m.
Aaron Sterling – 2017 DE
75% South Carolina, 15% Tennessee, 10% Georgia
Has been a big South Carolina lean for a long while, but both Georgia and Tennessee have made inroads in his recruitment here of late. Sterling visited UGA on January 19th and then Tennessee and South Carolina to close out his OVs in January. He will likely decide between the Bulldogs, Gamecocks, and Vols. I still think South Carolina is the favorite here by a pretty good margin. Sterling will make his decision and then sign with the school of his choice tomorrow at 4:00 p.m.
Ameer Speed – 2017 CB
55% UGA, 40% Virginia Tech, 5% UNC
Speed is planning to announce his final decision on NSD at 8:00 a.m. between Georgia, Michigan State, North Carolina, Oregon, and Virgina Tech. Speed visited UGA on January 20th and from all accounts, it went very well. The Bulldogs are looking to land another CB in this class, and although VT was a strong favorite here, the Georgia coaching staff has given Speed a lot to think about. My confidence pick here has gone from 15% to 55% for the Dawgs over the month of January which puts this as a UGA-VT battle and Georgia might have a slight lead here going into the final week before NSD. Speed took an official visit to Oregon over the weekend.
Eric Stokes Jr. – 2017 CB
95% UGA if there is a spot, but if not, likely Ole Miss.
Stokes signs with UGA if there is room, but I'm 50/50 on if there is an open spot for him at the moment. He visited UGA on January 20th along with three other cornerbacks; so, it is possible that the coaching staff takes whoever commits first between Latavious Brini, Ameer Speed, Eric Stokes Jr., or South Carolina commit Jamyest Williams flips to Georgia. Right now, it looks like out of that group it could be Speed or Williams, possibly both. Stokes has scheduled to announce his decision and sign with the school of his choice on NSD at 6:00 p.m, which is after the other DBs on the board announce. If those targets commit and sign elsewhere, look for Stokes to sign with Georgia. If not, he likely will seek to sign with Ole Miss.
Tyler Taylor – 2017 ILB
55% LSU, 20% Oklahoma, 20% Auburn, 10% UGA
At one time, Taylor was favored to Georgia, but the talented linebacker is likely an odd man out due to who the Bulldogs have committed, who they are focusing on to close out the class with, and just how few open scholarship spots remain. Taylor is scheduled to announce his decision and then sign with the school of his choice at 9:45 a.m. from the College Football Hall of Fame on NSD.
Leonard Warner – 2017 ILB
45% Stanford, 45% FSU, 10% UGA
Back during the season and through December, I was 95% sure Warner would end up at UGA … if he had committed earlier, but now, like Tyler Taylor he may be another talented 4-star prospect that is on the outside looking in. If there are not any spots left at UGA for Warner, where will he end up? He could look to head out west to Stanford which seems like the logical choice if he is not coming to UGA, but when has recruiting ever subscribed to logic on a regular basis? Enter into the equation FSU who looks like they have made a very strong push of late. Hey, stranger things have happened. Warner is scheduled to announce his decision and then sign with the school of his choice at 10:15 a.m. from the College Football Hall of Fame on NSD.


Let's look deep into that prognostication crystal ball and see what we can pull out of the red and black beyond?


If you put me on the spot and held my beer hostage, I would say that the Bulldogs will finish by signing defensive end Markaviest "Big Cat" Bryant, flip JUCO defensive lineman Larrell Murchison from Ole Miss, sign cornerback Ameer Speed, and Devonte Wyatt stays with the good guys with the capital "G". Along with the other commitments, that would give Georgia 26 for the 2017 recruiting class. Of course, I could be wrong. I did pick Derrick Brown and E.J. Price to Georgia last year, but I was right about Tyler Clark, Mecole Hardman Jr., Jaleel Laguins, and Tyler Simmons along with several others. That is the roller coaster ride that is college football recruiting.


And if the sound of losing out on wide receiver Nico Collins or defensive tackle Aubrey Solomon has you bummed out, don't be my fellow Dawg fan. Georgia's 2017 class will likely be a consensus top 3 recruiting class nationally and 2nd only behind Alabama in the SEC. It could go down as one of the top recruiting classes for the University of Georgia football program in the past 35 years or more. I truly believe it is a recruiting class that championships are built of. See you in Athens!


National Signing Day 2017 in Athens | Bulldawg Illustrated