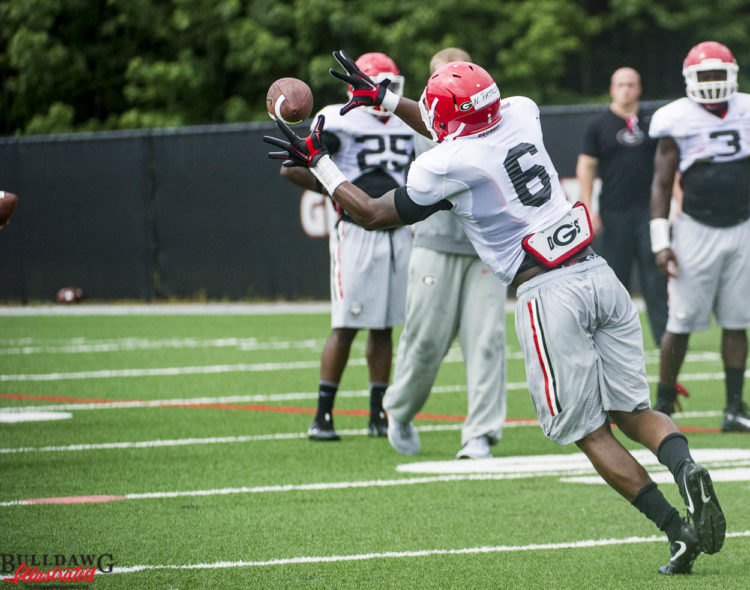 Natrez Patrick has been a staple on the Bulldogs defense and should have a great season for the Bulldog, most likely as the starting inside linebacker. Patrick has had his ups and downs during his time at the University of Georgia but seems to be at an all-time high and putting in a lot of hard work and effort for the team.
Patrick seems to be the top guy at his position, but there is a rotation between Roquan Smith, Reggie Carter, and himself. Patrick holds the belief that those two guys along with himself could be a very strong and efficient trio at one of the defenses most important positions. He said all of the guys, talking about Smith and Carter, have been putting in extra time to prepare for the season ahead.
Patrick also talked about how the last two games from last season and how they helped him be more prepared to take on the role of controlling the defensive front and making calls. This was "definitely a transition" in Patrick's eyes over time in mainly getting confident of making the right calls.
Patrick also talked about the vibe he is feeling in the locker room and says the guys are just ready to go. He compliments the team by saying they have had great practices; the tempo is good, and there have not been too many mental breakdowns.
I just feel like the guys are locked and ready to go.


Patrick also complimented his positions coach, Glenn Schumann, by calling him the "mastermind behind it all," in that he makes sure the guys are doing their jobs in practice and in the film room. Schumann also makes sure to help the players make the right calls on the defense, and he has helped to imprint the idea that the inside linebacker is the leader of the defense and that whatever they do the rest of the defense will ultimately follow. Patrick also made a comment on why Coach Schumann wears sweatpants during practice and chuckled and said Coach Schumann doesn't feel the weather and the heat doesn't affect him.