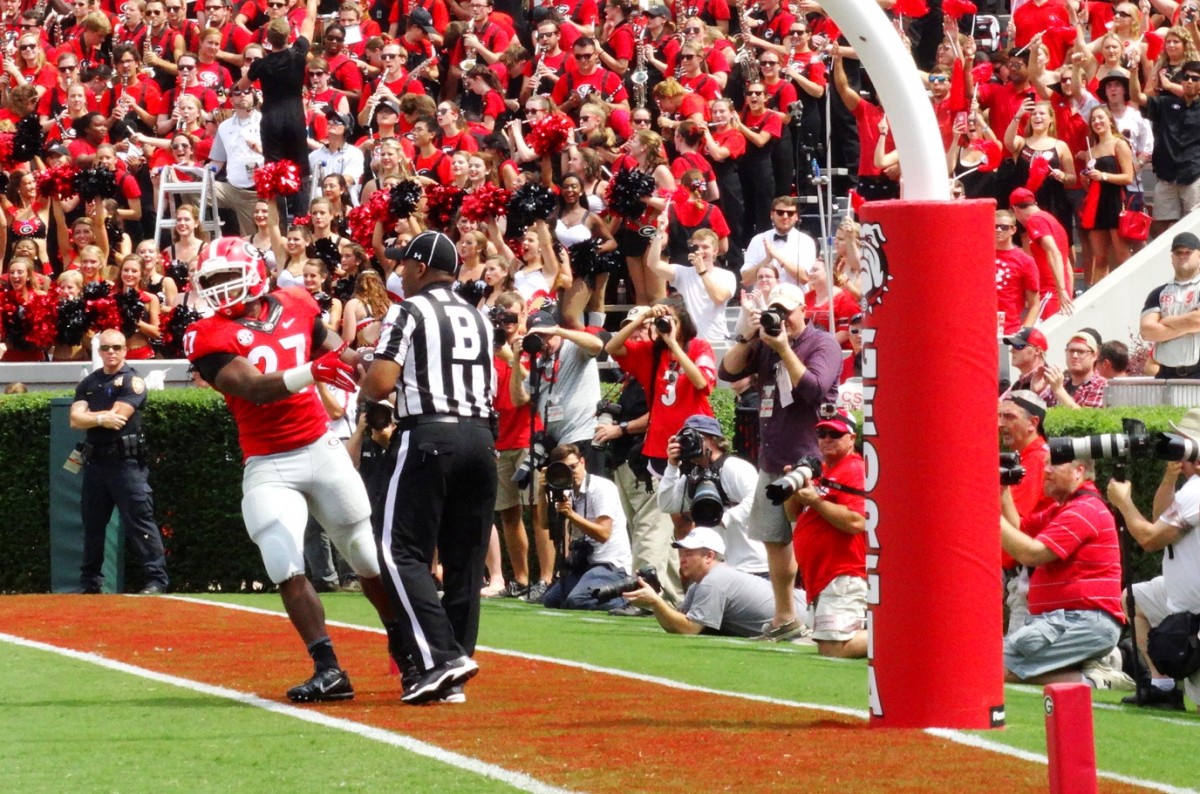 [su_spacer size="20″] Sophomore running back Nick Chubb talked with the press after the game about Georgia's victory over the Louisiana-Monroe Warhawks on Saturday.
[su_spacer size="20″]
Number 27 put in his usual day at the office for the Bulldawgs rushing for 120 yards and 2 touchdowns on 16 carries, helping his team to a 51-14 win over ULM in a game that was shortened by a little more than a quarter due to stormy weather and lightning.
[su_spacer size="40″] The Dawgs won the toss and took possession of the ball for their first offensive series of the game at their 31 yard line after an 8 yard Brendan Douglas kick return. However, the Dawgs' offense didn't exactly start out firing on all cylinders.
[su_spacer size="40″] The first play was a handoff to running back Nick Chubb who stopped by a good Warhawks' defense for a 1 yard loss. The second play didn't fare much better, when Chubb ran into a ULM wall and was not able to break free, gaining just 2 yards on his second carry of the game. After a 5 yard penalty on the Dawgs for a substitution penalty, Georgia was unable to convert a 3rd and 14 and punted to ULM on 4th down.
[su_spacer size="40″] Georgia's defense were able to force ULM to punt after the Warhawks went 3 and out, and sophomore outside linebacker Lorenzo Carter would come up with a huge special teams play, blocking the punt. UGA would start with excellent field position and get the ball on the Warhawks' 21 yard line, and the Georgia offense would not be denied on its second series.
[su_spacer size="40″] Chubb would get two straight handoffs on running play and carry the ball for a 7 yard gain and then a 14 yard touchdown scamper to put the Dawgs up 7 to nothing on top of ULM. Here are Chubb's comments about Georgia's first two offensive series versus the Warhawk defense.
[su_spacer size="40″]
They won that first series, but we came back and got it rolling.
[su_spacer size="40″] Bulldawg Illustrated's Greg Poole asked Nick about ULM's defense and how they seemed to be worn down by Georgia's o-line and ground attack towards the end of the game:
[su_spacer size="40″]
Yeah. We wore 'em out.
[su_spacer size="40″]
Nick Chubb interview post game ULM
[su_spacer size="80″]