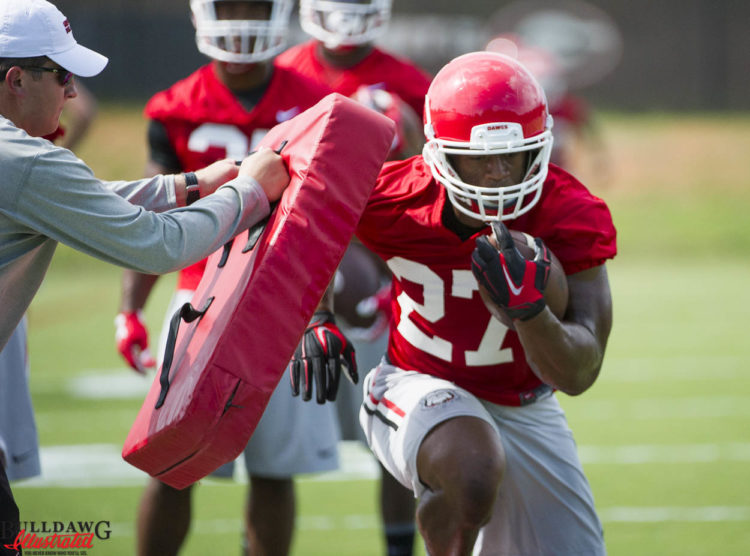 Nick Chubb continues to be one of the Bulldogs min storylines through the offseason and we got to hear from his own mouth how he is feeling and how he is preparing for the season. Chubb has looked ready to go as of late but his post practice interview gave us a better idea of how far along he really is in his rehabilitation.
Nick Chubb suffered a gruesome injury last year in Knoxville against the Tennessee Volunteers and a lot of fans and coaches held their breath because they were uncertain of, if Chubb would ever be able to tote the rock for the Bulldogs again. This offseason it has been reported time and time again that Chubb is working as hard as he possibly can to get ready for the season opener and hearing how he is feeling from his own mouth was more telling than just observing him in practice.
The first thing that Chubb states in his interview is that "he feels good" and he says it has been a long ride and long process but "he feels good where he is at." This gives the sense that he has definitely made more progression than he should have at this point but that maybe he's not 100% confident in his knee but he's working towards that through fall practice. Also, any doubts that he may be having are most likely stemming from the fact that he is yet to take a hit and only time will tell for when that my happen.
When Chubb was asked about if he felt he could be ready for game 1, he did not give a definite answer that he would play and just said that his focus right now is to take everything day-by-day to get ready for the season. Chubb was also asked about his goals for the 2016 season and said that he has not been able to think that far ahead because he is still maintaining the thought process of taking his rehab day-by-day.
[su_youtube url="https://www.youtube.com/watch?v=S3FBBvbfHIA"]
As mentioned earlier, Chubb has not taken any hits yet in practice and does not have an idea of when that may come, but he has done some training with Tae Kwon Do and kicked some dummies to just get some contact on his leg. The strength staff just wants to help take it slow with contact but still test it out some. One person who told Chubb to trust his knee through rehab was Todd Gurley, who suffered an ACL injury in his final season with the Bulldogs. Gurley has been watching out for him ever since he was a freshmen and Chubb maintained that Gurley continued to be there for him.
Chubb also stated that he continues to have a ton of improvement on his knee and even though he may not be able to see the true results day-by-day, he has noticed improvements over the course of weeks. He highlighted this by mentioning how much stronger he has felt since spring practice.
Chubb ended with the notion that he does not truly know if he will be ready for the opener against the North Carolina Tar Heels, especially since he has not had any real contact yet. However, he plans on getting ready day-by-day and doing everything he can to be ready to go if coach Kirby Smart and the staff choose to use him. I still believe that Chubb will be ready to go, but that decision will ultimately come down to the coaches and how they feel around the time of the season opener. It has been a long and grueling process and although all the fans may want to see him, it is very important that he is not pushed too much to start out with because the staff does not want to aggravate his injury and prevent further damage.