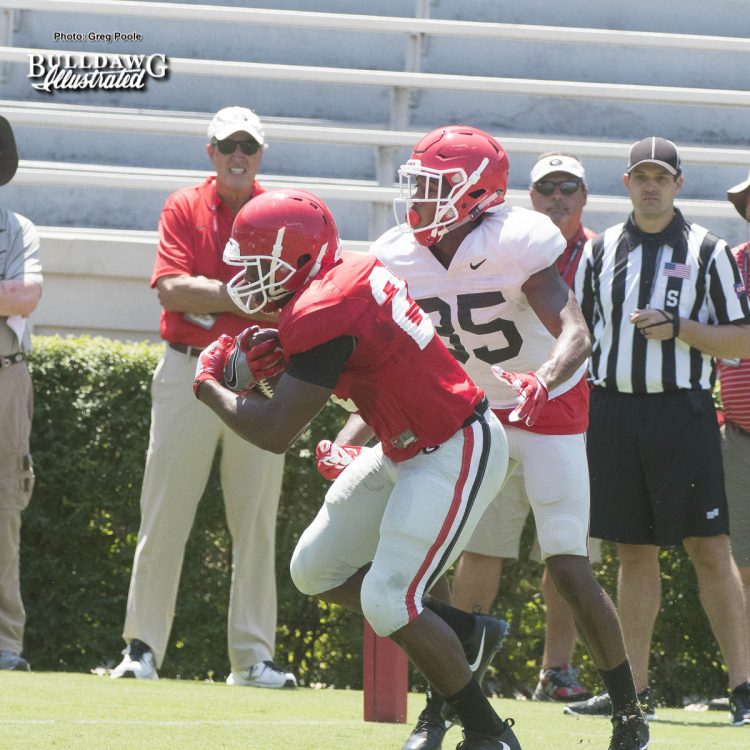 Last season, despite rushing for over 1,130 yards and eight touchdowns for the Bulldogs, tailback Nick Chubb just didn't quite look like the same tailback he was before his devastating knee injury versus Tennessee in game six of the 2015 college football season.


As a freshman, the Cedartown, GA native burst onto the college football scene in UGA's 2014 opener versus Clemson. Although he only carried the ball 4 time, No. 27 ran through, over, around and past Tiger defenders for 70 yards and a score. After Todd Gurley was held out awaiting a decision from the NCAA on his fate for signing sports memorabilia for monetary compensation, Chubb became Georgia's featured running back. He would finish his freshman campaign with 1,547 yards on 219 carries and punch the ball into the end zone 14 times.


Gurley decided to forego his senior season and declare for the NFL Draft after the 2014 season, and Chubb was front and center for the Bulldogs headed into 2015. Through the first five games, Chubb looked nigh unstoppable rushing for 745 yards and 7 touchdowns on 91 carries, averaging 8.1 yards per carry. But then on his 92nd carry of the season in Knoxville, TN, Georgia fans held their collective breath as the sophomore went down with a gruesome looking knee injury.




Amazingly, and a testament to the athlete as well as just how hard he works and trains, Chubb returned for the first game of Georgia's 2016 season versus North Carolina. The junior rushed for 222 yards and 2 touchdowns getting a heavy work load of 32 carries. By the look of things, the Chubb of old had returned, but as the season wore on, No. 27 didn't look like the 'Superman' of old.


Bad news for Georgia's opponents and good news for Bulldogs as it looks like Nick Chubb is back at 100% for 2017.


"… He looks much quicker," said Kirby Smart. "He's not running with a limp at all. His cuts seem faster. He is running at a good pad level. He runs really hard. He seems to be healthy."


For Kirby Smart's comments on Nick Chubb, check out the YouTube clip below at around the 6:55 mark:


---
Recent Articles by Bob Miller


[pt_view id="83405b425p"]