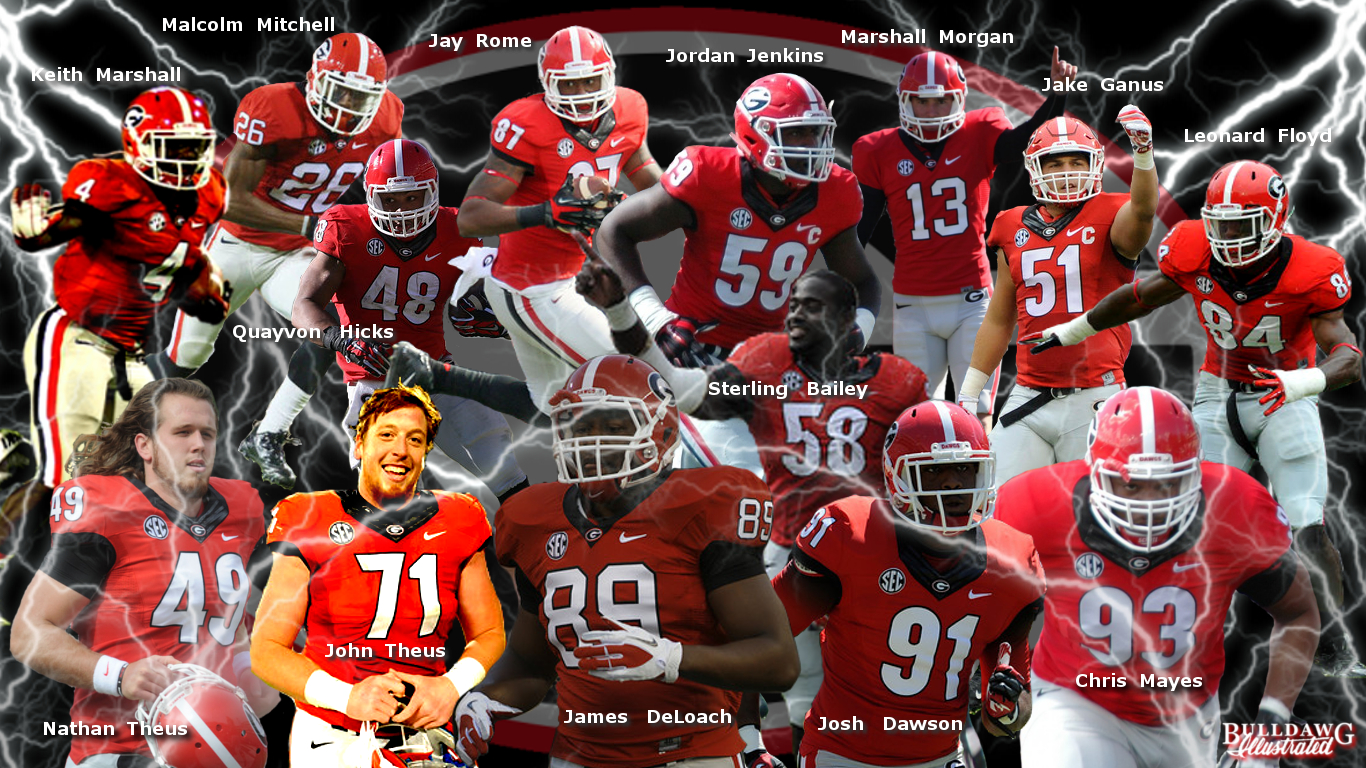 Five players from the University of Georgia were selected in this year's NFL Draft, but there were also nine Bulldogs signed as undrafted free agents. Who went where? Let's take a look!


BULLDOGS
SELECTED
IN THE 2016 NFL DRAFT


The first of the five Bulldogs drafted was linebacker Leonard Floyd, who was selected in the top 10 of the first round at pick number 9 by the Chicago Bears. The next Georgia player selected was fellow linebacker Jordan Jenkins who was picked by the New York Jets with the 83rd overall pick in the third round on day two of the draft. Three Bulldogs went on day three of the draft. In the fourth round, with the 112th overall pick, the New England Patriots selected wide receiver Malcolm Mitchell. After Mitchell, offensive lineman John Theus was taken in the fifth round by the San Franciso 49'ers as the 145th overall pick. And who was the last Dawg taken in the draft? I am so very happy to say that running back Keith Marshall was drafted by the Washington Redskins in the seventh round as the 242nd overall pick.


BULLDOGS
PICKED UP AS
UNDRAFTED FREE AGENTS


Defensive lineman Sterling Bailey was picked up by the Indianapolis Colts.


Thanking God for the opportunity to be joining the @Colts! I'm excited for the next chapter of my life!

— sterling bailey (@sterling_silv58) May 1, 2016


The Detroit Lions signed defensive lineman James DeLoach.


Detroit Lions 🙏🏽🙏🏽

— James DeLoach III (@Loachjuggernaut) May 1, 2016


Inside linebacker Jake Ganus will be heading north to the Minnesota Vikings.


Gal 6:7. So thankful and blessed to be apart of @Vikings organization! All I needed was a chance, let's do it Viking Nation.

— Jake Ganus (@jakeganus_51) April 30, 2016


Fullback Quayvon Hicks will be headed to the Tennessee Titans.




Kicker Marshall Morgan looks to use his leg up in Buffalo with the Bills.




Tight end Jay Rome is headed to Steeler Nation up in Pittsburgh.




John Theus' brother, Nathan Theus, will be heading west to the Denver Broncos.


Go Broncos! To God be the Glory!

— Nathan Theus (@NTheus49) April 30, 2016


The Atlanta Falcons are often critizied for not drafting or signing players from the Southeastern Conference and especially the University of Georgia, which is just down the road for the ATL, but the Birds picked up two Bulldogs on Saturday, signing defensive linemen Josh Dawson and Chris Mayes.




In total, between the five players selected in the draft and the nine Bulldogs picked up as undrafted free agents, a total of fourteen players from the University of Georgia will vie to make the 53 man roster of an NFL team for 2016. Go Dawgs! Sic'em!


---