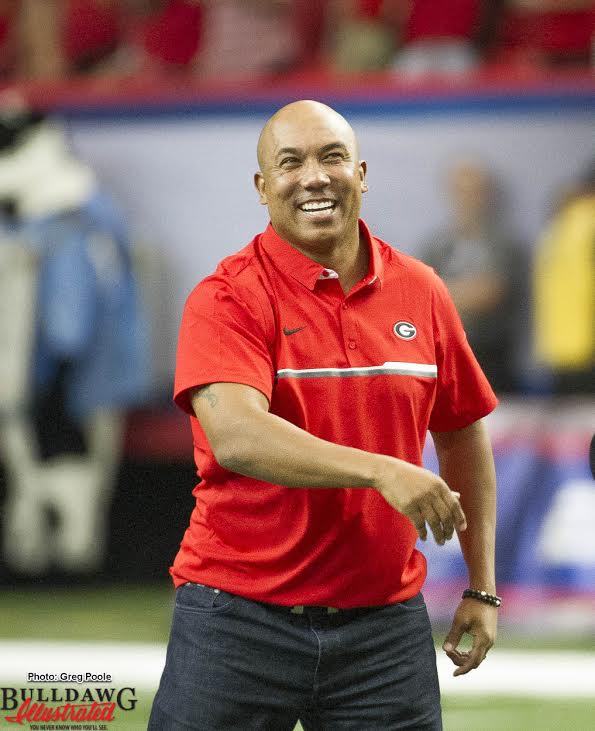 Welcome to what had been billed as one of, if not the greatest opening weekend for College Football ever. Top 25 matchups, upsets, comebacks, close calls, first-time appearances, and triumphant returns to the gridiron were all the order of the days encompassing the Labor Day weekend. College Football is the ultimate "reality show" that will carry fans on an emotional rollercoaster ride for five (5) glorious months. If the first full week of college football action has been any indication, this will be one incredible trip! Georgia fans have been collectively winding their way through the turnstiles awaiting their opportunity to re-board that "mean machine that's red and black" to see if a new conductor could get the train back on track.

Now, let's be fair about that assessment. When last the Dawgs were leaving the field of play, Georgia was packing away what some would describe as an unimpressive 10 – 3 record, was awaiting the full-time arrival of one of UGA's favorite coaching sons in Coach Kirby Smart, and was in the process of trying to keep together a much heralded recruiting class that had largely been assembled by Smart's predecessor. So, had the Georgia program really gone off the rails or did it just need to be taken to the shed for an overhaul and some fine tuning? So, with those thoughts in mind, I present to our faithful passengers the first installment of the 2016 version of "NO BONES 'BOUT IT"! Please take your seats and we'll try to make your journey a pleasant one!


THE GOOD:

There was truly a great deal to be positive about regarding Georgia's opening game win vs. a very talented North Carolina team. Let's start with the entire coaching staff before we get on the field. A rookie head coach, virtually an entirely new coaching staff, a new offensive system, and a special team's coordinator. There are a great number of details that go into play calling, player substitutions, the use of timeouts, clock management and more. Overall, the organization and strategic operation; especially considering this game was reasonably close for a long time, seemed to go off without a hitch. There were no major hiccups that seem to plague some new coaching staffs and nothing occurred that could have been construed as being detrimental to the outcome of the contest. That fact, all by itself, is a very good thing.


North Carolina's offense, on paper, appeared that it may be better than the one they fielded in 2015; and that offense was potent and high scoring. North Carolina also operates generally using a fast paced game plan, so there were legitimate concerns that the Dawgs' young defense would have trouble corralling the likes of Trubisky, Hood, Collins, Howard, and Logan. By all accounts, Georgia did not want to get into a proverbial "shootout" considering they had their own question marks on offense and whether or not they could keep pace in that type of game. There were definitive momentum swings throughout the contest, especially when North Carolina took a 24 – 14 lead around the midway point of the 3rd quarter. But overall, Georgia's defense was able to hold the Tarheels in check, scored 2 points of their own, and gave the offense an opportunity to take control. North Carolina was held to 5 of 13 on 3rd down conversions, 315 total yards of offense, and only 21:53 in time of possession.


THE BAD:

There are no apologies for winning. But like all coaches, I believe there is always room for improvement. In order to improve, you have to identify your weaknesses and then address them directly. Georgia's offensive line, for so many seasons has been a work in progress and to the aggravation of many, it has been made to look better by incredible running backs instead of the other way around. Although they did not play a bad game, there were some glaring miscues from this group. The two "C's" are most important when blocking up front; and they are chemistry and communication. Chemistry develops over time when lineman play together and learn each other's tendencies and skills. Communication should and must come a great deal quicker. Georgia's offensive line failed several times to pick up blitzes and stunts, which were further exacerbated by the QB's unwillingness or unawareness of the pressure and checking down to open receivers underneath. Also, there were a few 3rd and short opportunities where the offensive line failed to get a push up front and allow the running backs to gain even a single yard. This is one area where the Dawgs will have to get better and get better quickly.


THE UGLY:

I don't really need to deep dive into this. Shane Beamer was hired for a reason. Kirby Smart knows that special teams can make or break a team in the waning moments of any ballgame. When we point out special teams, we are not just referring to the kicker themselves. This is a relatively young group in several key areas, but the season is short and that cannot be used as an excuse. Georgia had failures in kickoffs giving up a 95-yard kick return for a touchdown, Georgia's freshman kicker missed a 42-yard field goal, Parrish got flagged for a personal foul when he failed to recognize UNC calling for a fair catch on a punt, and the "Human Joystick" was held to 22 yards on 4 returns in that part of the game. Imagine if the Dawgs are able to clean up this aspect of their game, what that might mean for this program.


GIVE 'EM A BONE:

The miracle that is Nick Chubb from a health and mental perspective is an incredible thing to behold. 32 carries, 222 yards, and 2 touchdowns is amazing enough for an opening game. But when you consider what Nick had to endure to get back to this point is even more impressive. Rehab is a lonely undertaking because so much of it is individual work, effort, and mental toughness. For as great a tailback as Nick has been at Georgia, there may not be a finer person with a greater work ethic.


Jacob Eason was eased into the game much like some had anticipated before the season began and he really seemed to spark the offense. It is clear that Eason is the long-term future at the QB position. The moment never seemed too big for him and he seemed to handle each situation with calm and composure. That said, Greyson Lambert proved why he deserved to start the game, that he is a leader, and a great teammate. Lambert was the first to come off the bench and congratulate Eason on his 1st touchdown drive and clearly he is the epitome of "TEAM" "me"! That kind of leadership and sportsmanship can go a long way to galvanizing a team!


FRESHMEN & TRANSFERS!

There is virtually no way to simulate the sights, sounds, and intensity of a game like this! Numerous freshmen and transfers played quality minutes in the game vs UNC and contributed quality minutes. Names like "Mo" Smith, Tyler Catalina, David Marshall, Julian Rochester, Brian Herrien, and Jacob Eason, just to name a few, were instrumental in Georgia's opening season win.


NO BONES 'BOUT IT:

Kirby Smart's career as a head coach got off to a great start by every discernible measure. The Georgia Bulldogs gave Kirby and their fans a win, while at the same time giving the coaching staff plenty of things on which to improve. Nick Chubb's return while seeming almost improbable nine months ago was a welcome sight to the Bulldawg Nation and a testament to his "indomitable spirit" and work ethic. Jacob Eason and Greyson Lambert will surely continue to work together and Georgia's QB situation will continue through its evolution. I would like to see Chaney make greater use of his tight ends going forward as they were not targeted nearly as many times as I thought they might in this first contest. The lines of scrimmage on both sides of the ball will need to get a little more push in game two and I would expect nothing less. We can expect there will be a greater emphasis placed on the development of special team units as we move through the season. All in all, the way Kirby Smart has handled this team since taking the reins up through the end of the game vs. North Carolina, it is really hard to argue with the limited data and results thus far. We can find areas that need improvement, but at first glance and feel, this is a much different team and that's a good thing to see….And there're NO BONES 'BOUT THAT!