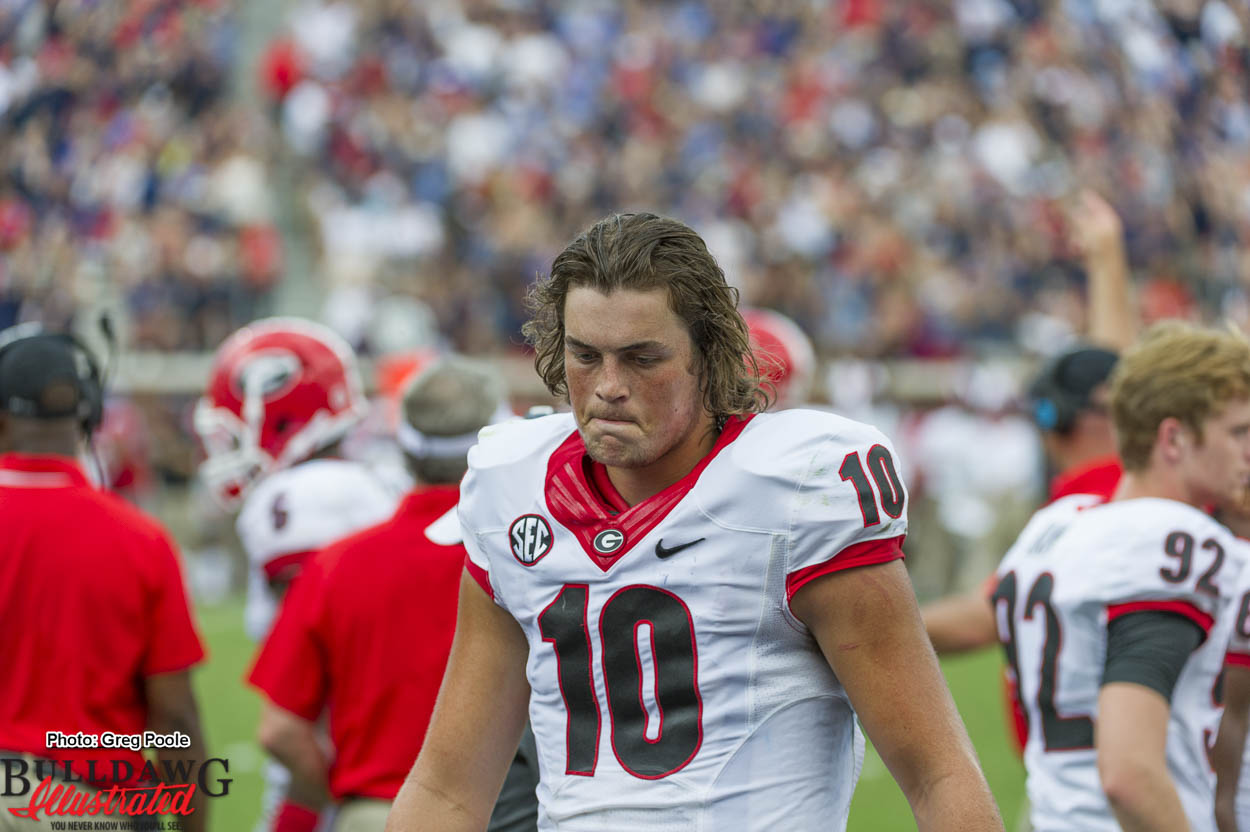 Kirby Smart tried to warn us. He wasn't being coy when he commented about Georgia's secondary this past spring and summer, to not lend too much credence to the fact they were rated #1 in the nation versus the pass last year. He wasn't lying when he referenced the size and strength of Georgia's offensive line and that it didn't quite seem up to snuff. He wasn't acting upset for effect when his first recruiting class, although not completely his own, failed to secure additional offensive linemen which Smart apparently covets; and for good reason.  He wasn't excited about the fact that his returning defensive line lacked size, strength, and depth. He wasn't comfortable with the idea that he didn't have a scholarship kicker with a proven track record on his roster. Again, Smart tried to warn us.
So Dawg fans, consider yourselves duly warned and notified. Because if Kirby's words didn't do it, then surely the beating the Ole Miss Rebels delivered to the Dawgs got your attention.  While social media was a "buzz" with comments, observations, and early season fan defections, the conclusion of the game brought some sobering facts forward to the ardent Bulldawg fan base: a.) Kirby was right and b.) Kirby was hired to fix Georgia's numerous problems because he's was not the cause of them!  Georgia was participating in an 11:00 a.m. Central Standard kickoff in Mississippi, which some thought would be to the Dawgs' advantage.  In truth, however, when the carnage was over, the only advantage for this Georgia team was that they were probably able to get back to the comfy confines of the Classic City before supper time.
THE FAIR TO MIDLAND (HARD TO SAY GOOD):
Humility. Growth. Experience. Becoming a good football team takes hard work, a lot of learning, and taking your lumps.  Georgia found ways to squeak by their first three opponents, which may have provided a false sense of security.  However, upon closer inspection, the cracks in the armor were there and it was only a matter of time before some team really exploited them.
The Ole Miss Rebels are a very good football team, as evidenced by the way they played at times versus the likes of Alabama and Florida State.  Certainly, a team desperate for a win, playing at home, with so much to prove would be a formidable opponent for the Dawgs.  They were.  On the surface, from an offensive perspective, the numbers are respectable.  The Dawgs had 230 yards rushing, 166 yards passing, and dominated the time of possession by +11:00 minutes.  However, a majority of these numbers came once Ole Miss had built an insurmountable lead midway through the 3rd quarter.  Jacob Eason got more valuable experience, starting for a second time on the road in a hostile SEC environment, which will only serve him as he continues to develop as a quarterback.  Eason spread the ball around to ten (10) different receivers, which is always a good thing.  Herrien and Holyfield (H2O) as I am now dubbing them (let's see if that catches on) provided much needed depth at the running back position and are both proving they can carry the torch for "Tailback U" as the years move on!
THE BAD (AND THERE ARE MANY):
Auburn beat a ranked team for the first time without scoring an offensive touchdown since 2008.  They did it by connecting on six (6) field goals ranging in distance from about 28 yards to 51 yards.  LET'S BE CLEAR!  Georgia cannot do that this year.  The Dawgs do not have a kicker that is both capable and consistent.  Georgia better cozy up to the idea that unless they are inside their opponent's 15-yard line and they want to score, they will have to treat each possession like four (4) down territory.  And while we're on special teams, someone needs to explain why Marshall Long is punting with an average of 39 yards per kick when Brice Ramsey last year was punting closer to NFL distance averages.  Not that this is the reason Georgia's in so much trouble, but at this point, everything should draw a question.
Georgia's receiving corps, or at least the one that keeps getting put on the field, has proven to be less than adequate.  Forget for a moment they do not appear to be very tall (sans Wims), they do not appear to be very fast, and they do not appear to be very physical; things over which they have no control.  However, route running, blocking effort, and catching the ball are all things they do have control over and right now are doing very poorly.  Georgia converted their very first 3rd down attempt in the contest, but then went 0 – 9 to finish out the first half.  Sloppy routes, failure to separate from defenders, and dropped passes all contributed to making Jacob Eason's job that much harder in a game where Georgia's offense needed to find a way to keep pace.
There is no need to delve into Georgia's offensive line woes more than necessary.  But, you do not have to be a football or film expert for effort or lack thereof to jump off the screen.  It is "over-the-moon" aggravating to see Georgia linemen standing straight up, thumping a defender once, and then looking around to see how the play is developing.  They may not physically win the line of scrimmage, but they are getting "out-efforted" and "out-nastied" and that needs to change.  Eason, Chubb, and all the other backs have every right at this point to put a foot up each of these guys' rear ends and tell them to do their job.
THE UGLY:
Kirby Smart and Mel Tucker came from Alabama and know exactly what great defense looks like in the SEC.  Georgia does not have it.  Credit Ole Miss for being an outstanding offensive program.  Try and remember, this Ole Miss football team had beaten Alabama twice in a row and in all fairness, should have beaten the Tide for a third straight time but let that victory slip away.  This high-octane spread offense has proved difficult for even some of the most talented defenses to defend.
While Georgia's defense held the Rebels to only 2 of 9 on 3rd down conversions, it really did not matter.  The Georgia defense was dominated the entire contest.  Ole Miss could have very easily scored 70 points on this defense had they not taken their foot off the gas midway through the third quarter.
The starting defensive line is not getting any push up front, the linebackers are not making any plays, and the secondary got absolutely torched for big play after big play using poor technique, miscommunicating, and being out of position.  The most disappointing thing about all of that is this is the side of the ball where Kirby Smart made his living and this defense has seemingly regressed from last season.  Also, knowing what now the whole Country knows about our secondary, the Dawgs will have to try and protect that group by finding more creative ways to pressure other quarterbacks we will face going forward.
THROW 'EM A BONE:
Marshall Long deserves a bone even with the questions posed before.  Long punted the ball 7 times, averaged 39.6 yards per, had a long of 47 yards, and also threw a beautiful pass on a fake punt for a much needed 4th down conversion.
Herrien & Holyfield, known to me now as H2O!  These two young guys are showing flashes of greatness and providing much needed depth. Running and catching out of the backfield is important and both did a good job!
Jacob Eason gets a bone for the beating he took and the exasperation he must have felt watching his receivers drop ball after ball.  Eason grew up a little more on the road.  Eason did not drop his head, point fingers, or place blame.  He did not have a great game as far as accuracy as he missed some open receivers.  However, seemingly it did not matter if he put the ball in some of his receivers' hands because on this day many of them couldn't have caught a cold at the North Pole.
NO BONES 'BOUT THIS ONE:
Georgia fans are upset and that is understandable.  Some are dismayed at the loss, while others are incredulously more disheartened by the way the Dawgs lost.  Let us not forget that this Georgia team is actually weaker overall than the squad a year ago.  And that team, under the guidance of Mark Richt, was closer to losing to Georgia Southern and Georgia Tech than they were in beating the likes of Alabama, Tennessee, or Florida.
Let us narrow the focus to the SEC West and Ole Miss in particular for a moment.  The SEC West has been the dominant division top to bottom for the last several years.  Alabama has been the bell cow of the entire conference and Ole Miss has to face them every single year.  This is brought up to draw attention to the fact that in order for Ole Miss to compete in the West year in and year out, they had to find a way to contend against the absolute best.  And for all intents and purposes over the last several years, the Rebels have done just that.
We all know at this point where Georgia is weak.  So does any other coach, player, or media type that watches film on this team.  The Bulldawg coaches will have to find a way to try and mask Georgia's deficiencies.  Coach Chaney should watch the '95 UGA/UF game film and see how Spurrier defused Georgia's pass rush by throwing the "bubble screen".  Chaney needs to mix the run/pass on 1st down.  Eason has to be allowed to throw quick passes because our receivers cannot get open deep.  Three step quicks seem to make more sense also based on our poor line play.  Defensively, there are only two ways to stop the pass; either you defend the receivers or you get to the quarterback.  Smart and Tucker are going to have to use scheme and alignment to help protect a secondary that simply is not covering anyone, regardless of height.  So, if there is no chance of covering the receivers, selling out to stop the QB probably is not that bad an idea regardless of the result.
The Georgia fan base has been rocked back by the complete dismantling the Dawgs suffered in the Magnolia State.  The Georgia players and coaches surely are not as easily convinced of their supposed inability to turn things around.  Let us keep in mind that Georgia is 3 – 1, (1 – 0 in the SEC East), and has a great opportunity to shift momentum back in their favor against a very good Tennessee team.
Let us also keep in mind that Kirby Smart, his coaching staff, and his recruits have been in Athens for less than 1 year.  ONE!  The former regime was given 15 years to get this program where the Dawg Nation hoped it would find Itself.  So, let us practice a little patience, hope for continued improvement, inspire new recruits to continue to choose Athens as their destination, and give Kirby & Company a little time to turn things around before the fan base comes unhinged.  Kirby warned us.  He wasn't kidding.  He knew that of which he spoke.  Now, through humility, growth, and experience, Smart is leading the Dawgs down the painstaking path to excellence!  But greatness never comes easy and it never comes fast.  Greatness can only come one step at a time and there are certainly NO BONES 'BOUT THAT!