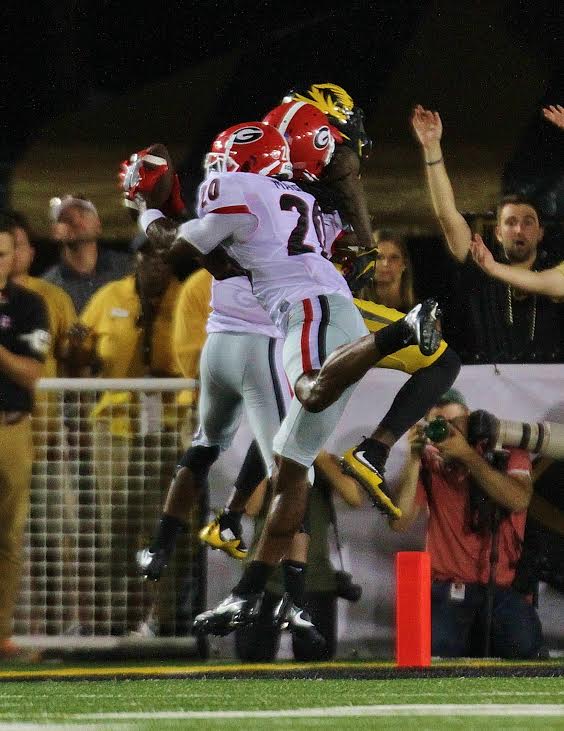 …And exhale.  Well, here's a stat for you. Did you know that Georgia was part of a record breaking performance?  Back in 1951!  The Georgia Bulldogs set a record against one of their most hated rivals! On December 1, 1951 within the Georgia state lines, inside the city limits of Atlanta, at historic Grant Field, the Bulldogs lost to Georgia Tech 48 – 6!  The NCAA record wasn't the score.  It was the fact that the Bulldogs turned the ball over thirteen (13) times; five (5) fumbles and eight (8) interceptions.  And that record still stands today.  The 2016 version of the Georgia Bulldogs, if asked, probably would not know that fact.  And in truth, probably would not care.
Georgia trekked westward to one of two "Columbia's" for a nighttime tilt against SEC East opponent, Missouri.  And there, in Memorial Stadium, on Faurot Field, a team that is short on experience and short on depth but long on grit, tenacity, and determination may have exorcised some of the "turnover demons" of the past.  And believe you me, the Dawgs needed every single takeaway they could muster.  So, as Georgia stepped out under a sun-drenched sky waiting for the evening lights in the "Show Me State", Missouri dared Georgia to do just that…SHOW ME!
THE GOOD:
This is a Georgia squad in transition.  This is a Georgia squad looking to establish an identity.  This is a Georgia squad that still has a great deal to learn about itself.  Watching individuals and teams "grow up" can be a gut wrenching, heart breaking, mind numbing, slow, painful process.  However, the results of that kind of tumult, turmoil, and dare I say, patience can ultimately be joy-filled and rewarding.  There is no question Georgia is not where they want to be nor are they in a position to get there in a hurry.  But like the tenacious youngster who continually falls off his bike until he learns balance, this team keeps getting up off the mat and hopping back on their two wheeler determined to stay upright.
Missouri planned to run an extremely fast paced offense and said to the Dawgs, "Show me you can stop it."  Missouri planned to put 8 or 9 in the box versus the Dawgs' run game and said to freshman quarterback Jacob Eason, "Show me you can beat us."  Missouri planned to break Georgia's will and demoralize this team by physically and mentally wearing them down and said to first year head coach Kirby Smart, "Show me you can guide them."
Missouri's offense was as speedy as advertised both in play execution and personnel.  Georgia was being forced to read and react quicker than may otherwise be expected in most games.  Drew Lock picked on the Dawgs' secondary, especially in the first half.  He was 19 of 29 for 322 yards, 2 touchdowns, 0 interceptions, and a total of 343 yards of offense in the first half alone.  But, in the 2nd half Lock completed just 4 passes for 54 yards, was picked off 3 times, and the Tigers' offense was held to a mere 7 points. Mizzou "SHOWN".
Missouri's plan to bottle up Georgia's run game was a good one.  With a true freshman starting on the road for the 1st time in the SEC, daring him to beat you isn't that poor of a decision.  Chubb was held under 100 yards for the 2nd game in a row, but Chubb and Michel helped churn out 101 tough yards on the ground.  Jacob Eason was unfazed by the stage upon which he had been set by Smart and Chaney, nor was he rattled by the challenge extended from the Missouri defense.  Eason spread the ball around to 9 different receivers/tight ends/backs, was 29 – 55 for 308 yards, 3 touchdowns, and 1 interception.  And although Eason made a few errant passes and one bad interception that gave the Tigers a really short field with which to work, Eason pulled a "David Greene light" and made his mark on Georgia lore when he led the Dawgs on an 80-yard touchdown drive to take the lead for good with the game on the line.  Mizzou "SHOWN".
Missouri, like Georgia, is being led by a first time head coach who also is leading his alma mater.  Kirby Smart, whose resume leans heavy on the defensive side of the ball, was tasked with keeping his charges mentally aware of the situations in the game and not letting his young defense get down on itself when things seemed to be spiraling out of control.  Smart actively engaged his players along with DC Mel Tucker and made it a point to teach on the fly and assure his Dawgs that this was a sixty (60:00) minute game and that they needed to make sure and play until the very end.  The defense heeded their coach's teachings and forced five (5) total turnovers; three (3) of which were interceptions that all came in the 2nd half.  Mizzou "SHOWN".
THE BAD:
The offensive line play is still grossly inconsistent.  Nick Chubb hasn't forgotten how to run, nor has he lost any toughness or speed.  Too often, while plays are still going on, linemen can be seen standing around watching plays continue through their development.  Also, all three teams the Dawgs have faced so far are putting players on the edge and they are beating the tackles and getting into the backfield way too quickly.  I wonder if Chaney and Pittman would consider going with an extra tackle as opposed to a tight end to see if the Dawgs cannot force the issue.  In fairness to the run game, however, it would be difficult for any group of 5 or 6 to block 8 or 9 constantly.
The defensive line is thin in experience and depth.  It is a unit led by Trenton Thompson who is a true sophomore.  In Smart's defensive scheme, it is the responsibility of the D-line to be "space eaters" and occupy the oppositions offensive line allowing the linebackers to make the majority of tackles.  When a team throws as often and at the pace of Missouri, penetration is going to be a major need.  But, just as importantly, the defensive linemen must get their hands in the air and disrupt the passing lane of the opposing QB.  Again, to be fair, this is simply an area that needs to continue to evolve and improve.  It's hard to be too critical of a unit that held Missouri to only 75 plays and 22 minutes in time of possession.
THE UGLY:
Georgia's special teams have only been under the tutelage of Beamer & Butler for a few months and the Dawgs are trotting out two walk-on kickers in Ham and Blakenship. Georgia is struggling to kick the ball off into the end zone and field goals have been nothing short of a minor fiasco at times.  The importance of special teams is not lost on Kirby Smart the way it appeared to be on the previous regime, so the Dawgs will have to continue to gut it out while the time is taken to try and get this unit fixed and moving in the right direction.
The Choate personal foul will be left at just a mention.
THROW 'EM A BONE:
Jacob Eason. First start on the road in the SEC as a true freshman is reason enough.  Although Eason made some "rookie" mistakes with intentional grounding and a "stare down" on his lone interception, he played like a seasoned veteran at times, and calmly led Georgia on a final winning drive.
Isaiah McKenzie reminds me a bit of "RUDY" due to his size except he has tons of athletic ability.  If Georgia's 6'2", 6'3", and 6'4" receivers played with the heart and determination of the "Human Joystick", Eason would have a field day.  10 catches, 122 yards, 2 touchdowns, and the game winning catch should get I.M. player of the week considerations.
Juwaun Briscoe may seem an odd choice on the surface.  Briscoe got beat time and again on big plays by speedy wide receivers who kept leveraging him to the outside and getting the inside drop on him; giving up some scores as well.  So, why the bone?  Because he didn't quit.  Because he didn't get down.  Because he didn't dwell on things he couldn't control.  Briscoe kept fighting, kept clawing, kept scratching, and came up with a big interception and fumble recovery when it was needed most.
William Ham. Yes, he is having FG issues.  But take away 4 extra points and the Dawgs lose this one by 3!
Quincy Mauger made the interception of the day, keeping a foot in bounds, maintaining control and preventing Mizzou from a FG attempt that would have made it a two score game late.
Kirby Smart managed the clock like a pro and always seemed to understand the system, how to use his timeouts, and how not to put additional pressure on his offense by making sure they had enough time to work their way down the field on the final drive.
NO BONES 'BOUT IT:
Kirby Smart finished the game like he started it.  He was engaged with his players from the beginning to the end; keeping them focused and making sure they understood what he wanted from them.  Jacob Eason finished the game like he finished the first half.  He led Georgia to a touchdown and a one-point lead when each was over.  Georgia probably opened some eyes so that other teams are aware that they are not a one-dimensional opponent.  Eason went wire to wire on the road in his first SEC start and will surely be at the controls of this offense for the remainder of the season.
The defense was faced with a fast paced offense, a good quarterback, and a bevy of speedy wide receivers.  Next week's trip to Oxford, Mississippi will be an even heavier dose of that elixir.  Georgia is 3 – 0, which is the best one could hope for after having played Missouri.  Georgia can expect more of the same from other teams with regards to stopping the run and forcing the pass to win.  Georgia can expect "tempo" from the likes of Ole' Miss, Auburn, and others later on.  Georgia needed a +4 in takeaways and a 12- minute advantage in time of possession to walk away with a 1-pt. win in Missouri.
There is a lot to be concerned about, a majority of which can only be addressed through recruiting and development.  But for now, give the Dawgs credit for doing what they had to do; they went on to "SHOW" and there are NO BONES 'BOUT THAT!