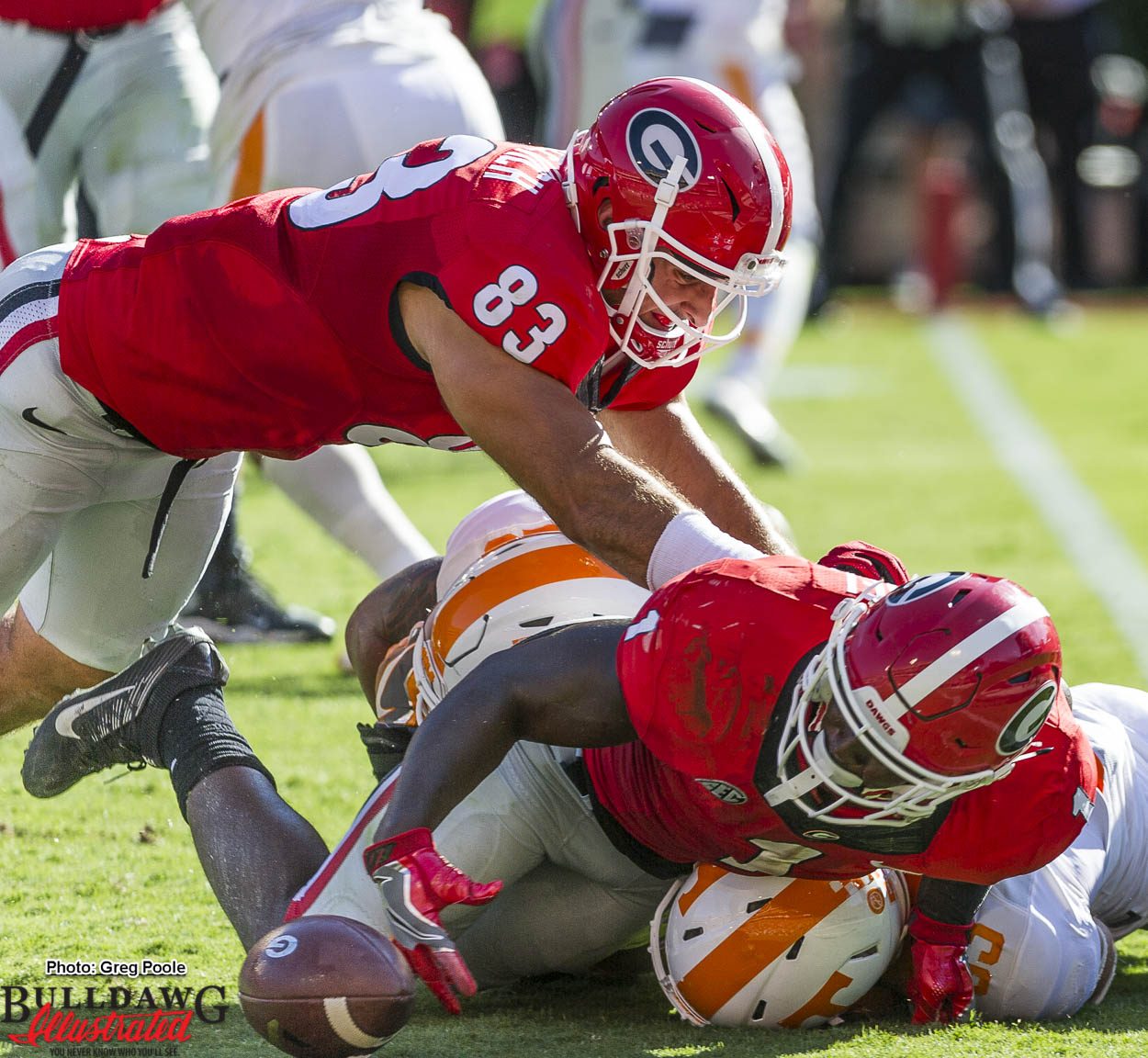 "Bingo bango bongo.", "Break out the Oreos, baby!", "I done wet my britches!", "I don't believe it!",
"G-d Bless those kids! I am sick, I wanna throw up!" and the one that says it all, "Good Gosh Almighty!" For those of you who just love football, on any level, you might remember the legend of the 1994 Texas High School playoff game between Plano East (12 – 0) and John Tyler (12 – 0) and some of those immortal phrases uttered by announcers Eddy Clinton and Denny Garver.  If you don't know the game, look it up and watch the "ESPN 30 for 30" documentary. Although almost a quarter century ago, that game was, as it is today, a lesson in guts, grit, determination, heart, what it means to be part of a "brotherhood" and most importantly, understanding as a player, a coach, or a fan, that a game is not over until the clock reads "0:00" and the final whistle has been blown.
The Georgia Bulldogs are a new team, led by a new head coach, with many new players.  But what happened in Athens, on a beautiful fall afternoon, has become a little too familiar to Georgia fans.  In the history of football, there is probably not a team that has not at least once "snatched victory from the jaws of defeat" and not at least once "snatched defeat from the jaws of victory".  Well, unfortunately for anyone who "bleeds red and black", the Dawgs in the most recent past, have fed defeat in the most excruciating ways and while in big games have allowed victory to starve. In 2013, it was "the Prayer at Jordan Hare".  In 2014, it was the pooch kick "Tween the Hedges" that led to a Georgia Tech overtime win.  In 2016, versus 11th ranked Tennessee, the Volunteers told DawgNation, "You broke our nose with a hobnail boot? We broke your heart with Air Jordans!".
When the game was over and Georgia fans, players, and coaches were left in stunned silence, I left the stadium with two undeniable thoughts.  1.) This was one of the most exciting games I ever witnessed wire to wire and had my team come out on the wrong end.  2.) Some teams lose games like this on their way "up" and some on the way "down".  And while this loss may have done some damage to Georgia's season in the short term, visual evidence would strongly suggest the Georgia program is headed in the right direction.  With that in mind and in the hopes of reversing the fortunes of the Dawgs, we shall entertain the difficulties before we give any praise; thereby following the teams' example and moving in the right direction.
THE UGLY:
If the last :10 seconds of this particular game did not exist, the party may still be going on in Athens! But football is a 60-minute contest and not a 59:50 one.  Kirby is in his first year as Georgia's head coach, so he has not been here to see Georgia's awful special teams play and decisions.  Once again, a choice to "sky kick", which is basically a short kickoff, coupled with the penalty yards before and after the kickoff gave Tennessee the opportunity and field position to throw a final desperation heave that would actually reach the end zone.  The kickoff was actually fielded at the 31-yard line and two Georgia players missed making the tackle on the 40-yard line and the Tennessee returner got out of bounds at the Georgia 49-yard line with :04 seconds remaining.
Here is what makes "ZERO" sense about the decision not to kick as far as you can.  1.) The clock will begin running the second the player touches the ball.  2.) The returner would be forced to respect the clock unless he believes he is going to return it all the way for a touchdown.  It was a poor decision and you cannot convince fans otherwise because we have seen this act way too many times.  3.) Tennessee's kick return alignment was such that Georgia should have kicked deep and given the cover guys more of an opportunity to get down field to cover their lanes.
Kirby disappointed a bit with his post-game tirade about discipline.  Not because he is not right, but because he is the head coach and discipline has to start with him.  Also, Kirby is supposed to be the defensive guru.  When has a "PREVENT DEFENSE" ever done much more than prevent a team from winning?  Tennessee kept six (6) in to block and put four (4) receivers in the pattern.  Dobbs obviously has an arm strong enough to reach the end zone from midfield.  What never makes sense is not trying to pressure a quarterback and allowing him to really set his feet and get off a great throw.  Georgia rushed three (3) and moving Dobbs off his spot was never going to happen.  Further, with eight (8) guys back, virtually not one of Georgia's defenders was in front of the play.  More to the point, Lorenzo Carter stood in the back of the end zone and never really ran forward to defend the goal line.  In fairness, Carter is neither a receiver nor a defensive back, although he may be the best vertical leaper.
THE BAD:
Experience and discipline come with age and time.  Georgia was a three quarter team in this contest.  Not that the Dawgs did not fight the entire game, they did.  Not that the Dawgs did not do everything they could to have this thing end with a victory, they did.  But 7 of 8 Georgia penalties occurred in the 4th quarter; some of which were incredibly costly with regard to field position and setting Tennessee up to take a shot at a miracle that just went the Vols' way. Poise, discipline, and control are developed over time and the Dawgs simply are not there yet.
Although Georgia had three (3) takeaways, the Dawgs had two (2) turnovers themselves.  Again, the turnovers like the penalties were all in the 4th quarter.  Georgia is just not good enough as a football team at this point to overcome turnovers; especially ones that result in points for the opposition.  Eason being sacked and fumbling in the end zone shifted momentum for a moment.
The Dawgs were only 5 of 14 on 3rd down conversions and twice had the ball inside of the Vols' 40-yard line without scoring a point.  Although Blankenship had a field goal, Kirby's apparent distrust in his kicking game is putting the Dawgs in some precarious positions.
THE GOOD (and there's a lot to like):
Young teams can certainly be derailed by losses.  Ole Miss really whipped Georgia in every facet of the game the week prior.  There were questions how and if this team would rebound or could they find the competitive fire they were lacking vs the Rebels.  They found it!  Some pundits thought Tennessee would run Georgia around the "Dawg Park" for a couple of lapse before dispatching them to the pound.  As joyful as the Vols might be in their victory, it is not unfair to think even they would recognize the toughness of the fight.
Georgia's offense, while still having a few lapses in execution at times, is really beginning to find its footing.  If someone had posted a stat sheet before the game and showed the Dawgs leading Tennessee 31 – 28 with :10 seconds to go in the game, had 24 1st downs to the Vols 18, and Georgia would win in total yards, turnover margin, dominate in time of possession by about 12:00 minutes, and have great balance in both the run and the pass, every fan would have taken their chances with that.  Georgia's young skill players and the offensive line continue to develop and that will be huge moving through the remainder of the season.
Tennessee's offense really was coming to Athens with a "Hydra" mentality; a nine-headed dragon that can hurt you in so many ways.  Georgia's defense did a pretty good job holding Kamara, Dobbs, and the "Hurd-a-beast" in check.  Tennessee's receiving corps was probably as physically imposing as the one in Oxford, but Georgia worked hard to keep from any one player dominating the field.
THROW 'EM A BONE:
Jacob Eason is a leader.  He does not live in the past from what we have seen thus far.  Eason has the "short term" memory that one wants in a QB.  Mistakes do not faze him.  Interceptions, fumbles, incompletions, miscues…they are going to happen; especially with a young quarterback.  Regardless of what the last :10 seconds resulted in, Eason's last :09 seconds on the field was the stuff that creates college legends.
Brian Herrien may be the steal of the 2016 recruiting class.  Herrien is providing much needed depth at the running back position and was 2nd in rushing behind obvious team leader Sony Michel.
Isaac Nauta & Riley Ridley announced their presence with authority.  The Dawgs two leading receivers each had a touchdown and led the receiving corps 1 & 2 respectively in yards.  Both of these young men are true freshmen and have incredible upside potential.
Natrez Patrick showed out as the leading tackler for the Dawgs' defense.  He made a few devastating hits and forced a fumble, had 10 tackles (5 solo) and 1 sack.  As the Dawgs' defense continues to search for an identity, Patrick is in position to provide that leadership.
Deandre Baker may have had the hit/stop of the game!  Had it ended with a Georgia victory, Baker's refusal to give up on what appeared to be a "Jalen Hurd walk-in touchdown" would have been an ESPN top 10 sensation. (And should have been any way).  Baker dislodged Hurd from the ball just before he crossed the goal line and never gave up on the play.
COMPLETELY BONEHEADED:
No Georgia fan will logically blame officiating for the loss that the Dawgs suffered in this SEC East battle.  However, the argument that football is a 60-minute game and EVERY PLAY matters is especially true when you are younger, less experienced, and lacking of depth.  That is simply because you need every play to potentially take one from a more talented opponent.  The "replay officials, as Gary Danielson pointed out, have one job and one job only!  They failed in epic fashion.  The name Al Ford kept coming up in conversation after the game.  Ford's failures as an official in UGA games goes back as far as the infamous 1999 "Jasper Sanks Phantom Fumble".  There were certainly disputed uses or failure to use "replay" appropriately, which begs the question what further happened to the new "collaborative replay" the SEC was using in SEC venues.  Also, one Georgia coach/analyst questioned officials as to why they continually and constantly failed to call the foul when Tennessee had their tackles lined up "in the backfield".  When tackles get an extra half step on defensive linemen in pass protection, it makes a difference.  The rule is the rule and if it did not matter, it would not be a rule, right?  The hope is Georgia's Athletic Department and specifically, Greg McGarity will speak with the league office about the officiating and even go so far to request that even the mere appearance of impropriety by Ford be guarded against in the future by keeping him away from the Dawgs.
NO BONES 'BOUT IT:
The reality of this loss cannot be fully comprehended until later in Georgia's season.  It can only be concluded at this point that the Dawgs have relinquished any control they, themselves, might have had in winning the SEC East.  With a win, Georgia would have held a lead over both Tennessee and Florida in the race for the Eastern division crown.  With a loss, Georgia would most likely need to run the table and receive help from several other SEC schools that face off against the Volunteers the remainder of the season.  This week is the true crossroads for Georgia.  Most pundits thought Georgia would either be 3 – 1 or 2 – 2 at this juncture, but could not have possibly predicted how they would get to this point.  There is no team left on Georgia's schedule that they cannot beat.  However, there is no team left on Georgia's schedule that the Dawgs can assume a win against.  Kirby Smart is going through growing pains as a first year head coach, just as his team is going through growing pains as a developing unit.  Two really tough losses, the most recent a last second heartbreaker, brings the Dawgs to where the "two roads diverge in a wood".  The Georgia Bulldogs, as a band of brothers, will have to decide which road to take and whichever they take will make all the difference…and there are NO BONES 'BOUT THAT!