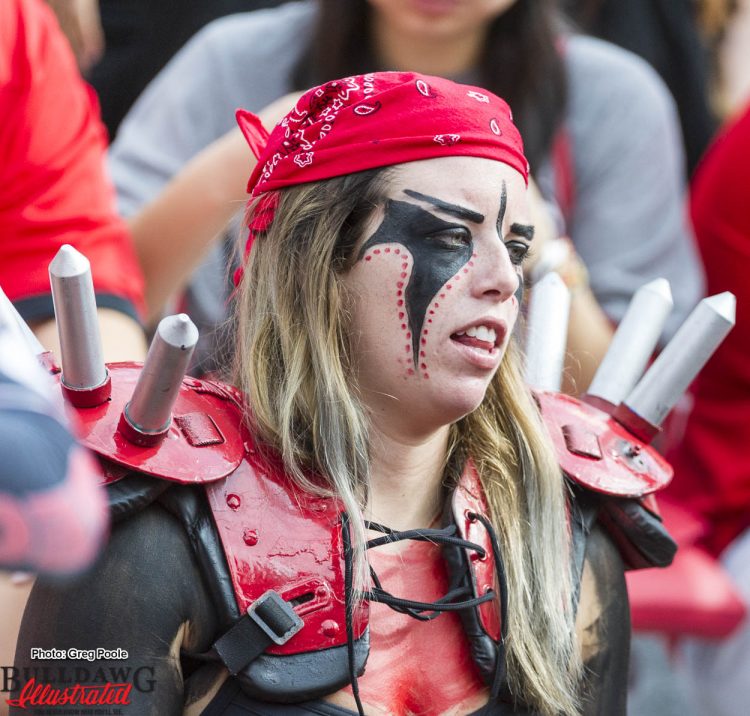 If the loss to Tennessee ripped Georgia's collective hearts out, then the Vanderbilt Commodores made their pilgrimage from the "Volunteer State" to make sure that any hopes Georgia had for a special season were dead and buried between the "privet hedges" they hold so dear.  Mission accomplished.  If football were a game played "between the 20's", Georgia would have won this game in a walk.  If analysts, prognosticators, and the bookies in Vegas determined the outcome of games, Georgia players, coaches, and fans would have had little or nothing to worry about this day.  The "coach speak" and the clichés coming out of Athens Saturday afternoon were almost deafening.  The most important one that should probably be plastered all over the locker rooms and inside the Bulldawgs' new indoor practice facility is "GAMES AREN'T PLAYED ON PAPER".
Seven (7) games in, Georgia fans need to wake up to a sobering reality and ditch the same tired excuses that were used in the preseason and throughout the first half of this season.  First, this is not a great football team.  Second, and maybe a much more alarming matter, is this is not a well-coached football team.  As Georgia heads into the bye-week having lost three (3) of their last four (4) contests and the "hated Gators" on the horizon, the Bulldawgs have two weeks to decide who and what they want to be; because as of today, they cannot be happy with the perception of  who and what they are.
THE GOOD:
Georgia's defense played a pretty descent game; and when you look at the statistics "ON PAPER", you would think this unit did enough to win versus Vanderbilt.  The Commodores amassed a paltry 171 total yards of offense, were only 4 of 14 on 3rd down conversions, had only 9 first downs, and averaged 1.9 yards per rush attempt.  Ralph Webb, Vandy's outstanding and underrated (in my opinion) running back, was held to 48 yards rushing on 19 carries. And even though this unit allowed an eight play, 75 yard drive in the 4th quarter, which accounted for 43% of Vandy's total yards for the day and allowed the 'Dores to take the lead, holding the "Black & Gold" to 17 points should certainly have been enough for a Georgia win.  But it wasn't.
THE BAD:
Maybe Georgia's offensive unit is still upset with the defense for letting them down in the waning moments of the Tennessee contest, so they decided to return the favor?  That might explain it.  Georgia's offense was great…"ON PAPER".  421 yards of total offense, 23 first downs, dominating time of possession by over 10 minutes again!  All of these things should point to a Georgia victory.  It didn't  Here are two numbers that translated from paper onto the field and made all the difference in this game; and one is more shocking than the other to be sure.  16!  That's the number of points Georgia was able to muster.  12!  That is the percentage of plays for loss Georgia had in this contest.  THINK ABOUT THAT!  Georgia ran 75 plays and 9 of those resulted in loss!  Ridiculous, inexcusable, and unacceptable.  Georgia's offense is having a very hard time finding the end zone and this team just is not good enough to leave any points on the field.
THE UGLY:
This cannot be overstated.  Georgia's special teams units are collectively awful.  Wait horrible?  No ghastly? Ahhhhh….ATROCIOUS!  The problems with 1/3 of Georgia's game are almost inexplicable.  Do we not know the rules of the game?  Do we not understand situational football?  Seriously!  This is confounding when you consider that some of these guys have been on this roster for 2 – 3 years.  Also, Kirby had to have known that the Dawgs have had issues with their special teams, previously under Richt, for the better part of a decade!
Give Kirby this; he hired Shane Beamer to deal with the problem.  But if these are the results of that decision, Georgia has much bigger issues to tackle.  But I digress.  Let us pinpoint the blunders and missteps taken by this unit on this day alone, because if we went back any further, this would become a short story. A.) a 95-yard kickoff return given up to Vandy to start the game.  B.) Isaiah McKenzie allowing punts to continuously bounce in front of him and roll deep into Georgia territory.  C.) Isaiah McKenzie trying to field punts that have already gotten behind him.  D.) Reggie Davis tried to field a kickoff that was clearly going out of bounds.  E.) After Vandy's punter fumbled the football and was free game, Georgia defenders failed to converge and tackle him allowing a big play to escape them yet again.  F.) Georgia's punter cannot seem to get a consistent handle on his responsibilities. G.) YOU GET THE POINT!  Forget the athletic side of this issue, there is a mental and psychological aspect that has been, up to this point, mostly abject failure.  Georgia's kids either do not understand the rules and situations regarding the special teams units they are on or they do not have the "want to" to play special teams.  Neither should be acceptable.
THE UGLIER:
The excuse that this is a "young team" should be put to rest by everyone.  Seven (7) games into a season, five (5) conference games, and players should know what this league is all about by now.  But this game's results do not fall on the players.  This coaching staff has a lot to answer for; but specifically in this case Jim Chaney, Shane Beamer, and Head Coach Kirby Smart.
Special teams are a disaster and Beamer was brought in to help turn that around.  Problem here is that Beamer keeps putting the same players on the field who keep making the same mistakes over and over again.  This has consistently put Georgia in very bad field position situations and this team just cannot afford to give up even the slightest advantage to any team.  Special teams play is a matter of desire as much as it is physical ability.  Georgia coaches profess that they address these matters in practice day in and day out.  If that is true, then either coaches are fielding these units with the wrong players or coaches are not teaching them what they really need to know.  Either way, the results for this group overall have been lousy.
Jacob Eason may be a freshman, but Offensive Coordinator Jim Chaney has been coaching for the better part of 30 years.  One would hope that experience would count for something.  In this game, it didn't.  Chaney was hell bent on trying to run the football when Vanderbilt made it abundantly clear that they were not going to let that happen.  Georgia is not physical enough to completely dictate a ballgame, so they must "take what the defense gives them".  Chaney refused.
Over the last several games, Chaney's offense has been way too predictable.  Further, Chaney has made Jacob Eason's job as a true freshman finding his way, more difficult than it should be.  Chaney continues to run on 1st down, run on 2nd down, and have Eason throw on 3rd and obvious passing situations.  Chaney continues to have the Dawgs run out of tight formations and throw out of passing formations.  He rarely allows Eason to throw 5 yard or 7 yard outs on 1st down to loosen up the defenses.  He rarely has Chubb run out of a 3 or 4 wide receiver set, making the defense think and respect the formations and the mixing of plays.  The last drive of the 1st half and the final offensive play in the 4th quarter, leave so many more questions than answers for this team.  Failure to throw to Chubb or Michel out of the backfield or really exploit the middle of the field consistently with our TE's also creates a lot of "what the…" type responses to our offensive approach to the game.
Kirby came home.  He was the most sought after assistant coach in America.  He was considered one of the best defensive minds in America.  He is widely considered to be one of the best recruiters in America.  Those accolades were well earned, but the honeymoon is over.  Kirby Smart hand-picked his entire coaching staff.  Georgia's time management (seen this before), Georgia's organization, Georgia's discipline, Georgia's philosophies were all on display Saturday and ultimately, they were all bad.  Kirby Smart is the head football coach.  Kirby Smart is ultimately responsible for the performance of all those who are under him.  The collective failed on this day.
THROW 'EM A BONE:
Rod Blankenship seemed to find his stride.  He was hitting the ball solidly and was 3 for 3 on field goals.  Disappointed Kirby didn't allow him a try at the end of the half.  Something in my gut told me he was going to hit it on this day.
Welcome back Jonathan Ledbetter!  4 tackles, 1 solo, 0.5 tackles for loss
Isaac Nauta continues to shine!  5 catches, 74 yards, 1 touchdown!
NO BONES 'BOUT IT:
This was a "back breaking" loss for a Georgia Bulldog program that still has no identity.  They don't know who they are, still.  They don't know what they can become and worst of all, it seems as if they don't know what they want to be.  Good teams do not play down to their opponents' level; but this isn't a good team.  Georgia is currently a collection of pretty good athletes.  However, they are nowhere near being a great or even solid cohesive unit that feeds off one another's successes.  And that is the bond you must have to become a great football team.  On paper, maybe, the Dawgs should have won this game.  They didn't.  In the pages of the record book, it will indicate Georgia lost this game.  They did.  If you look ahead to what remains on the schedule and you poke, prod, analyze, and prognosticate, on paper, it may look as if Kirby Smart and his Bulldawgs will be fighting an uphill battle just to finish the season over .500.  Funny thing though.  Football isn't played on paper…and there are NO BONES 'BOUT THAT!