[su_spacer size="20″]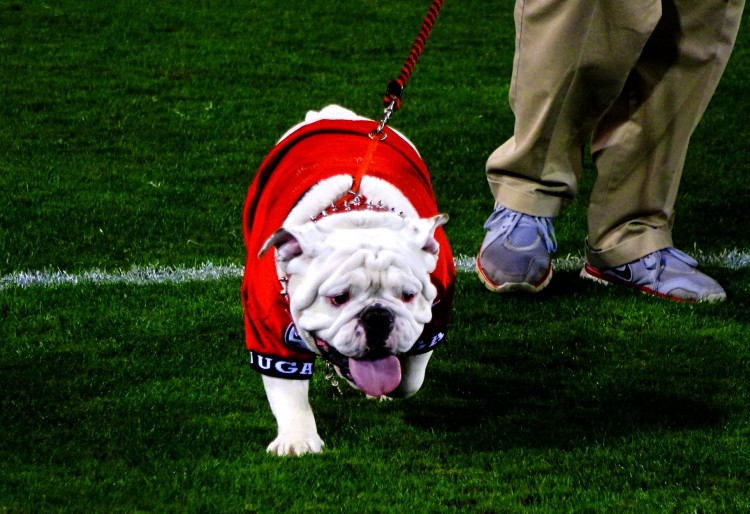 [su_spacer size="40″] Eric Zeier, one former University of Georgia standout quarterback, continues his affiliation with his alma mater by working alongside Scott Howard as the color analyst on the Georgia Bulldogs Radio Network. After the overtime victory against Georgia Southern, Zeier was questioned and further commented on the performance he had just witnessed under the lights in Sanford Stadium. He talked a great deal about "confidence" and how that permeates an entire team or unit. It was made clear he believes that confidence is something that has to be built throughout a game and over time in working and playing together. Further, he alluded to the idea that trust was just as important. Coaches have to trust their players. Players have to trust their coaches. Players have to trust the guy next to them to do their job. And one unit of the team has to trust the other. Although clearly pleased and maybe more to the point relieved by a Bulldog victory over Georgia Southern, it was evident that even with a hard fought win, there was a twinge of displeasure and an ever increasing concern about the current state of the program in Athens.
[su_spacer size="20″]
[su_spacer size="20″]
THE GOOD:
[su_spacer size="40″] Football really isn't a complicated game. Sure, the X's and O's and play calling wrinkles may require creative thinking, but the overall strategy on how to win has remained fairly consistent over the years. If a team can run the football and control the clock, they are well on their way to having a successful season. Georgia Southern's Head Coach Willie Fritz made this point in an interview in 2014 when he said, ""In over 22 years as a head coach, we've won over 91% of our games when we had one more yard rushing (than our opponent). We set our offense up to be able to run the ball effectively, and our defense to stop people from running the ball." Fritz has a philosophy and unlike the Bulldogs current offense, the Eagles have an offensive identity and know exactly who they are and who they want to be against an opponent. Georgia Southern ranks #1 in the FBs in rush offense with over 364 yards per game, 40 rushing touchdowns, and an average of 6.51 yards per rush attempt. Also, they are tied for #2 in the nation in average time of possession per game at 34 minutes.
[su_spacer size="40″] The triple option is a unique and complex beast that even the great Nick Saban would confess is hard to stop. Using some colorful language earlier in the past week, the Alabama head coach complimented Georgia Southern, expressing how difficult it was to hold that particular offensive style at bay, even with a roster filled with NFL caliber talent. On the particular day referenced by the Crimson Tide leader, the Eagles put up 341 yards of offense and 21 points. In 2013, this same Eagle style offense went into "The Swamp", rushed for over 429 yards, and defeated the Florida Gators on their own turf 26 – 20. So, people have to realize in a historical context, Georgia Southern is a team to be taken seriously and realize they are not intimidated by any surroundings in which they find themselves.
[su_spacer size="40″] So, it is great to see the Georgia Bulldog DEFENSE continue to grow up before our very eyes. Further, some of the high caliber upper classmen talent that is certainly NFL-bound after this season proved their metal on the Pruitt led squad this night. The Eagles were held to 233 yards rushing. And although that was 100 yards more than the Dawgs could muster, it was 100 yards less than their season average. They were also held to under 2 yards per carry under their average per rush (4.4 yards per attempt vs. 6.5 yards per attempt) and only 6 for 16 on 3rd down conversions. As for scoring, Georgia Southern managed only one offensive touchdown. Their lone field goal came on a 48-yard attempt that was a season long for the Eagle's kicker; which is one of those times you just have to "tip your hat to the other guy".
[su_spacer size="40″] The Dawgs defense was tested over and over and over again by the Triple Option. They consistently found themselves in do or die situations. Certainly the last few minutes of the first half, the Eagles 1st drive of the 4th quarter (12 plays, 44 yards, 7:02) which was held to a long field goal, Georgia Southern's final drive of the 2nd half, and the big time stop on 4th and 1 during Georgia Southern's one and only overtime possession were huge for Georgia in sealing the victory. The Dawgs held all of the Eagles' backs in check, especially when you consider Matt Breida (GSU RB) had averaged 138 yards per game and an average of over 9 yards a carry. The Georgia defense held Breida to only 66 yards on 20 carries (3.3 yards per).
[su_spacer size="40″]
THE BAD:
[su_spacer size="40″] The old cliché is that "the best defense is a good offense". Well, not in Georgia's case. The best defense is the defense, because the offense has not only not pulled its weight much of the season, but, in fact, has made the defense's job that much harder more times than not. Georgia has some extraordinarily talented individuals on the offensive side of the ball. The problem, in too many instances, has been that the offense is not working together as a unit. In fact, it appears as though they have a few cogs that have rusted almost into a stationary position. Again, even when Eric Zeier spoke about the team after the game, he hinted that the offense lacks an identity, a confidence, and a trust that is vital to this unit's development. The Dawgs are 8 – 3 and that cannot be accomplished without some offensive production. Lambert spread the ball to 8 different wide receivers, Sony ran hard for 132 yards on 23 carries and Terry Godwin made a great catch in the end zone on a beautiful flag pass from Lambert. But the Dawgs turned the ball over twice and both were very costly. Malcom Mitchell fumbled inside the red zone when Georgia was threatening to make it at least a 10 – 0 ballgame. Then Isaiah McKenzie was smacked from the blind side after a reception and Southern went on to "scoop and score", which gave the Eagles a 14 – 7 lead. But Georgia's biggest weakness continued to rear its ugly head. The Dawgs again failed, more often than not, to convert on 3rd down. As a matter of fact, Georgia dropped another spot nationally (118th) in 3rd down conversions as they went a putrid 2 for 10, totaling 41 of 130 (31%) in 3rd down conversions for the season.
[su_spacer size="40″]
THE UGLY:
[su_spacer size="40″] Coaches don't fumble the football. They don't drop passes, they don't miss blocks, and they don't miss tackles. But coaches are responsible for coaching up their charges, building confidence, developing trust, and (CLICHÉ ALERT)….putting their players in the best position to win. As much as I hate to keep harping on the offensive side of the ball, they aren't giving me much of a choice. But this is not an issue with the players or their effort. This starts at the top with Mark Richt and trickles down to Brian Schottenheimer. It is clear that Georgia is going to be a team that relies heavily on its defense to win ball games and that is perfectly fine. Some teams are just simply built that way. However, there were some strategic decisions throughout the contest with Georgia Southern on the offensive side of the ball that confounded logic and befuddled the mind.
[su_spacer size="40″] One example is embedded in the fact that Mark Richt, early in his career as Georgia's head coach, was accused of extremely poor clock management. The end of the 1st half shined a spotlight on something; but I'm not sure what that something is. It could, however, only be one of two things. It was either a strategic blunder or an absolute lack of trust in your players; neither of which is a good thing. With the clock winding down and a 7 – 7 tie in the 1st half, Georgia's defense forced a 3rd and 11 with 1:40 to go from Southern's own 34 ½ yard line. Instead of using one of their three timeouts, Georgia just let the clock wind down and the Eagles ran their play with :59 seconds remaining. Georgia then used a timeout, but the wasted clock and a block in the back on the punt forced the Dawgs to take a knee at their own 14 and let the final :37 seconds run off.
[su_spacer size="40″] In another instance, the Eagles got the ball back on their final drive in regulation with 2:48 seconds remaining. Georgia's defense held the Eagles just inside Bulldawg territory forcing a punt and getting the ball back with :33 seconds remaining. With only one timeout, the Dawgs got 13 yards on their first play and then got out of bounds on their second play. With :15 seconds remaining, Lambert did a simple check down and Sony was tackled in play and the Dawgs allowed the clock to run down. At no time did they take a shot downfield to see if they could draw a pass interference penalty giving them a final shot.
[su_spacer size="40″] A few more items that left Georgia fans scratching their heads was the absence of using the likes of Quayvon Hicks in the role as fullback to clear to holes for Sony Michel. If you're going to be a pro-style, I-formation team and your offensive line is barely moving people off the line, then you need to give your running backs some help and formations and personnel decisions have been highly questionable all year.
[su_spacer size="40″] A final coaching blunder, to my mind, was in the 3rd quarter on 3rd and 2, down by 7, Georgia instead of using size and strength to impose their will on the Eagles opted to launch a deep pass to Malcom Mitchell that was well defended. While I don't mind taking shots in general, it was the timing and the flow and the overall lack of trust and confidence bestowed on this group that made this decision a bad one.
[su_spacer size="40″]
THROW 'EM A BONE:
[su_spacer size="40″] 28 seniors spent their last night in a Bulldog uniform in game day conditions on the field at Sanford Stadium. We wish each and every one of them well and they will be Dawgs for life.
[su_spacer size="40″] Sony had a great night and sealed the game on the first offensive play from scrimmage in overtime by the Dawgs, capping off a solid night toting the rock. [su_spacer size="40″] Floyd, Jenkins, and Ganus all made huge plays on defense; especially in the final minutes of the 4th quarter and in overtime to preserve the Dawgs victory.
[su_spacer size="40″] Malcom Mitchell….need I say more?
[su_spacer size="40″]
SHOUT OUT TO DEVON GALES!
[su_spacer size="40″] The Southern University player who was injured earlier in the year was present for an entertaining game between Georgia and Georgia Southern. Coaches, players, and fans have reached out to this young man and his family to let them know they are now and forever a part of the DawgNation! TWEET THOUGHTS, PRAYERS, AND ENCOURAGEMENT to a young man facing adversity and handling it with the heart, mind, and spirit of a TRUE HERO AND CHAMPION! @IAmDevonGales
[su_spacer size="40″]
…AND A SPECIAL BONE TO "QUE"
takes the COLLAR as "Russ" retires! Que becomes the 10th UGA to take the throne! Although he has been working on a trial basis all season, Que officially took the leash on this night! Long may he howl!
[su_spacer size="40″]
NO BONES 'BOUT IT:
[su_spacer size="40″] The Bulldogs had to go to overtime to get their 8th victory of the season. No one expected it to come easy facing the triple option. In fairness, it wasn't the Eagles offense that kept the game in question for the Bulldogs until the very last play. Georgia's offense gave up as many touchdowns to Georgia Southern as did the Dawgs' defense; one apiece. Eleven games into the season and everyone is just going to have to warm up to the idea that this Bulldogs' team is going to be playing their remaining games fairly close. Give Georgia Southern credit. They are a talented and athletic team that really understands their identity. I know Georgia fans aren't happy about some of the things they saw on the field. I include myself in that group. But, when you consider Florida had to go to overtime to defeat a very bad Florida Atlantic team (2-9), South Carolina lost to the Citadel, and you recognize that Georgia Southern, although a smaller school, is an extremely capable football team, the win should be viewed as a good one. When the game ended, the joy, the exuberance, and the energy displayed by the players showed just how hard they worked and how much they appreciated the support offered by the fans.
[su_spacer size="40″] Georgia now has an opportunity to finish the season with nine wins and go to a nice bowl game; preferably some place warm. The battle against the Eagles will be an extreme benefit to making sure Georgia is in the right frame of mind defensively to deal with Paul Johnson's Georgia Tech Yellow Jackets. Fortunately, the "Wreck" is struggling mightily and just gave up over 300 yards passing to a fair Miami team. The unfortunate thing is it is unclear if Georgia can take advantage of anyone using the passing game. If the Dawgs aren't going to try and stretch the field and are going to be a pure running team, then the "human wrecking ball" in Quayvon Hicks needs to be used effectively to clear the way for Sony and friends. With this being the last regular season game, leave nothing in the tank. When playing your rival, especially considering the decision blunder from last year in Athens, you have to pull out all the stops and win by any means necessary. When it comes to "CLEAN OLD FASHIONED HATE", we cannot worry about the "HOW", we should only care about the "W"! The rest can be left for another day and there are…
[su_spacer size="40″]
"NO BONES 'BOUT THAT!"
[su_spacer size="120″]