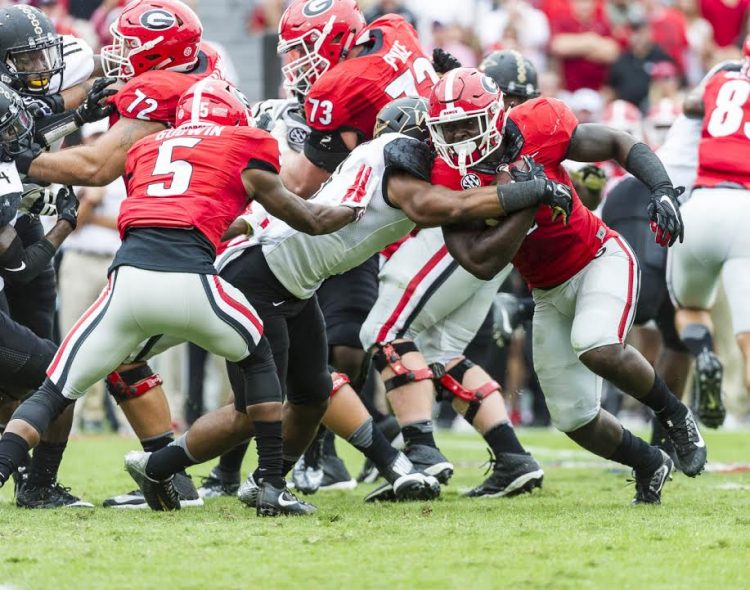 Georgia's exuberance following the 28-14 win over South Carolina the previous Sunday didn't last long as the Bulldogs saw their homecoming game spoiled by the Vanderbilt Commodores by 17-16 Saturday at Sanford Stadium.
The Commodores (3-4), who had lost to South Carolina and Florida by three and seven points, respectively, gave Derek Mason his first SEC road win by completely shutting down the Bulldogs' running game, checking Georgia to just 75 yards on the ground, this after the Bulldogs had run for 326 in the win over the Gamecocks.
And never was Georgia more frustrated than on its final possession as the Bulldogs hoped to win the game with a late touchdown or a field goal by Rodrigo Blankenship. Facing a fourth-and-one at the Vandy 41 with just 1:01 to play,  Commodores ace junior linebacker Zach Cunningham stopped Isaiah McKenzie just short of the first down marker to seal the 'Dores' stunning upset. It was one of 19 total tackles for Cunningham, who seemed to shed Georgia would-be blockers all afternoon.
With the setback, Kirby Smart's first Georgia team fell to 4-3 on the season and now at 2-3 in the SEC are effectively out of the East Division race. An open date awaits the Bulldogs this coming week before the date with the Florida Gators Oct. 29 in Jacksonville.
"We didn't play a very good team game," said a visibly disappointed Smart. "That responsibility falls on me. It's embarrassing and I'm sick to my stomach. We came out sloppy and I take full responsibility for it. Those guys played harder than us and that's the disappointing thing.
"You've got to dominate in three phases and we didn't do that today," said Smart. "We struggled running and they did a good job of making us one-dimensional."
On the Bulldogs bouncing back, Smart said: "You have to do something about it. When you get knocked down, do you get back up? How do you handle adversity? We'll see how we respond to this. As a leader, this is on me. We've got to be prepared to play the game and the better we do in practice, the better we'll do in the game. A lot of the kids played their hearts out, but we did not execute well enough to win."
On a day when the Bulldogs dominated the statistical category — totaling 421 yards to Vanderbilt's 171, thanks to freshman Jacob Eason's career-high 346 yards passing — Georgia's failure to cash touchdowns proved the difference in this one. The Bulldogs' only 6-pointer came with 9:46 left in the third quarter via a 17-yard pass from Eason to freshman tight end Isaac Nauta. The remainder of the Georgia points came  on field goals of 45, 22 and 36 yards by Blankenship.
"The kid was great all week," said Smart of Blankenship's performance. "We had complete confidence in him and felt good about the way he was kicking."
Not only did the lack of a running attack stymie the Bulldogs but two breakdowns in special teams play was a backbreaker. The Bulldogs' allowed a 92-yard return on the opening kickoff that set up a 1-yard scoring run by Ralph Webb, which handed the  Commodores a quick 7-0 lead with still 14:38 showing in the initial quarter. Then again at the start of the second half, Reggie Davis fielded the Vanderbilt kickoff with one foot out of bounds at his own 3-yard line. That awful field position eventually led to a 38-yard field goal by Tommy Openshaw to push the Commodores' 7-6 lead at intermission up to 10-6.
Georgia did finally notch its first lead of the day at 13-10 with the Eason-to-Nauta touchdown pass and the Bulldogs' lead blinked to 16-10 on Blankenship's 36-yard field goal just inside the fourth quarter but that's when Vanderbilt answered with a sterling 75-yard scoring drive to wrest its 17-16 lead that would stand to the end. When it appeared the Georgia defense might stop the Commodores at the Bulldogs' 47 and force a punt, quarterback Kyle Shurmur dumped a screen pass out to tailback Ralph Webb and Webb took the  ball 37 yards, all the way to the Georgia 10. Three plays later, Khari Blasingame went over from the 2 for the score and Openshaw's kick had Vandy on top with 9:43 left to play.
On Georgia's last-minute drive to attempt to pull the game out, Eason completed a crucial 4th-and-13 pass with 1:51 remaining to Terry Godwin, for 23 yards, but just four plays later, Cunningham stopped McKenzie's run just a foot or so short of the first down marker, and the Vanderbilt side of the field went into instant celebration.
Eason, snapping back from his dismal passing performance against South Carolina, completed 27-of-40 attempts for his 346 yards with the touchdown to Nauta and, no interceptions. With the Georgia offensive front simply unable to handle the Vandy defense, Chubb rushed for only 40 yards on 16 carries while Sony Michel was even worse at 28 yards on 13 trips. Nauta and fellow freshman Riley Ridley had five catches each, for 74 and 67 yards respectively.
Outside linebacker Davin Bellamy led the Georgia defense with eight total tackles while Natrez Patrick and Roquan Smith followed with six stops each as the Bulldogs limited the Commodores to 62 yards rushing and 109 passing. But that's little consolation when a team comes up short to a two-touchdown underdog such as Vanderbilt was entering this contest.
"It's phenomenal that we held them under 200 yards, but we have to finish," said junior outside linebacker Lorenzo Carter, who had two sacks of Shurmur in the game. "It came down to them making big plays when they had to and us not stopping them. We need to make sure we work on finishing, getting off the field and executing the calls."
Smart said the Bulldogs, as painful as this defeat is, will have to regroup in the bye week and get ready for the Florida Gators.
"It's a big rivalry and you always get up for it," he said. "We'll be excited to play that game. We'll want to get this taste out of our mouths. We'll go and face a well-coached, good football team."