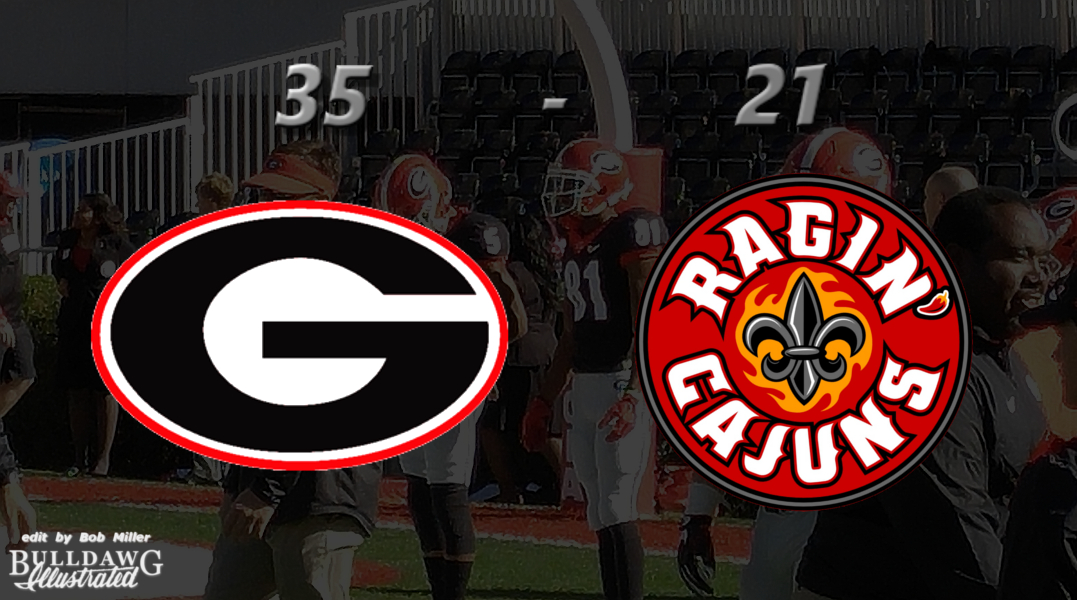 It was anything but pretty but with Isaiah McKenzie and Nick Chubb having a big-play highlight reel, Georgia tuned up for the state rival Georgia Tech Yellow Jackets by turning back a stubborn Louisiana-Lafayette team 35-21 Saturday at wind-blown Sanford Stadium.
With the temperatures dipping and the winds blowing at close to 20 mph, McKenzie had a 55-yard touchdown run on the first play from scrimmage, hauled a Ragin Cajun punt back 82 yards for a touchdown and, also, had a 26-yard reception from Jacob Eason to set up another Bulldog score.
Chubb, in going over the 100-yard rushing mark for the fourth time this season, fashioned runs of 31 and 35 yards from scrimmage and also had his longest touchdown reception of his career, racing 49 yards to score after taking a pass from Eason across the middle.
But, in victory, it was a bit of a shaky showing by the Georgia defense … after the brilliant performance the previous week in shutting down 8th-ranked Auburn. While allowing the Cajuns to notch the three touchdowns — two admittedly coming after the game was long since decided — the Bulldogs also allowed ULL to pile up 465 yards of total offense with 276 of that coming on the ground. Still, Georgia climbed to 7-4 on the season and will host Paul Johnson's also 7-4 Tech team this coming Saturday in another noon kickoff.
"I thought we had good juice coming out," said Georgia coach Kirby Smart. "Isaiah had the great run and the great punt return, and I thought the defense started off well. Isaiah does the right things," he said. "If we block it right and set him up, he gets positive runs. He's a tough kid and we've gotten a lot out of him.
"Early on, I saw kids playing tough, with effort, and they were fast and aggressive," Smart said. "I loved the start and the energy. I did not love the way it finished. We elected to play the subs and they did not execute well and that was disappointing.
"Nick runs hard and he's hard to tackle," Smart offered. "I'd hate to be one of the guys trying to get him on the ground. You're going to feel it in the morning. Sony, too. They are great backs and I'm excited they were able to have a good game."
The Bulldogs used the two big plays by McKenzie to lead the Cajuns by 21-7 at halftime. After Reggie Davis ran the opening kickoff out to the Georgia 45, McKenzie took a reverse pitchout right, split several Cajun defenders and sped 55 yards to score on the very first play from scrimmage. Rodrigo Blankenship's kick made it 7-0 with still 14:37 left in the first.
Then, with 8:30 remaining in the quarter, McKenzie fielded a ULL punt at his own 18-yard line, broke away from a scrum of Cajuns and jetted 82 yards to the end zone. This punt return for McKenzie was the longest for the Bulldogs since Brandon Boykin returned one 92 yards for a score versus Michigan State in the 2012 Outback Bowl. McKenzie set a school record for his fifth career punt return for a touchdown and moved into a three-way tie in the SEC all-time He also now has six total returns for touchdowns (5 PRs, 1 KOR), which is a school record and is tied for third in the SEC.
On his fifth career punt return for a touchdown, McKenzie commented:  "I've been thinking about that since I heard about me being close to breaking it. As of today, they told me 'you broke the record.' But we've got to keep going and putting more numbers up."
Thus the Bulldogs, following Blankenship's PAT, were seemingly up and sailing with a 14-0 lead.
But it wasn't so easy after that. After Lorenzo Carter pounced on a Cajun fumble at the ULL 45 Georgia, with the help of a 32-yard run by Chubb to the 4-yard line — and following a 5-yard loss by McKenzie on the ensuing play — did boost its lead to 21-0 on a 9-yard scoring pass from Eason to tight end Isaac Nauta with just 2:50 remaining until halftime. However, with Anthony Jennings connecting with Al Riles on a 64-yard strike to the Bulldogs' 9, the Cajuns came right back to get on the board on a keeper by quarterback Jennings. Thus Georgia held just a 14-point lead on ULL at the intermission … despite being presented four turnovers by the Cajuns, interceptions of Jennings by Deandre Baker, Aaron Davis and Malkom Parrish plus Carter's fumble recovery.
The third quarter was scoreless until 4:45 remained when Chubb plunged over from the Cajuns' 1-yard line. His score capped a sterling 94-yard drive by the Bulldogs. Chubb started the  march with a 35-yard burst and Eason's 26-yard strike to McKenzie to the LL 3 set up Chubb's dive for the score three plays later.
That made it 28-7 and the Bulldogs would then go up 35-7 with 9:35 left in the game on Eason's 49-yard pass to Chubb down the middle of the field.
But the Cajuns wouldn't roll over in the final minutes, putting two more touchdowns on the board via runs of 13 and 1 yards by Jennings. Still hoping for a miraculous comeback, ULL even went for an onside kick before Reggie Davis recovered for the Bulldogs with 1:31 to play to clinch the two-touchdown win.
With Georgia rushing for 235 yards, Chubb totaled 108 yards on 16 carries with one touchdown and also had the 49-yard scoring catch. "It always feels good to get the running game going, but it feels better to get a win overall," said Chubb. "I think (we responded the right way). We could have been more physical and done some things a little better but overall we got the win and that's all that matters. I'm looking forward to carrying the momentum on to next week."
Eason was 13-of-19 passing for 165 yards including the two touchdown passes to Nauta and Chubb while throwing one interception when his pass bounced off Nauta's hands into the arms of a Cajun defensive back. "Decision making is the big thing with Jacob," said Smart. "A couple of times, he made the wrong read and got sloppy with his footwork. He had some good throws, too, like the touchdown to Nauta. He continues to do good things."
McKenzie had 164 all-purpose yards on the afternoon, catching two passes for 32 yards in addition to his two long runs. Terry Godwin led with four catches for 23 yards.
Defensively, sophomore linebacker Roquan Smith padded his team-leading tackle total by recording seven stops while freshman defensive lineman Tyler Clark notched a career-high five tackles. Checking in with six stops each were Malkom Parrish, Reggie Carter and Trenton Thompson and, as mentioned, Deandre Baker, Aaron Davis and Parrish picked off ULL passes and Lorenzo Carter had his key fumble recovery.
Georgia Tech will buzz between the hedges on Saturday after winning its home finale 31-17 over Virginia.
"We'll have good, spirited practices and get after it," said Smart. "They have a unique offense that's hard to simulate and hard to prepare for. We're excited about the opportunity. It's a great challenge and we need the players to totally buy into it. We have to prepare well and do a good job of tackling."