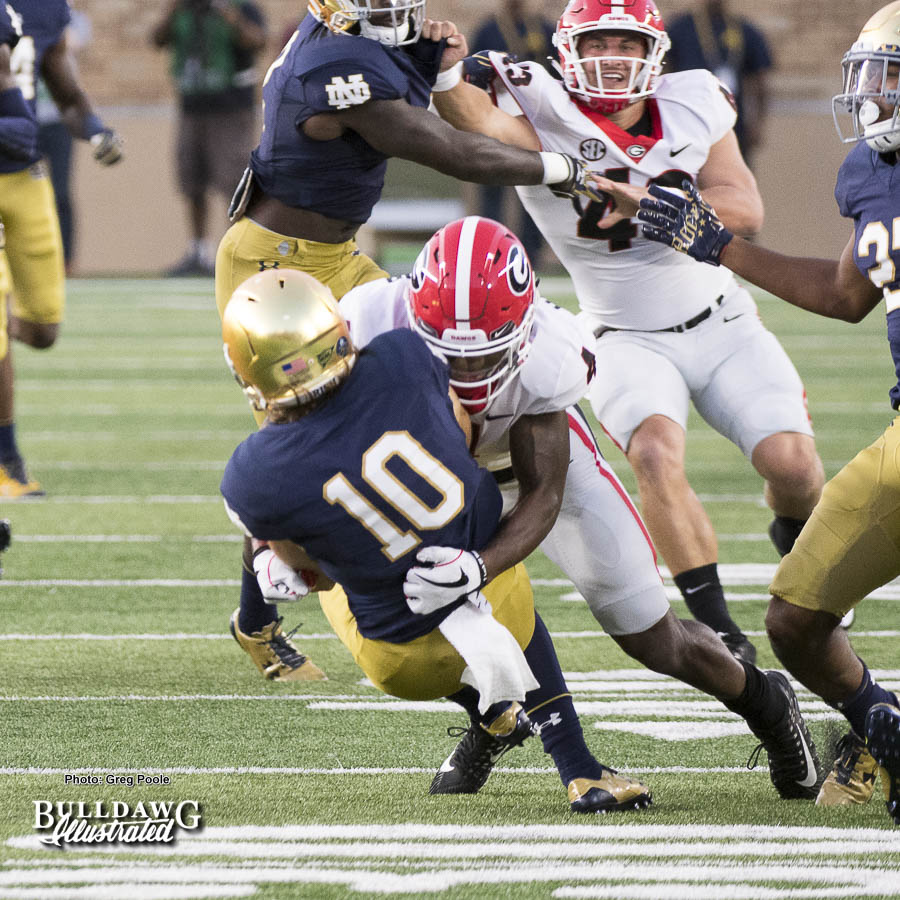 I will admit to having a deep-seated dislike for Notre Dame, and I got it the old-fashioned way. My dad always thought that Notre Dame was given way too much benefit of the doubt in rankings at the expense of SEC teams, and he passed that attitude along at every opportunity. Notre Dame's privileged position always colored my perception of the Irish, until I attended the UGA/NS game this year. The people of South Bend changed my mind that weekend with their incredible welcome and helpfulness. Those people are way too nice to hold them responsible for stuff that happened 50 years ago, right? Besides, I'm confident that Dad would have appreciated the hospitality of Northern Indiana too.


Georgia defeated Notre Dame by a single point and has not looked back. The Irish are undefeated since that game, and a win against Southern Cal would probably move ND into the top ten, further bolstering the Dawgs' resume.


The winner will take a leap in the polls — the Irish in particular. To date, the greatest asset on Notre Dame's résumé is a loss: Georgia's 20-19 win in South Bend on Sept. 10. More than an impressive win two weeks later against Michigan State, the defeat lent the Irish credibility. The unbeaten Bulldogs have likewise ridden that victory into the thick of the early College Football Playoff race.

Beating the Trojans, meanwhile, would be the firmest indication to date that Notre Dame is a legitimate contender. There already are signs that this is the case: Notre Dame's defense ranks 20th in the Football Bowl Subdivision in yards allowed per play, and an offense remade behind new coordinator Chip Long ranks fifth in rushing yards per game and third in yards per carry. [Week 8 lookahead: Notre Dame-USC matchup, this time, has magnitude]


The contest between long-time rivals Notre Dame and Southern Cal could also impact the possibility of two SEC teams making the College Football Playoff.


What happens in the Pac-12 ripples through the rest of the Power Five. Though far too early to eliminate individual conferences from the Playoff, it's clear that happenings in the Pac-12 will affect the rest of the major-conference landscape: USC losing to Notre Dame would remove a prime Pac-12 contender from the mix while providing a little bit of wiggle room for the Big 12, for example.

The SEC doesn't need the help. Yet there is that question about Georgia, which asks whether the league can realistically place two teams into the four-team field — the other being Alabama, obviously. If the status quo holds across the remaining Power Five leagues, the SEC would likely need both teams to enter the conference title game unbeaten; then it would need a competitive game. [Week 8 lookahead: Notre Dame-USC matchup, this time, has magnitude]


In honor of my new-found respect for Notre Dame – Go Irish!