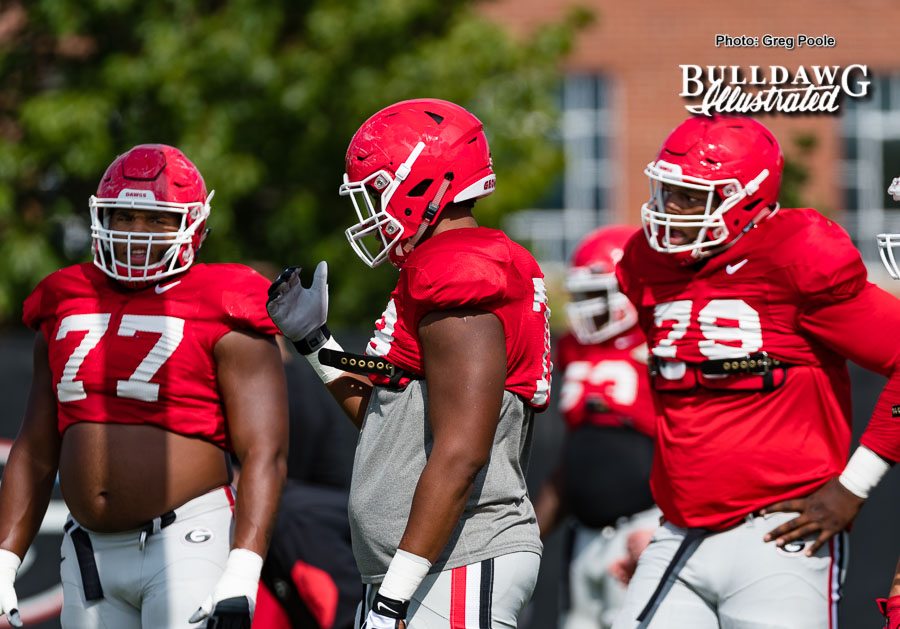 After two days in the indoor athletic facility, Georgia finally enjoyed the 75-degree weather and the sunshine as they continue to prep for Samford. The offense ran fundamentals through out the eight minute media period and made sure to perfect each drill. Here are my three takeaways from Wednesday's practice. 
1: Wide Receiver Group Works Sideline

James Coley ran various fundamental drills for the receivers on Wednesday. During the third period, they started with a figure eight drill to sharpen their routes. Then the wide outs worked on game time situations of 3rd and 5. Coley had them cut hard about five yards out then back up the sideline to catch a pass. Tyler Simmons and Mecole Hardman received critiques from Coley to cut harder and make sure to hit that line.
However, Jeremiah Holloman seemed to be back 100 percent as he wasn't limited during the drills. He got 'ohs' and 'woos' from the assistance when he snagged a high pass from Brice Ramsey. Jayson Stanley made plays during the long pass drill and Coley told him, ""Don't wait on it, Jayson! Don't wait on it, bro!" Coley surprised me with the "bro" but if it gets through to the players, I like it.
Ahkil Crumpton made catch after catch and refused to drop a ball. Javon Wims continued to impress with his over the shoulder catches and making the defenders miss. Michael Chigbu wasn't at practice. I'm not sure where he was or if there is an injury, but he was absent.
2: Sony Michel Returns to Running backs

After being limited on Tuesday, Sony Michel seemed to be back to normal during the media period. He ran through the drills at his No. 2 spot but also took reps behind Elijah Holyfield. Nick Chubb stayed at the No. 1 spot, and D'Andre Swift rotate throughout the backs. Michel ran the drills but I noticed he didn't go as fast as the other backs. Not sure if it was just the drill they were running or what, but he seemed to take caution.
In the first period, the backs worked with Jake Fromm and Brice Ramsey on handoff drills and perfecting the motion. Then went to work on their juking and cutting movements.
3: Offensive Line Works Cut Blocks

The offensive line worked on various fundamental drills in the sunshine on Wednesday. Coach Sam Pittman worked the unit on double teams, cross-block and then finished with a cut block drill. Of course, this is what the media got to see during the brief viewing time. However, the cut blocking drills were interesting to watch. Seeing these big guys just throw themselves into these dummies, I noted it had to take a lot of energy to get back up, especially for guys like Ben Cleveland and Isaiah Wilson. However, the two made getting up look easy and impressed me with how fast they got their massive bodies back up for the next rep.
Isaiah Wynn continued to receive praise from Pittman for his technique during the time I watched. Pat Allen worked with at second-team left tackle but still received his reps with the ones at guard. Allen rotated with Kendall Baker and Solomon Kindley at the guard spots. As for the first team, this is who I saw out there, Isaiah Wynn (LT), Baker (LG), Lamont Gaillard (C), Kindley (RG) and Andrew Thomas (RT). As for the twos, the line up went as followed, Allen (LT), Justin Shaffer (LG), Sean Fogarty (C), Dyshon Sims(RG) and Ben Cleveland (RT).
Bits and Pieces:
Jacob Eason still wasn't at practice, but Greg and I saw him after the Kirby Smart press conference on Tuesday and he wasn't using a cane or anything to help him walk. He did have a slight limp, but that seemed to be because of the large brace he wore on the leg. As a whole, the offense focused on fundamentals to prepare for this weekend's matchup against Samford. Georgia faces the other Bulldogs with a 7:39 kick off on Saturday.




Recent Articles by Savannah Leigh Richardson


[pt_view id="8722077nva"]