The team isn't "…completely ready for Oregon…" according to Coach Smart, but they're still in a good place in preparing for the Ducks. Regardless of where the team is, senior linebacker Nolan Smith is proud of the defense and far they've come in terms of chemistry.
Enduring an offseason as rough as Georgia's, losing the players they did, it almost feels like they're starting from scratch on the defense. Of course that isn't the case, the world is just used to the big names last year. Smith was asked how he thought the defense would look different, and he responded simply saying, "Different numbers. Different people in different spots. That's all."
Smith believes in what his current team has to offer. He explained that he plans on keeping the standard of the defense, "I've been a Georgia fan all my life, and that is one that's been great around here is Georgia defense."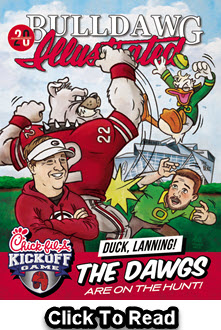 He spoke some on the chemistry he has with the older guys on this team and how it's helped him bring up the younger guys. Smith shared he was especially fond of teammates Robert Beal and Jalen Carter who he referred to as "Big Beefy" and "JC". With Jalen Carter's preseason credentials as a projected first round NFL Draft pick, Smith talked to reporters on how his presence in the middle of the d-line brings his game "to the next level." Smith told us about the unspoken connection he had with the third year d-lineman explaining that he could just look at Carter, and Carter would know what to do. It's a different team, but the same chemistry all around.
And as for the freshmen, Smith had nothing but high praise for first-year standout Mykel Williams, "He's a spitting image of Travon Walker." Williams, like Smith, has practiced with the d-line and outside linebacker position groups. Like Walker, Williams is already showing a lot of versatility in his game which should lead to him being able to contribute early on.
Though the big names have left the building, the chemistry that connected them remains in the guys they left behind. Nolan Smith insists that this team will see no drop-off in performance this season, and with Oregon in less than a week he'll have the opportunity to walk the walk and show the world exactly what the Georgia Standard means to him.