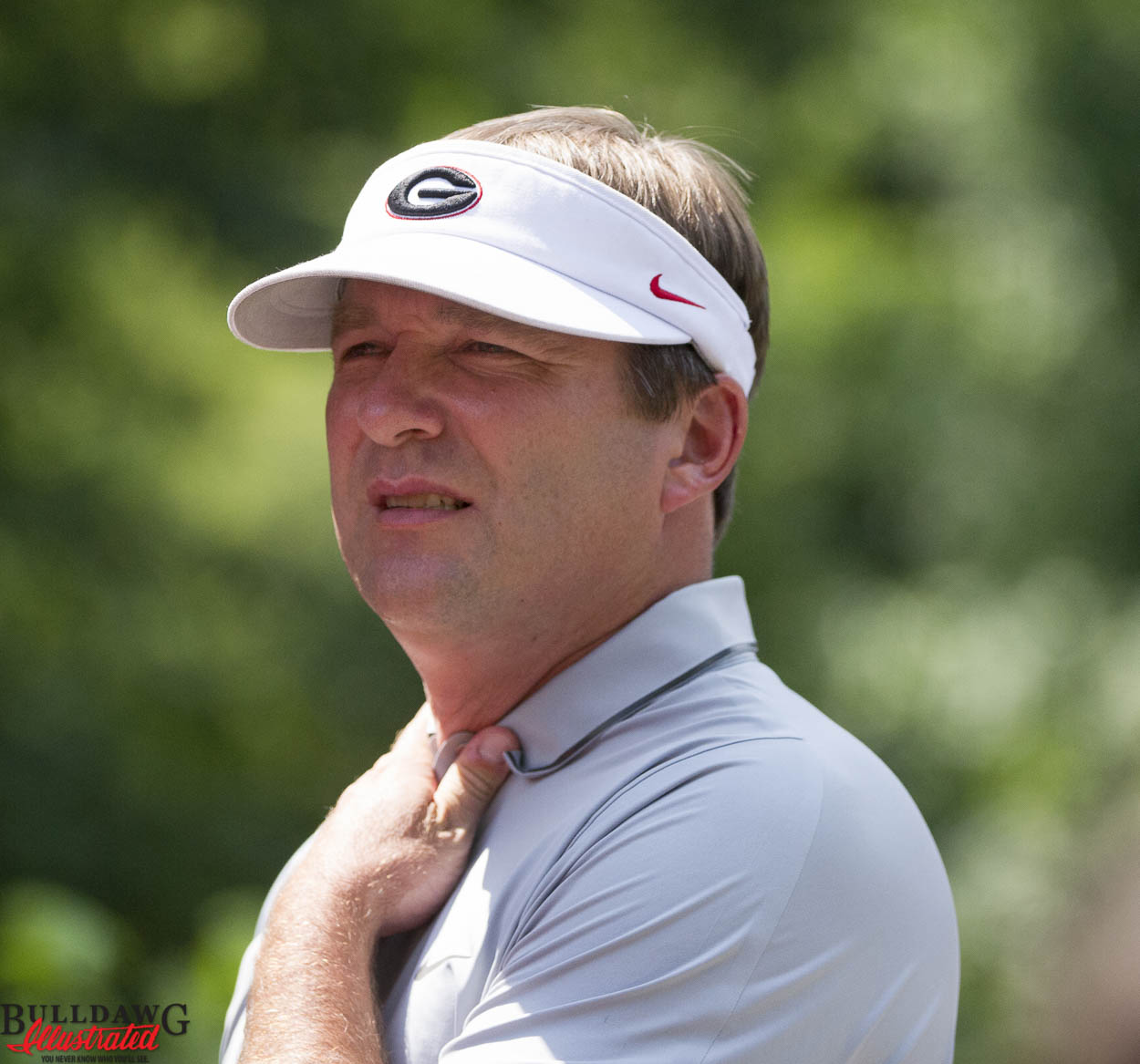 Since Kirby Smart assumed the head coaching reins of the Georgia Bulldogs in December, he's spoken at numerous press conferences, has been the featured speaker at five different UGA Days around the state and in Texas and has conducted countless radio and television interviews.
But when Smart embarked on his first experience at SEC Media Days Tuesday morning in Hoover, Ala., he was suddenly thrust onto a stage he never had to experience in his days as defensive coordinator for the University of Alabama.
Yep, the Bulldogs' new boss found himself fielding questions from some 1,500-plus print and electronic media folks who cover the 14 football teams in the Southeastern Conference.
And I thought Kirby handled it all extremely well, especially in the main room at the Wynfrey Hotel when he delivered his primary address and then accepted questions from those on hand. Smart was smooth in his previewing of his first Georgia edition, was right to the point in his answers to the various questions and, well, looked every bit as polished in doing this as the veteran mentor he toiled under for the past 11 years … one Nick Saban.
But as we all surely expected, Kirby Smart didn't say anything new. He didn't reveal anything about his team that we haven't heard over the previous seven months. Oh, yes, he did say that sophomore defensive end Jonathan Ledbetter, who recently had his second alcohol-related arrest, would be suspended at the beginning of the 2016 season, which kicks off Sept. 3 in the Georgia Dome against North Carolina. But Smart wouldn't say how many games Ledbetter would sit out. Georgia's athletic association policy typically calls for a two-game suspension for football players convicted of DUI and Smart indicated he'll follow UGA guidelines.
"He's going to be suspended," Smart said. "I'm not going to go into the details of it, but obviously per our policies he'll be suspended."
Of course, as he knew he would, the Georgia coach was peppered the most about the Bulldogs' ongoing quarterback battle featuring incumbent Greyson Lambert, 2015 backup Brice Ramsey and the heralded early-arriving freshman, Jacob Eason. And also, there were the inquiries about the physical status of Georgia's prize tailbacks, Nick Chubb and Sony Michel, for the opener against the Tar Heels.
"We're going to play the best player that gives us the best opportunity to win football games," reiterated Smart, saying the same thing pertaining to the quarterback picture he's said since he succeeded Mark Richt as the Bulldogs' coach. "And I don't know who that is.. If I knew, I promise you, I would tell you, I would give you the information."
But although Smart didn't mention the names of his signal-callers in his 10 a.m. address in the big room, he did break down Lambert, Eason and Ramsey a bit when he later sat down with TV analysts for an interview on the SEC Network.
"We'll start with Grayson, who as you mentioned earlier, won 10 games last year, which  has been sort of forgotten in all this," said Smart. "But he's a proven winner, he makes good decisions and is an accurate passer. He manages the offense, he helps make a lot of guys around him better.
"Jacob (Eason) has elite arm talent," Smart continued. "Here's a kid who can throw the ball, can make all the throws and has a lot of confidence in himself. He came straight into that game (G-Day) and acted like there were 1,000 people in the stands, not 93,000. And then there's Brice Ramsey, who's a little more mobile than both of the others and has gained a lot of confidence. You know, Brice has gone through three offensive coordinators in the last three years so that's been the biggest problem for him. But he's become more comfortable in this offense," said Smart.
"It's going to come down to who makes those other players around him better. Who's gonna make those receivers better, those running backs better. Who's gonna open up and not make mistakes? Ultimately," he concluded, "Coach (Jim) Chaney and I will sit down and see where we are in fall camp and see who comes out. And hopefully, it will be sooner than later (when No. 1 QB is named)."
Accompanying Smart to Media Days were Bulldog veteran performers Dominick Sanders, Brandon Kublanow and Jeb Blazevich. Those two offensive guys, Kublanow and Blazevich, aren't concerned at all with who the eventual starting quarterback will be.
"Whoever's gonna come out as the top quarterback is gonna be great," senior center Kublanow said. "So I don't think there's as much uncertainty there as maybe to who it is, but all three of them have been great quarterbacks. We have a different offense, different coaches, a bit more energy than what it has been in the past. There's new energy in the room for them (the quarterbacks), and I think they've all competed really hard."
Junior tight end Blazevich did address Eason's vast potential. "He had a lot of pressure, a lot of attention, so I kind of felt bad for him," Blazevich said. "But he's obviously worth it. He has an awesome arm. He's a really good guy. I'm really excited to see him compete against Brice and Greyson."
As far as Chubb and Michel being ready for opening night, Smart said the playing status of Michel ‑ who suffered a broken forearm in an off-field accident on July 4 ‑ is more uncertain than that of Chubb. Michel suffered what's called an open fracture, and was in the hospital for a week. He was released last Friday.
"We're so far down the road with Nick, we've seen him work out and hopefully we can see the light at the end of the tunnel and have him 100 percent for that first game," said Smart. "With Sony, we just don't know. With Sony's situation, there's just a lot of unknown. How fast does he heal, how fast does the muscle repair itself?" Smart said. "I don't think we'll know availability until closer to the first or second scrimmages. We'll know closer to then how long it will actually take."
As for Chubb, Smart said he will have "no limitations" early in camp, when it's not as physical. But it's not certain yet whether Chubb will participate in the three scrimmages, or how much contact he'll take when practices become more physical.
"The big thing with Nick is going to be full, live-contact tackling," Smart said. "The psychological factor of taking the first hits and the tackling is going to be a big part of that."
Smart said, while much of the scrutiny about the Bulldogs at the moment concerns the quarterbacks and tailbacks, the defensive line's outlook may be an even bigger key to Georgia's success this fall. And one young player Smart and his defensive staff are counting on heavily is rising sophomore tackle Trenton Thompson, who was rated in some recruiting services as the No. 1 player in America coming out of Albany's Westover High School two years ago.
"I challenged Trent when I got there because he was a kid I recruited hard and knew a lot about," said Smart. "I still don't think he's reached his full potential and he's got some improvement to make but he's got a great coach in Coach (Tracy) Rocker to teach him and we challenge him every day. He's athletic, he can run, he's big but he has not reached his full potential and we want him to do that, as well as all the other guys on the defensive line. We've got to stay healthy at that position in order to maintain and get through the season."
Auburn and Florida's head coaches, Gus Malzahn and Jim McElwain, were the first on the podium during opening day of Media Days on Monday.
Malzahn, whose Tigers come to Sanford Stadium on Nov. 12, were the SEC preseason favorite as chosen by the assembled media last year but finished near the bottom of SEC East due largely to poor quarterback play and a spotty defense. This season Jeremy Johnson and Sean White are trying to hold off junior college transfer John Franklin III for the starting assignment. Johnson lost the QB job to White last year during the course of the season. But Malzahn said Monday he thinks the Tigers will be playing fast on offense once again and could field maybe the best defense ‑ led by Georgia products Montravius Adams and Carl Lawson ‑ he's had since he's been on the Plains.
At Florida, McElwain knows the Gators' offense will have to take a big leap forward to complement another expected rugged defensive unit, that is, if his team is to repeat as East Division champions. Junior Luke Del Rio, son of former Jacksonville Jaguars head coach Jack Del Rio, appears to be the leading candidate at QB but McElwain wouldn't indicate that on Monday. Former Camden County linebacker Jarrad Davis is an all-star candidate on the Gators' defensive unit. The Bulldogs will be attempting to avenge consecutive losses to the Gators when the two teams meet on Oct. 29 in Jacksonville.
Mississippi State head coach Dan Mullen followed Smart to the podium Tuesday morning and feels confident the Bulldogs can keep the momentum going after last season's 9-4 (4-4 SEC) finish. Mullen, too,  has three quarterbacks fighting for the starting slot in an attempt to fill the big shoes of the record-breaking Dak Prescott. Georgia native Nick Fitzgerald, from Richmond Hill, may have the inside track on the job.
Butch Jones of Tennessee, whom the Bulldogs host on Oct. 1 in a huge division skirmish, and Texas A&M coach Kevin Sumlin were to address the media in Tuesday afternoon's session.