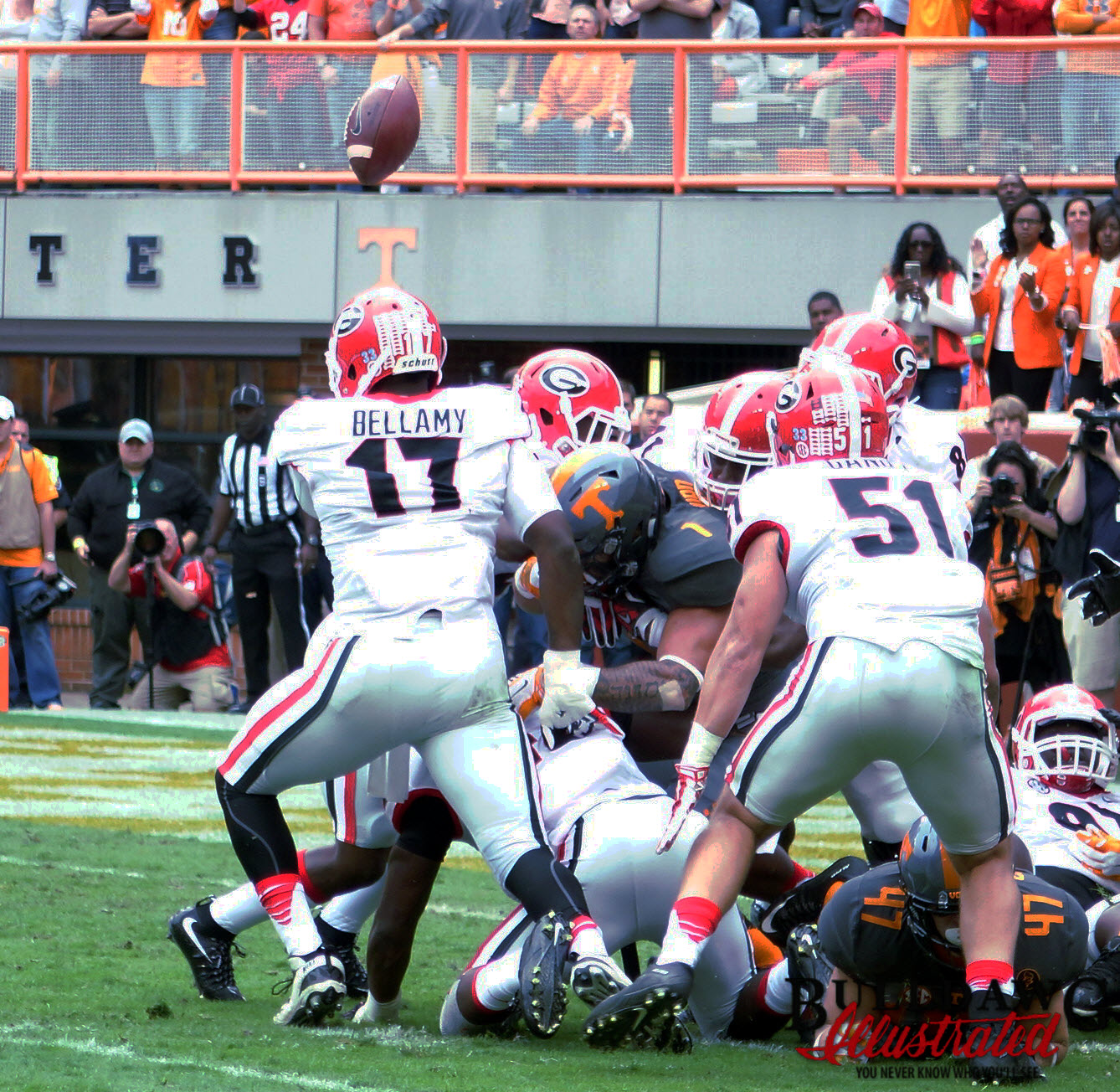 When the 2016 SEC predictions poll is released Thursday at SEC Media Days in Hoover, Ala., I'm sure the Tennessee Volunteers will be voted by the attending media members as the solid favorite to capture the SEC East Division title this season.
And that forecast will pretty much make Butch Jones' team a consensus to make it to Atlanta for the SEC title game, as almost all of the preseason publications to date have the Big Orange steamrolling the field in the East and thereby landing in the Georgia Dome opposite likely defending West Division and national champion Alabama.
And, most certainly, there's sound logic for everyone picking UT to get it done this coming autumn. The Vols return some 18 starters from last year's 9-4 (5-3 SEC) squad including such offensive stalwarts as senior quarterback Joshua Dobbs (2,962 yards total offense), junior tailback Jalen Hurd (1,288 rushing), fellow running back, junior Alvin Kamara (698 rushing) and junior receiver Josh Malone (31 catches, 405 yards). And those guys will be operating behind a veteran offensive line that returns four starters from 2015.
Defensively, with seven starters returning on that side of the ball, the Volunteers also appear extremely sound heading into the new campaign. Senior linebacker Jalen Reeves-Maybin is a bonafide All-SEC and All-America candidate after recording 105 tackles last season and two other ringleaders for the Vols' defense are senior cornerback Cameron Sutton, surely bound for an NFL career, and junior end Derek Barnett, who has totaled 32.5 tackles-for-loss and 20 sacks in his first two years in Knoxville. And special teams, how about junior kick returner Evan Berry, like Alvin Kamara a Georgia product and one who earned All-America honors last season after leading the nation in kickoff return average. Evan, of course, is the younger brother of former Vol great and present Kansas City Chiefs safety Eric Berry.
Taking his turn on the podium Tuesday at Media Days, UT head coach Jones didn't try to downplay the lofty forecast for his team.
"You want high expectations," Jones said. "You want high standards. I remember standing up here at the podium three short years ago, and the room was half-filled and nobody was talking about Tennessee football. That's why you coach, that's why you play is to be in a program like the University of Tennessee where everybody is talking about you. You want those expectations. But, like I said, Team 120 has not played one down. We're responsible for what we create on a daily basis.
"In terms of our football program, over the last 18 games, we're 13-5," said Jones. "And the amazing thing, when you look at it of being 13-5 over the last 18 games, is those five losses have come by a combined total of 25 points. The key for us is starting fast and finishing strong. Our first seven opponents have a combined win record of almost 70 wins, and all seven of those opponents participated in bowl games. So, for us, we have to start fast," Jones declared.
Tennessee quarterback Dobbs, accompanying his coach and teammates Reeves-Maybin and Sutton to Hoover, said he doesn't feel any added pressure over the Volunteers being tabbed as eventual East champions. "Hype is just outside," Dobbs said. "Noise, really. You can't really control hype. You can't really control what other people say. What you can control is how you approach each day, how you focus on the details, how are you getting better as a player and how is the team getting better every single day you step on the field? We're focused on that — what we can control because we can't really do anything (about) what we can't control."
So, certainly, a lot of love for these Volunteers as preseason camp kicks off in early August. But if you'll excuse me, I'm not one getting caught up in all these romantic overtones surrounding Tennessee this season.
And, I'll tell you why … it's the Tennessee schedule compared to the 2016 slate of the Georgia Bulldogs, generally picked to finish second in the division behind the Vols this year.
Despite all the Volunteers' apparent talent, and as noted it is considerable, they are facing a gauntlet that looms forbidding for any football team. After non-conference tilts against Appalachian State, Virginia Tech and Ohio, Tennessee will host the Florida Gators in its SEC opener on Sept. 24 at Neyland Stadium. Folks, this is a Gator team that the Vols haven't beaten in, count 'em, 11 consecutive years. And a Florida team that will be out to defend its surprising East Division title of last season. Can Tennessee overcome the mental barrier that has swirled over its collective heads the past decade when facing those guys in orange and blue uniforms?
Then the following week, as all Bulldawg Nation is aware, the Big Orange train steams into Sanford Stadium for the huge matchup with the new-look Bulldogs of first-year head coach Kirby Smart. You can put it down now Georgia will be pumped to the gills for this one, what after blowing a 24-3 lead up on the hill in Knoxville last October and being jolted by Tennessee, 38-31, in a game that ended All-America Nick Chubb's season on his very first carry from scrimmage. Can the Volunteers play at a peak on consecutive Saturdays against Florida and Georgia? Don't think so.
But that's just the start of the early season murderers' row for Tennessee. After the Oct. 1 game against the Dogs, the Vols go to Texas A&M then return to Knoxville the next week to host a little team called Alabama, before then going down the second half of the schedule against lesser lights South Carolina, Kentucky, Missouri and Vanderbilt.
Thus it goes without saying that if Butch Jones' football team can storm to the SEC East crown against that kind of schedule, the Volunteers will certainly be a well-deserved division champion and one that is very capable of knocking off the West Division champ in the Georgia Dome in early December.
Again, being honest here, I don't see Tennessee surviving that sort of schedule this season. With all the new excitement in Athens brought on by Kirby Smart and his, at the moment, excellent looking assistant staff and with the Bulldogs having a much more favorable slate of SEC games (Ole Miss, Tennessee and Florida being the primary obstacles) and thinking Georgia will have a healthy Chubb back on the field along with improved quarterback play (whether it's Eason, Lambert or Ramsey), I see this 2016 Bulldog edition indeed making it back to Atlanta for the first time since 2012.
What about  you? Do you think the Tennessee Volunteers will live up to their preseason ranking and capture that predicted SEC East crown or do you join my camp of thinking and see the Smart Bulldogs finding a way back to the conference championship game?