[su_spacer size="20″]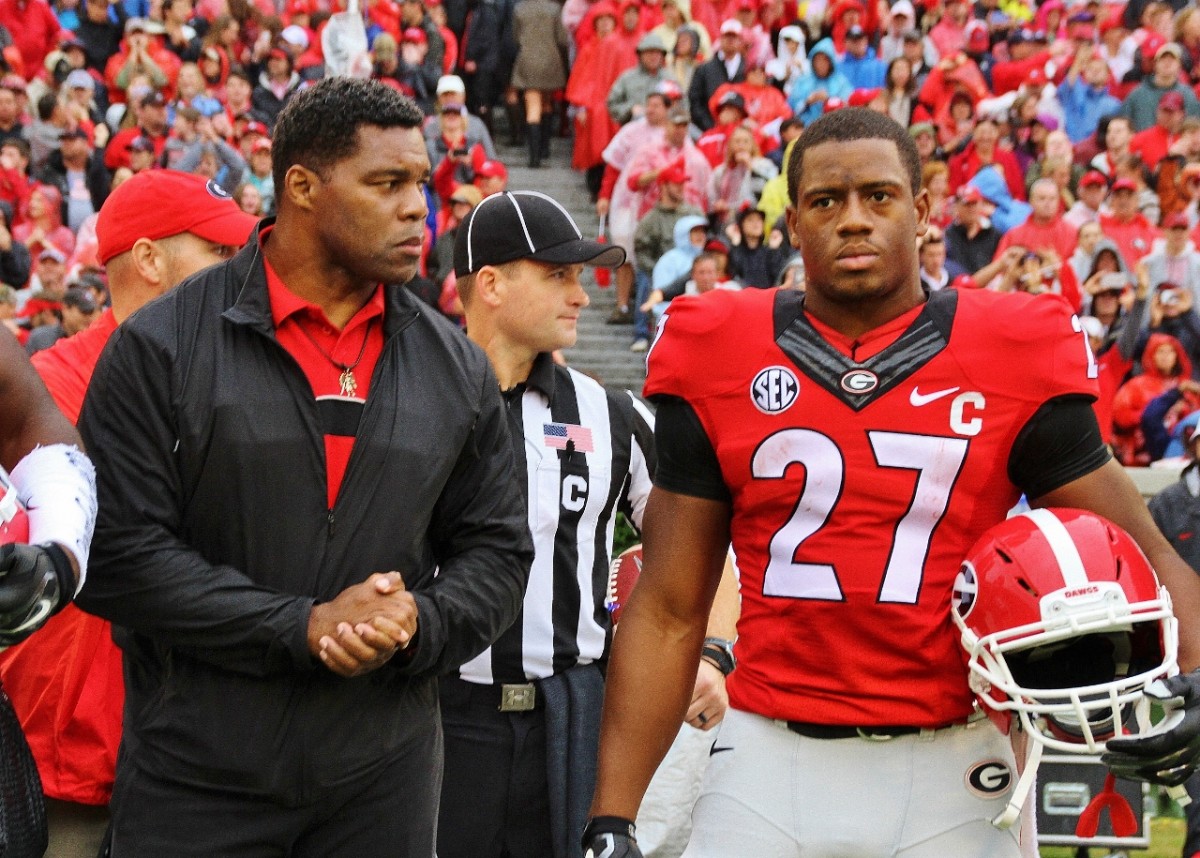 [su_spacer size="20″] That many in the Georgia partisan crowd of 92,746 started heading for the exits early in the third quarter reflected the Bulldogs' frustrations this past Saturday when the once-beaten Alabama Crimson Tide came to Sanford Stadium and gave Georgia the same woodshed beating 'Bama inflicted on the host team on the same field seven years ago.
[su_spacer size="20″]
Surging into a 24-3 halftime lead and then tacking on two additional touchdowns early in the third quarter, Nick Saban's team went on to pound 8th-ranked Georgia, 38-10, leaving the Bulldogs at 4-1 on the season and 2-1 in the SEC heading into a crucial East Division battle with Tennessee on Saturday in Knoxville (3:30-CBS- TV).
[su_spacer size="40″] Not able to move the ball consistently or prevent the 'Bama offense from hitting the big plays, Georgia also was plagued throughout the game by numerous personal foul penalties and special teams breakdowns … something the Bulldogs simply can't repeat if they plan to climb back on the winning side of the ledger at the Volunteers' Neyland Stadium.
[su_spacer size="40″] With Georgia quarterbacks Greyson Lambert and Brice Ramsey combining to complete just 11-of-30 passing attempts for 106 yards while throwing three interceptions – one of Ramsey's being a 50-yard pick- six – the Bulldogs had little arsenal to accompany an almost completely shutdown ground attack. Eighty- three of Georgia's final 193 yards rushing came on Nick Chubb's long touchdown gallop in the final seconds of the third quarter. And the Chubb score was arguably the Bulldogs' lone highlight of this grueling defeat. Giving him 146 yards on 20 carries for the game, it enabled the sophomore tailback to tie Herschel Walker's record of 13 consecutive 100-yard rushing games.
[su_spacer size="40″] A quick look at the following Stats That Matter clearly reveal why Alabama headed back to Tuscaloosa with a 28-point whipping of Georgia, with the Tide's SEC and national title aspirations still very much intact.
[su_spacer size="40″]
Plays of 20 plus yards, offense and defense
[su_spacer size="40″] Not many here for Georgia, at least not enough to win a football game. Lambert connected with Mitchell on a 36-yard pass early in the game and then came back with a 26-yard strike to Terry Godwin, but then most of his passes started hitting the ground. Sony Michel had a 28 yard run late in the game and then there was Chubb's 83-yard scamper for the Bulldogs' only touchdown. Defensively, the Bulldogs surrendered Jake Coker pass completions of 50, 24, 45 and 23 yards and Derrick Henry reeled off a 30-yard touchdown jaunt as well as another 22-yard scamper en route to his 148 yards on 26 carries.
[su_spacer size="40″]
Untimely Mistakes (turnovers, penalties, clock management miscues, etc)
[su_spacer size="40″] Lambert threw one interception and lost a fumble and Ramsey had two interceptions to his one pass completion, with one of those being the costly pick-six for 50 yards. Georgia was hammered with personal foul penalties for grabbing the face mask (twice), for late hits (twice) and then had an unsportsmanlike conduct penalty as well as a holding penalty on a kickoff return, which put the ball back on the Georgia 9-yard line with the Bulldogs already trailing 17-3.
[su_spacer size="40″]
Special teams wins vs. miscues
[su_spacer size="40″] There was the aforementioned penalty on the kickoff return but the special teams dagger was clearly when the Bulldogs' protection allowed Alabama's Minkah Fitzpatrick to bolt through untouched and block Collin Barber's punt inside the Georgia 5-yard line. Fitzpatrick scooped up the ball and stepped across the goal line to spark the Crimson Tide on to its 24-3 halftime lead. Although Barber averaged 40 yards on eight punts, a 51-yarder into the end zone sort of glossed over several short boots.
[su_spacer size="40″]
Missed Tackles
[su_spacer size="40″] As opposed to outstanding showings in the first four games, the Bulldog defenders on numerous occasions failed to bring Henry and Kenyan Drake down with first contact, allowing the 'Bama backs to pull away for first down runs. Clearly, this area will have to be rectified against the Tennessee backs this coming weekend.
[su_spacer size="40″]
Yards after contact
[su_spacer size="40″] Except for several determined runs by Chubb and Michel in the second half, when the game was long out of reach, the Georgia backs were pretty much smothered by the gang-tackling Alabama defensive front.
[su_spacer size="40″]
Turnovers (gained/lost)
[su_spacer size="40″] The Bulldogs threw the three interceptions and fumbled four times but lost only one of them. Georgia recovered two Alabama fumbles, with Jake Ganus and Chris Mayes falling on the loose ball.
[su_spacer size="40″]
Red Zone (offense/defense)
[su_spacer size="40″] Georgia got inside the red zone only once all night and did get points via Marshall Morgan's 27-yard field goal. Meantime, Alabama scored on both its trips inside the Georgia 20; otherwise getting the long distance touchdowns to romp over the Bulldogs.
[su_spacer size="40″]
Third down conversions
[su_spacer size="40″] Oh, what a disastrous night for Georgia in this category as the Bulldogs' 3-of-17 third down conversions told the big story for the floundering UGA offense. Remarkably, Alabama was also a paltry 1-of-12 on its third-down tries but again, there were all those big offensive and defensive plays by the Tide.
[su_spacer size="40″]
Run/pass attempts (total plays)
[su_spacer size="40″] Georgia ran the ball 38 times for its 193 rushing total and threw the football 31 times, with just the 11 completions and three costly picks. Alabama ran the ball 47 times for its 189 net rushing and Coker passed only the 16 times but made his attempts count with 11 completions for 190 yards with no interceptions.
[su_spacer size="40″]
---
[su_spacer size="40″] Make sure to check out
Bulldawg Illustrated's
latest print edition:
Don't Jump Ship
, digital issue available for free online click
HERE
.
[su_spacer size="80″]